You want to create an online store or are interested in running an eCommerce business but do not know which platform is suited for your store. Shopify might be what you are looking for to start a business.
What is Shopify?
Shopify is a leading eCommerce platform that allows you to create an online shopping website that integrates with social networking, post products, cart and payment features, order processing. This platform offers all of the business tools you need in one, familiar place.
The store owner can also sell in physical locations using Shopify POS, the point of sale app, and accompanying hardware. This platform has been trusted by powerhouse brands such as Tesla, Google, Red Bull, Nestle, Kanye West, Rebecca Minkoff, Kylie Cosmetics, and many more.
Shopify Financial Results in 2020
The Internet – February 17, 2021 – Shopify Inc announced the strong financial results for full-year 2020. The total revenue was $2.929.5 million, an 86% increase over 2019. Within this, Subscription Solutions revenue grew 41% to $908.8 million, while Merchant Solutions revenue grew 116% to $2.020.7 million.
Harley Finkelstein, Shopify's President: "We are doubling down on creating a frictionless path to successful entrepreneurship, as we continue to build a future-proof commerce solution to serve generations to come."
Shopify's Competitor and its Market Share
When analyzing the global eCommerce-platform market, it becomes apparent that a few front runners command a solid slice of the market. Their seemingly undisputed leadership does not truly portray the market and its ever-evolving trends. The Shopify share is 20%, according to BuiltWith, with the current power of over 1000.0000 businesses worldwide. Top 1 is Woocomerce with 28%, Magento owns almost 8% of the global eCommerce market.
How does Shopify work?
Shopify is an eCommerce platform that hosts your online store. It helps organize the layout of your store's appearance through themes. You can name your business, add products, and collect payments within minutes. You also have 14-day trials for your experiment.
Shopify Dropshipping
Many potential users of Shopify will be wondering how it facilitates Dropshipping. It is a business model in which eCommerce entrepreneurs sell their products without having to carry any inventory.
In this way, you just need to pay the wholesale price to the supplier, while controlling the price that your customers see in your Shopify store. In other words, when a customer places an order in your store, you purchase the products from the supplier and select how to ship the product directly to your customer.
Shopify Pricing
There are 5 plans to choose from
Shopify Lite – $9 per month
Basic Shopify – $29 per month
Shopify – $79per month
Advanced Shopify – $299 per month
Shopify Plus – custom pricing
There is also a free trial available, which lasts for 14 days.
All plans include monthly and yearly payment options, and merchants can upgrade or downgrade their accounts at any time without any additional fees.
Additional fees apply to make the most out of Shopify's point of sale feature, which lets you sell goods in a physical location.

Shopify Lite Plan Features
Including domain configuration and hosting
Selling on Facebook
Accepting credit card payments
Using Buy buttons
Technical support, marketing support
For beginners who require simple eCommerce functionality.
Basic Shopify Plan Features
A fully functional website and blog
Unlimited products and file storage
Discount code engine, fraud analysis tools, free SSL certificate
Manual order creation, shipping labels, 24/7 support
Abandoned Cart Recovery tool
For Merchants who have a limited budget but need a good function and a beautiful theme online store.
Shopify Plan Features
Professional Reports
Create gift card
Marketing assistance
Suitable for companies that want to scale up quick
Advanced Shopify Plan Features
The real-time carrier shipping
Advanced Reports
Unlimited posting videos and images
Giving back-end admin access to up to 15 users
This plan is great for companies that have third-party shipping.
Shopify Plus Plan Features
Advanced security
Multichannel sales
API access (Application Programming Interface)
Custom fulfillment
A personalized support team
Getting additional access to Shopify back-end
Integrated systems
This plan is best for high-volume and high-growth businesses, including wholesale businesses and B2B sellers.
Shopify Highlight Features
Shopify is an all-in-one solution that offers you numerous features which help you build and manage your online store
The best eCommerce solution
Certainly, this platform was designed for everyone that does not require any experience in creating a website to get a fully functioning online store. You can easily set up it via simple steps.
You can list multiple variations of your products based on their sizes and colors and multiple images to provide your customers. There is no limit to the number of products you can have in your store for sale.
Shopify Abandoned cart recovery
You can get the information about their unsuccessful checkout in case your customers contact you for help with payment details. You can figure out why carts are left unpaid by looking at the similarities as well.
Shopify Theme Store
It includes both free and paid themes that are designed by experts to suit your style and the features of your eCommerce store. The themes seem tidy, elegant, and attractive. Getting yourself a good theme ensures more chances of customers coming back for more and thus generates more revenues.
If you're unsure whether investing around $180 on a premium theme is the right decision, you can get free themes to see how that works for your store.
Shopify App Store
With a total of 200+ apps, Shopify App Store breaks all the limits to what you can make of your eCommerce site. When you use Dropshipping features, you have to need the help of the App Store, there are a lot of apps for this, for instance, Obelo Apps.
Other than that, you can browse the App Store for connecting to social media platforms to further promote your business and increase traffic to your site. So, What are the best apps for your store?
The Shopify Store is packed full of useful tools and apps for companies that want to increase sales. This is why a lot of merchants rely on this platform for their eCommerce ventures. Let's count down the top apps for your eCommerce store.
Oberlo – Dropshipping app
Kit – Media Marketing App
Printful – Print on demand Dropshipping App
Hubspot CRM – set up your sales and marketing strategy
Seguno – Email Marketing App
Plug in SEO – SEO power tools for traffic & sales
Form Builder – Custom Form, Feedback, Easy Payment, Donation, Order
Product Reviews – The simplest way to share your customer's experience
Smile – Design a loyalty program with points, referrals & VIP rewards
Shopify POS – Unify Online and in-person sale
Shopify Point of sale
It's a particularly strong feature that deserves special mention and helps it stand out from its competitors. Shopify's POS hardware lets you use the platform to sell in physical locations, using your IOS or Android device.
Shopify POS lite was integrated into Shopify Plans and covered the basics. You need to pay for a Shopify POS Pro add-on to get the most out of the point of sale.
Shopify Reporting and Analytics
Shopify offers a decent range of reporting tools, which can be upgraded with higher plans. It will give you from a real-time overview of key factors to detailed sales and customer reports, or a deep analysis.
In 2021, continuing to improve its Report and Analysis to support multi-channel business that allows seeing an overview of key metrics for all of the stores in one central place.
Multi-channel & omnichannel
Shopify is a great eCommerce solution that provides merchants with a total of 8 sale channels including Facebook, Instagram, Amazon,… By connecting each sales channel to Shopify, you can easily monitor all of your products, order, and customer in just one place
Shopify Payment and Shipping
Offering over 100 payment providers including Paypal, Amazon Pay, Apple Pay… and charges a transaction fee (2.5% to 0.5% depending on your plan). But the Shopify payment is a free payment gateway and accepts payment in multiple currencies.
Providing high flexibility when it comes to shipping. You can configure your shipping rates. With the Advanced Shopify plan, you can also unlock the third-party calculated shipping rates.
Shopify SEO & Marketing
Shopify's SEO is an effective service. It's adequate, intuitive and it gives the right titles and meta tags to your page. It also has a range of plugins like Plugin SEO, SEO plus, and SEO Booster that can help you to boost your sales.
Shopify offers integration of your site and mobile app with social network platforms like Facebook, Twitter, and Instagram. You can also have the option to sell directly on social platforms.
Support team
Shopify has support available 24/7 for phone, email, and live chat support. Other than that, you also get to access its community forum, help center, and other video tutorials
Shopify community
With improved search functionality, accepted solutions, and participation rewards, Shopify Community is your opportunity to connect with, learn from, and help eCommerce professionals around the world.
For merchants, this is the place to find solutions to their business problems. If nothing exists, you can work with a merchant to come up with a solution together.
For partners, this is an opportunity to connect with store owners and find out what services they need. Ask questions, gather feedback, and work together to create solutions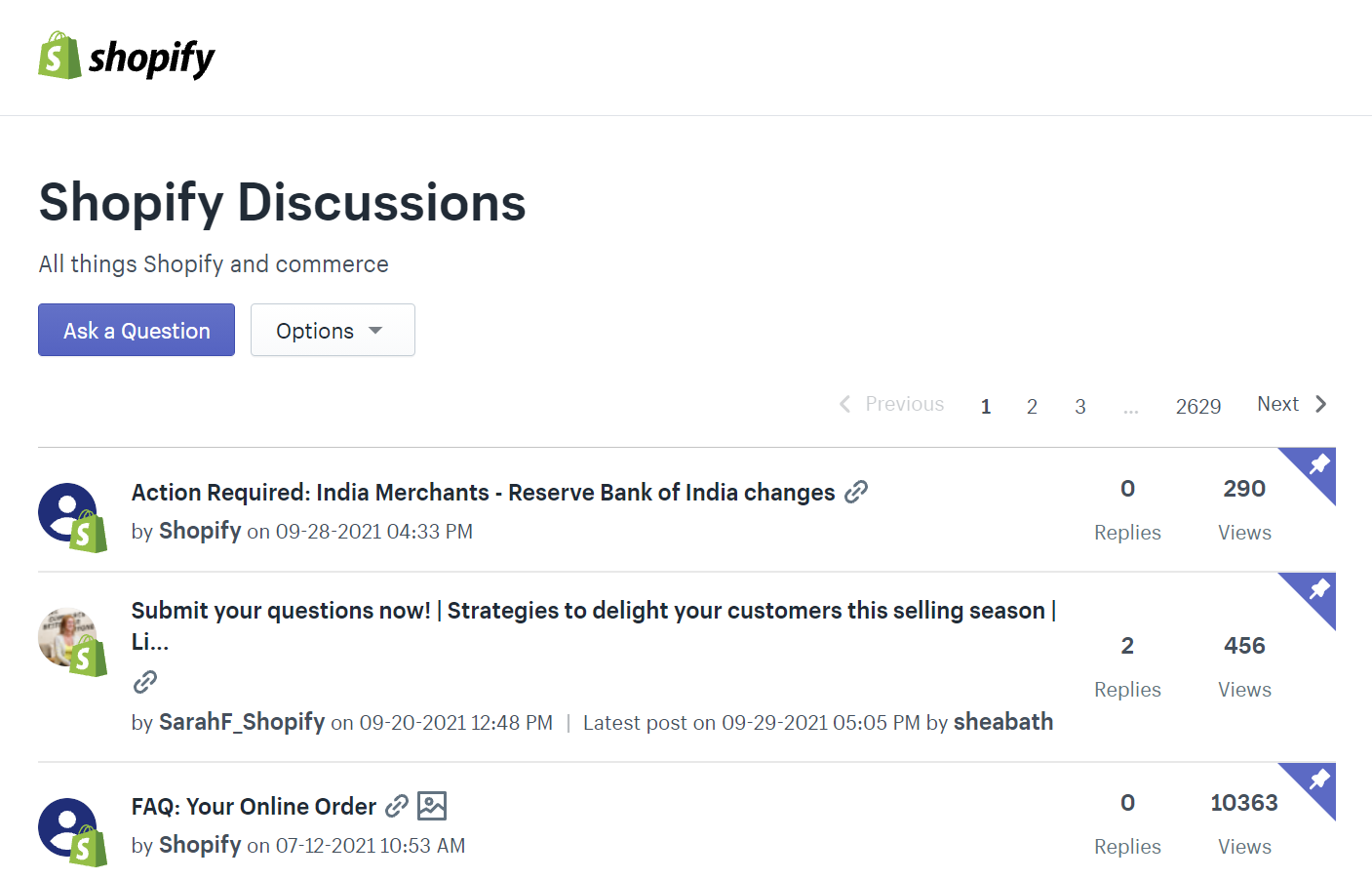 Shopify Pros and Cons
Pros
One of the most praises of this platform is how simple it is to use. You can focus on running your business without wasting time addressing technical issues for your store.
It's must to say, Shopify provide several theme options that make your website look beautiful and professional for retaining customers and mobile-friendly.
Moreover, the Shopify App Store with over 1200+ apps and plugins allows you to focus on other important things. It's easy to use and straightforward.
Abandoned cart saving functionality is available on all plans and is quite cheap. You also have an incredibly dedicated support team with 24/7 support.
It's a great option for anyone interested in dropshipping with a large number of external payment gateways that can be used.
In addition, Shopify has a ton of SEO additions to its platform, as well as other marketing tools to get more traffic to your site.
Cons
This platform has some limitations, the additional features that can't be unlocked strictly because of how the coding is set up.
Customers cannot use multiple discounts, only one discount per order is available by default. Only with the Shopify Plus plan, you can use some extensions for multiple discount features.
When you use the dropshipping app, it's hard to be confident that the goods you're selling are ethically produced.
And finally, this is not a free platform to use, depending on the plan, the fee varies from 0.5% to 2% of the sales value. You also have to pay for some themes and apps, transaction fees also to run your business.
Shopify is Best Suitable With
This platform is suitable for all business owners who want to have a fully functional online store. Even though you are just getting started or looking for an all-in-one eCommerce solution to scale your business, Shopify is your best choice. Plus, there's a 14-day free trial available, so you don't have to commit until you're sure that it will work for you.
Final Words
Shopify is one of the best hosted solutions for those wishing to create an online store as it's a highly flexible platform with a large app store, reasonable pricing plans, and an impressive range of built-in features. It has great sales potential, ease of use, and satisfaction rates.