This article focuses on Shopify POS features and pricing for POS Lite and POS Pro. In addition, it provides users perspectives on Shopify POS and answers their frequently asked questions.
What is the difference between Shopify and Shopify POS?
Shopify and Shopify POS
Shopify is one of the leading e-commerce platforms today. With Shopify, you can start an online business simply and efficiently.
Shopify offers service packages with functions suitable for different business groups with prices from $29 to $299. It is especially suitable for all businesses of all sizes.
See more comparisons of Shopify and Shopify Plan in this article: Shopify vs Magento 2021
With the advantage of more than 1,700,000 users trusting Shopify, they have launched their point of sale system – Shopify POS. It is an absolutely effective solution to connect traditional and online stores for Shopify users.
Shopify POS is a complete tool that integrates an online sales platform and stores management features. This POS syncs with Shopify, to ensure sales data between channels is updated continuously and completely.
Shopify POS pricing

This app offers its users 2 options with features according to the needs of the business:
Shopify POS Lite: Works with the user's existing Shopify plan. POS Lite is free with any business Shopify plan.
Shopify POS Pro: Shopify store owners can use POS Pro software for free when choosing a Shopify Plus plan. Otherwise, it costs $89/month per user location.
Shopify POS highlight features

Omnichannel selling
Inventory management
Checkout
Staff management
Reporting and analytics
Products
Customers
Support
See detailed Shopify POS highlight features in this article: Shopify POS Features
Shopify POS Reviews from Users
Shopify POS is highly appreciated by the perfect combination of the POS system with its e-commerce platform.
Shopify POS is especially suitable for Shopify store owners who want a free POS app that can connect to their e-commerce store. They can manage sales channels on a single platform.
However, a lot of discussions have taken place recently on the Shopify Community. Shopify POS with the latest update for 2 versions of POS Lite and POS Pro has created a lot of controversy with its price and features.
The POS Lite version is considered to not meet the most basic features that a POS system needs to provide. For example, POS Lite does not include the Buy Online and Pick Up in Store features that Shopify POS previously provided.
While with POS Pro, the price of $89/month per location is too high compared to what Shopify brings to users. The cost is increasing many times over, creating a burden for store owners to maintain using Shopify and Shopify POS in the long run.
How to get started with Shopify POS?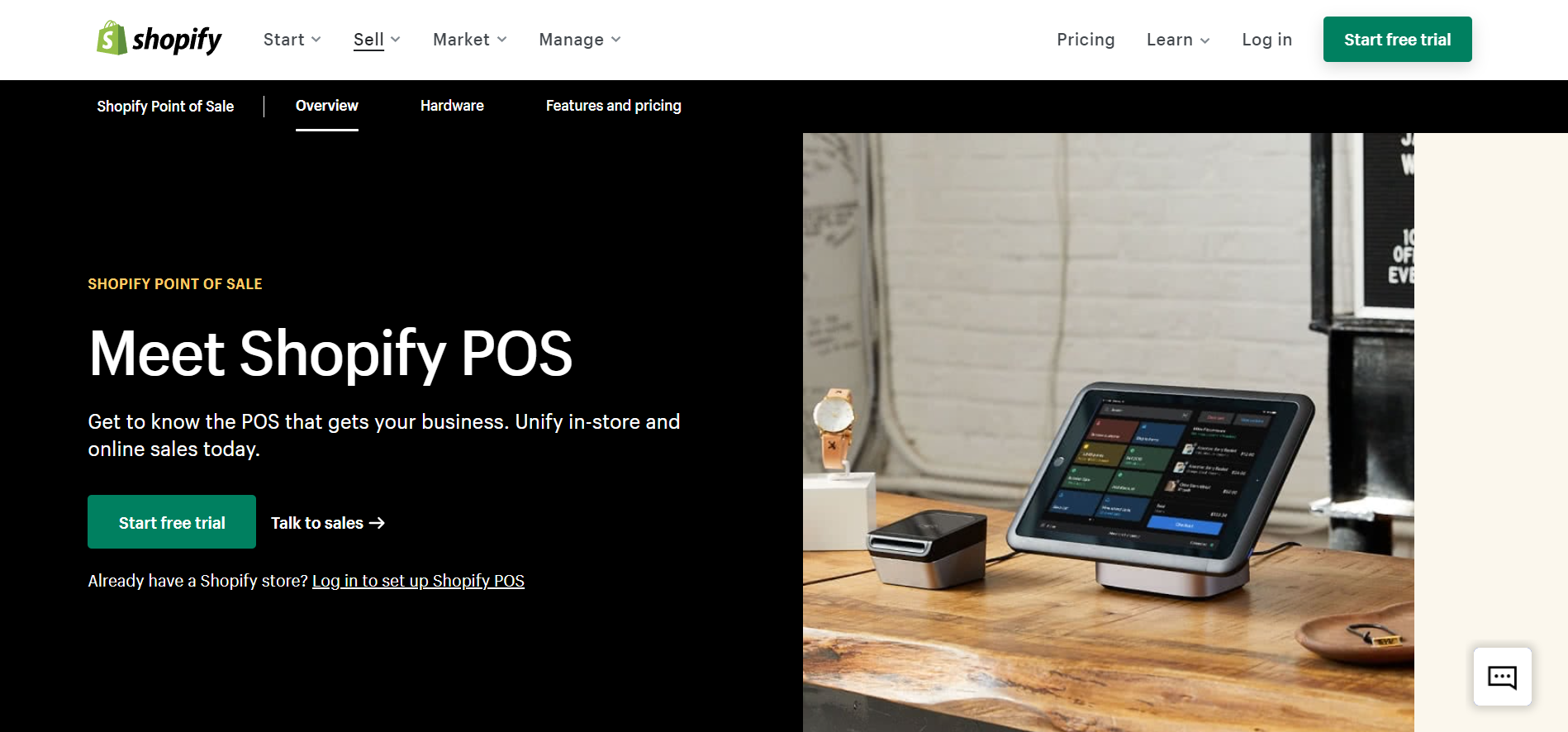 If you already have a store on Shopify, it's easy to get started with Shopify POS in just 3 steps:
Step 1: Choose the right POS Lite or POS Pro for your stores
Step 2: Set up Shopify POS app
Step 3: Change the settings for your own Shopify POS
See detailed instructions in this article: How to set up Shopify POS?
Alternative to Shopify POS
Square POS system is now deployed by 26,748 customers worldwide and gaining over half of the POS market share at 52.04% (Slintel).

Square POS software is free to use. There are no setup fees or monthly fees. Only pay when you take a payment.
Processing rate: 2.6% + 10¢ per tap, dip, or swipe
Monthly fee: $0 per month
Currently, Square POS can be considered as the leading competitor of Shopify POS. We've tried comparing Square POS and Shopify POS to help you consider several different aspects when choosing your provider.
With Lightspeed POS, you have three attractive benefits, which are multiple systems managing solutions, remote working and handling all in one device, and intuitive, modern tools.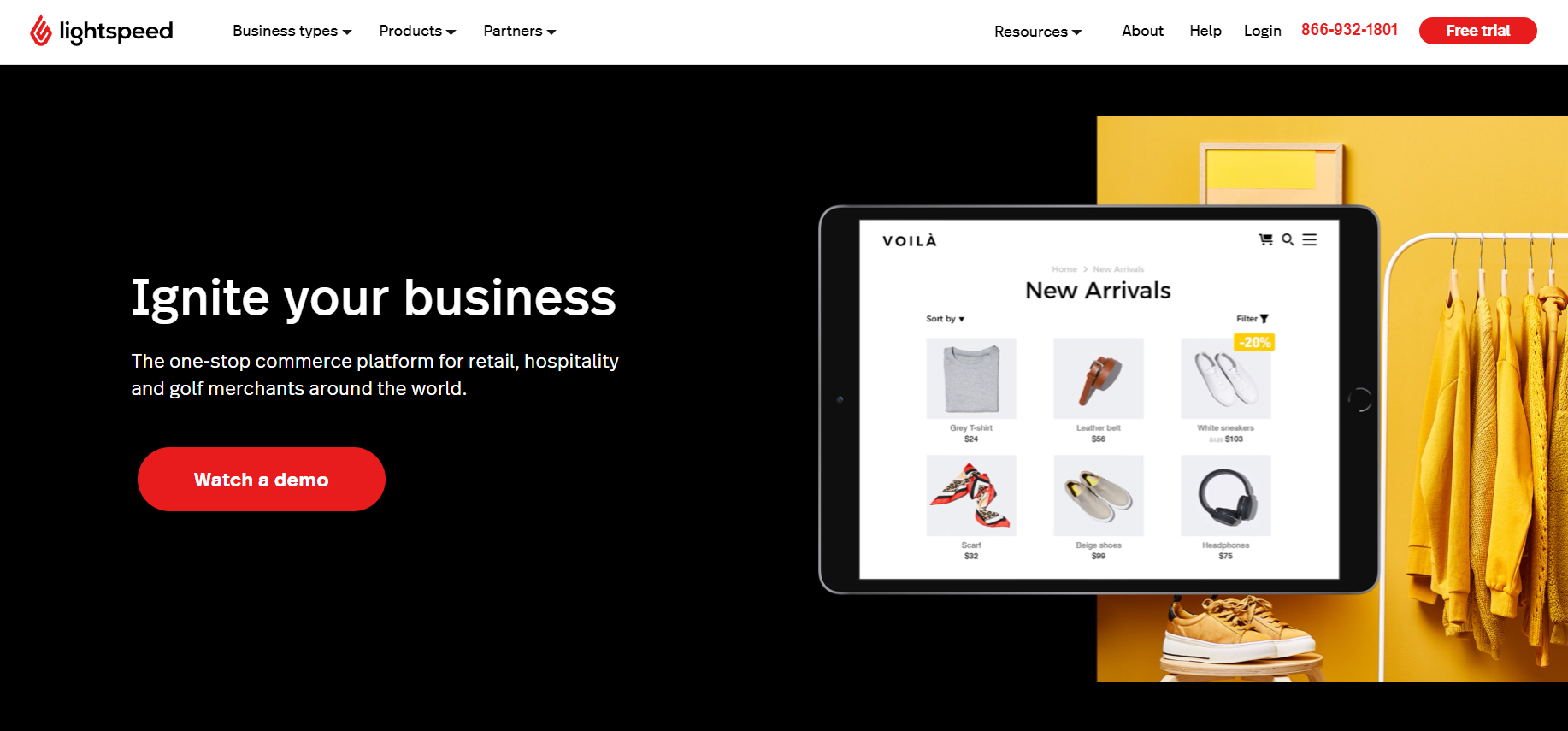 Lightspeed POS provides service packages with upgraded features according to the needs of users:
Lean – For your essential business needs: $69/month
Standard – Ideal for omnichannel businesses: $119/month
Advanced – More tools for businesses looking to go further: $199/month
The comparison between Lightspeed POS and Shopify POS has shown the advantages and disadvantages of both these POS systems.
The software is trusted by retailers in over 140 countries and is used in more than 20,000 stores worldwide.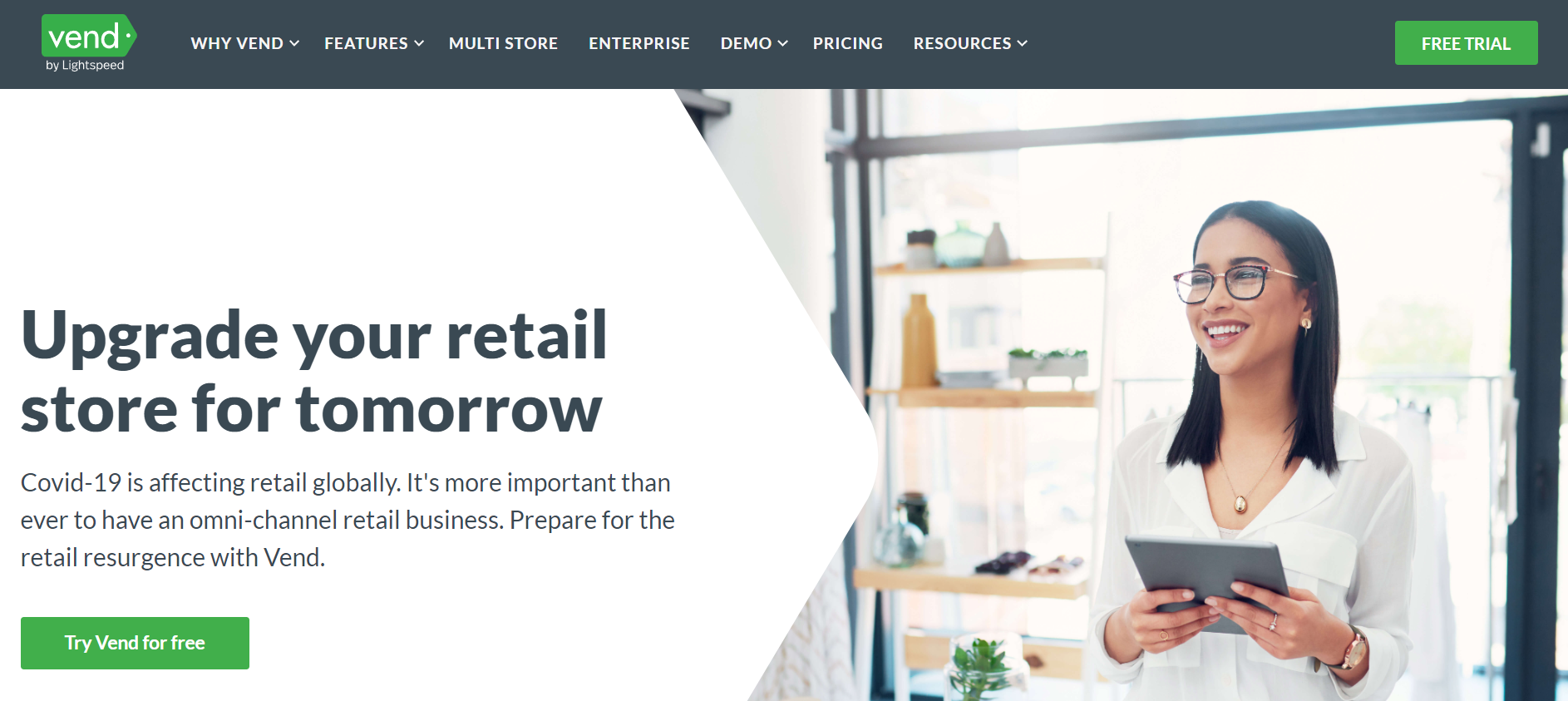 Similar to Shopify POS, Vend POS offers its users 2 options: Lite and Pro.
Lite: All the features you need to build your business and grow your operations
$119/month or $99 per month billed annually
Pro: Pro features for businesses that have multiple locations, need integrations or just want to grow faster
$159/month or $129 per month billed annually
QuickBooks offers a POS software package with an initial cost of $1,200, a one-time purchase. The users do not need to pay monthly fees for this POS system. They only need to pay a 2.3% fee for each swipe or dip.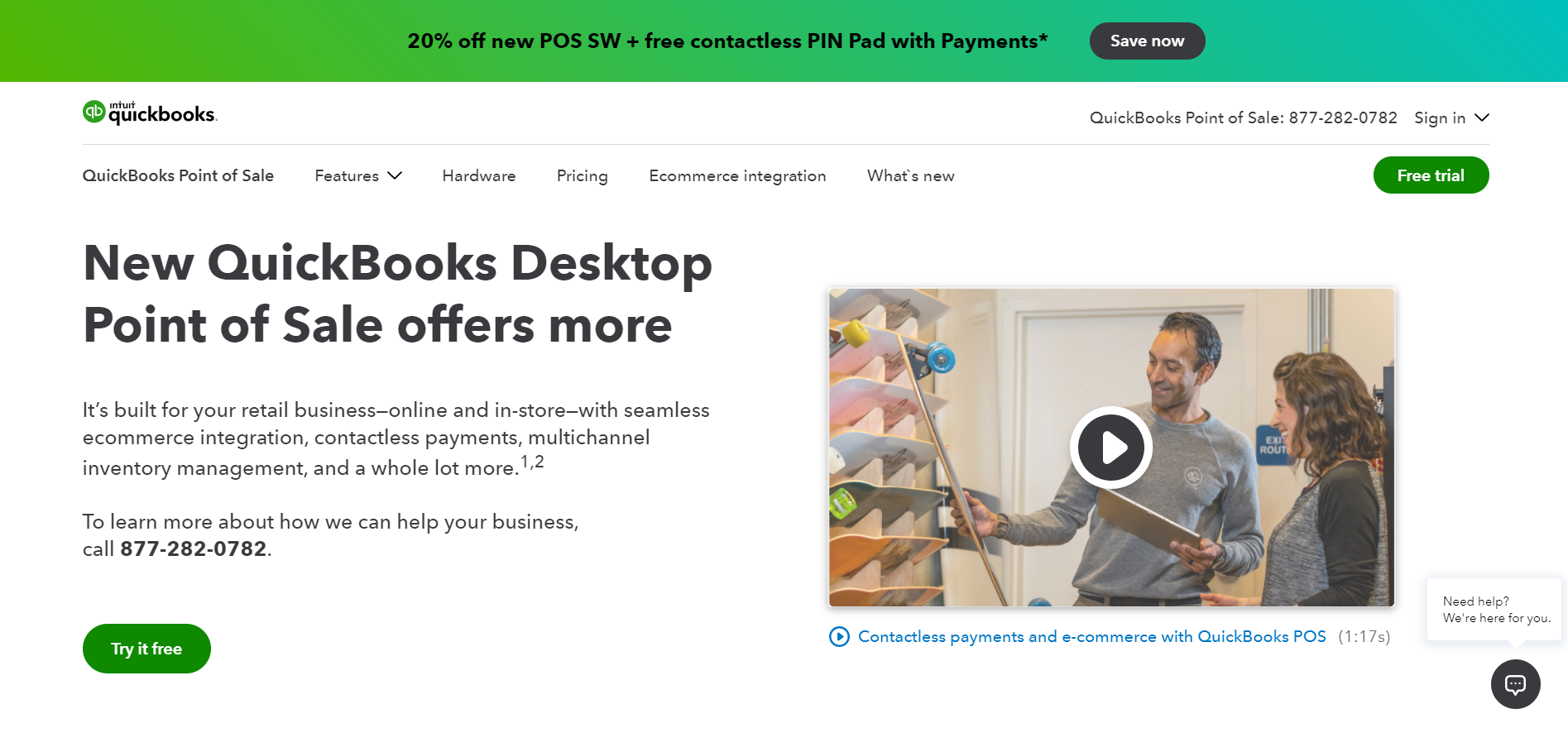 POS Basic: $1,200
POS Pro: $1,700
POS Multi-Store: $1,900
The pricing method coming from QuickBooks POS is especially suitable for small businesses with an infrequent number of transactions.
TouchBistro was a restaurant-specific POS system from the very beginning. More than 12,000 restaurants worldwide use TouchBistro software, with their payments processed to date totaling over $6 billion.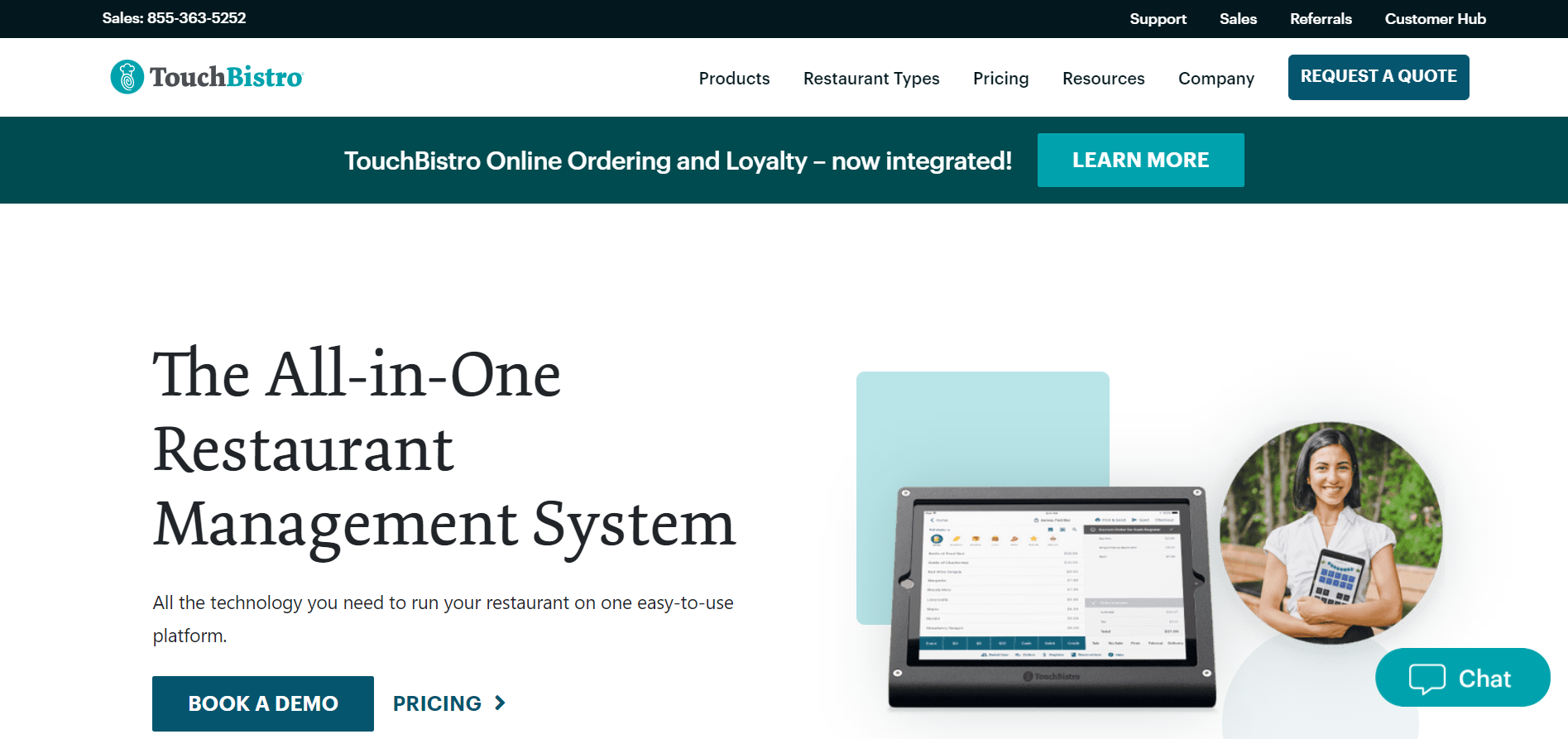 TouchBistro POS offers its POS price starting at $69/month with the most basic features for a restaurant POS system.
It includes menu management, staff management, ordering, reporting, and analysis. Customization and advanced features related to customer interactions, restaurant operations are billed separately.
Customers need to choose the necessary features for the POS system at their restaurant to have the most complete invoice from TouchBistro POS.
Toast is one of the leading POS systems in the restaurant industry with specialized services. This software becomes the leading cloud-based restaurant management platform and secures Series D funding of $115M, valuing the company at $1.4B.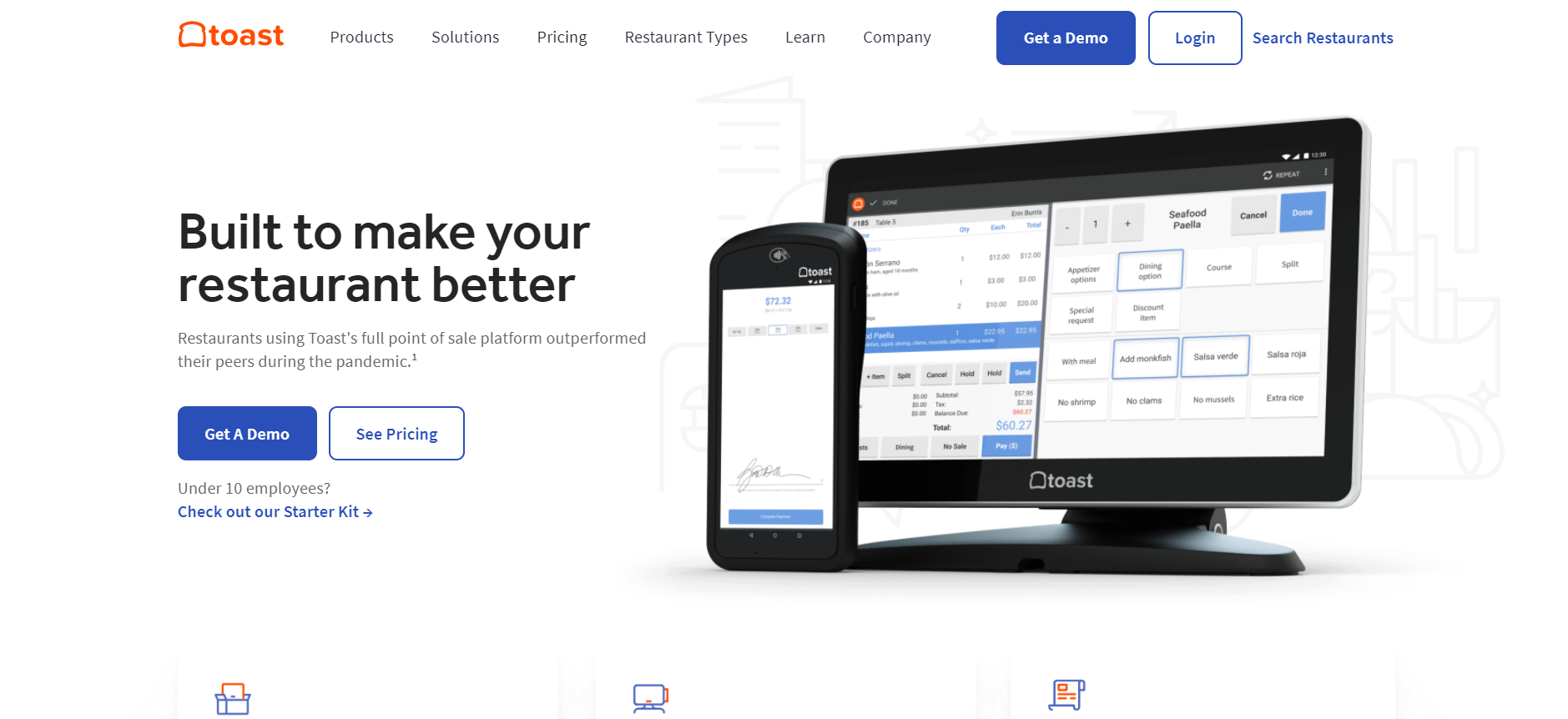 It offers simple, customizable POS Plans for every restaurant:
Pay-as-You-Go: From $0/month
Ideal for small restaurants to get up and running on Toast.
Essentials: From $165/month
Ideal for restaurants looking to expand into off-premise channels.
Ideal for using your data to attract new guests and drive repeat visits.
POS Revel is a full-featured restaurant POS system for financial management, sales, inventory management, and employees. The company that provides the POS system also offers solutions specifically for bars.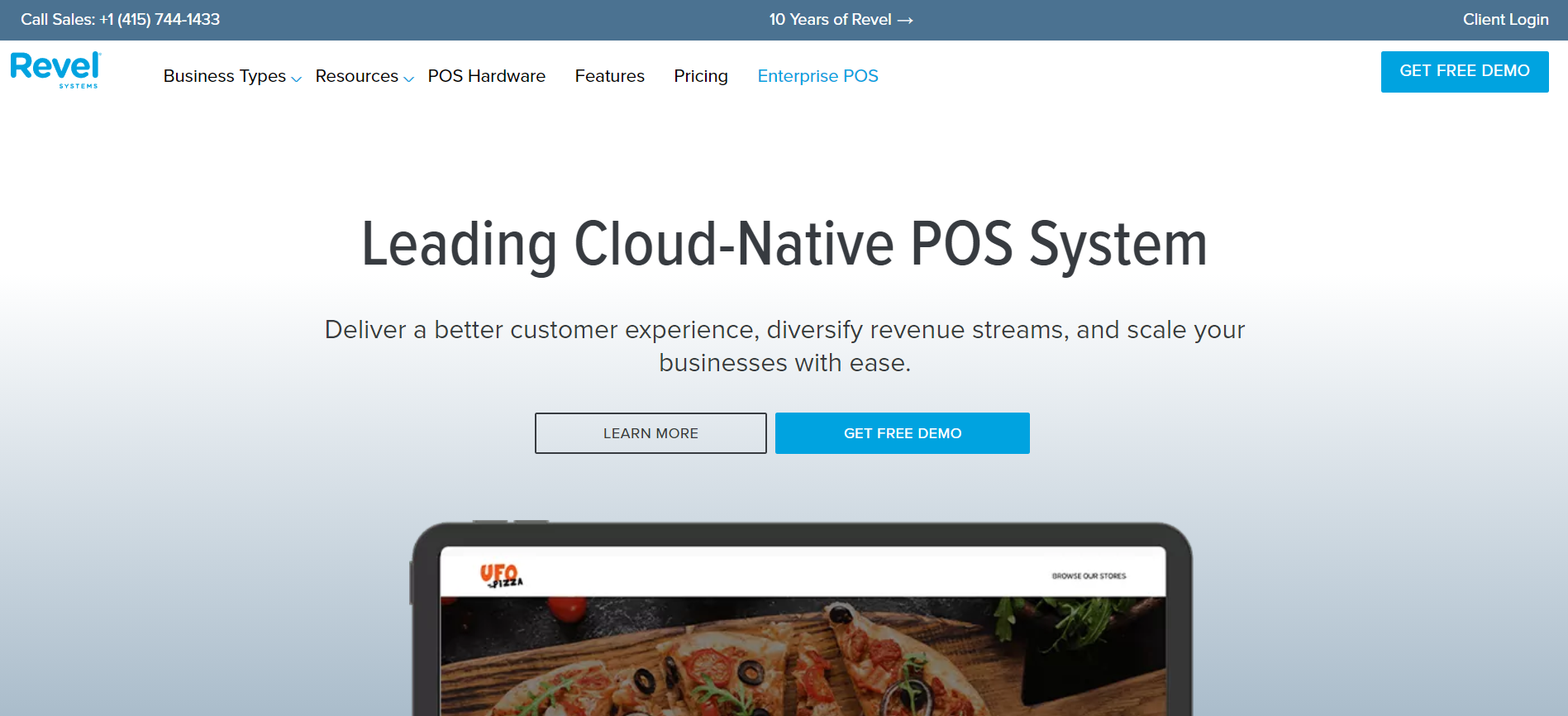 POS software costs starting at: $99/month per Terminal
Shopify POS FAQ
The operation couldn't be completed Shopify POS app error
You tried to access the Shopify POS app with a mobile device but got the message "The operation couldn't be completed" and couldn't continue to log in. How to get access?
Answer: This is probably an error coming from the Shopify POS app recently. It has received some feedback from users, especially users switching to new iOS devices. One solution for you to quickly continue to track your sales on the Shopify POS app is Uninstall app.
After Uninstall app, please restart your mobile device and Reinstall app to start using Shopify POS app.
How to calculate Shopify POS Pro price
Shopify POS Pro pricing is $89/month per location. What does that mean? You have multiple outlets that are using POS Lite but they all share the same store. If you upgrade POS Pro, will their price change?
Answer: The price of Shopify POS Pro will increase according to the number of merchants you use. An example of how Shopify POS pricing works for you is as follows. Your store has 3 facilities (3 different selling points). At facilities No1 and No2, you use POS Pro. At facility No3, you're still using POS Lite.
So, your total monthly Shopify POS invoice at these 3 stores is: $89 + $89 + $0 = $178.
Want to Learn More?