The meaning of POS is a point of sale. It is a system that allows you the ability to manage the transaction or inventory of your retail store. So, choosing the right POS system will help your store run. In this article, we will take a look at Shopify POS Review to clarify the features and pricing for POS Lite and POS Pro. Besides, it provides perspectives on Shopify POS and answers their asked questions.
What is Shopify POS?
As you know, Shopify is one of the leading eCommerce platforms today. So, with Shopify, you can start an online business simply and efficiently. This platform offers full function for different businesses. It is especially suitable for all businesses of all sizes. Also, you can take an overlook about Shopify Reviews. It provides everything about the pricing and features of this popular software.
With more than 1,700,000 users trusting Shopify, they have launched their point of sale system – Shopify POS. It is an effective solution that combines retail and online stores for Shopify users.
Shopify POS is synced with Shopify to ensure sales data between the many channels. It's always updated manually. Shopify POS is one of the best recommendations for people, who are considering the best way. In other words, it is the best solution to sell their products and services in real places as well as online.
How much is Shopify POS?
Once again, POS is a strong feature of Shopify that helps it stand out from its competitors. There are many types of POS that Shopify provides to you. Shopify's POS hardware allows you to sell in the physical location when you using IOS or Android devices. Moreover, this app offers 2 options for your choice: Shopify POS Lite and Shopify POS Pro.

Shopify POS Lite
With every Shopify Plan, you can use the Shopify POS Lite version. Because it's no extra cost with each of the standard eCommerce plan. So, the fee of this version is based on your Shopify plan Pricing, from $9 to $299 depending on your business budget. With the Shopify POS Lite, certainly, you have all the standard features that meet your business needs.
Shopify POS Pro
Different from Shopify POS Lite, this version requires an extra cost for almost the plan, $89 per month. But, when you upgrade into the Shopify Plus plan, the Shopify Plus will integrate with Shopify POS pro. Of course, the better thing about this version is that you can access advanced features of the point-of-sale.
Shopify POS features

Shopify POS Lite
The Shopify POS Lite allows you to connect with many devices like receipt printers, cash drawers. Other, when connecting with POS hardware, it can integrate with Shopify Payments. It supports you to accept all types of credit and debit cards as well as payment methods.
With this version, you can customize your smart grid to add products, discounts. From the home screen, you can view your transactions and reports. Moreover, creating discount codes and digital receipts and making refunds. Even, it has a lot of advantages such as its unlimited products, variants, and collections. Also, you can create a customer loyalty program or edit customer profiles.
Shopify POS Pro
With this version, you have all features of the Shopify POS Lite and plus more than that. It offers the option to buy online and pick up in-store or ship to your customers. Even, it allows them to redeem the automatic discounts. Moreover, it has various better benefits to your business. For example, getting daily sales and cash tracking reports, creating custom-printed receipts. Also, you can add an unlimited number of staffers with custom role types and permissions.
If you want to clarify the different features between the 2 options, the chart below will break down in more detail.
Compare with Shopify POS Lite and Shopify POS Pro
| | | |
| --- | --- | --- |
| | Shopify POS Lite | Shopify POS Pro |
| Omnichannel selling | | |
| Automatic discounts | – | Yes |
| In-store availability | Yes | Yes |
| Email cart | Yes | Yes |
| Product detail QR code | Yes | Yes |
| Buy online, pick up in-store | – | Yes |
| Buy in-store, ship to customer | – | Yes |
| Shipping rates | – | Yes |
| Shopify Payments | | |
| Popular payment methods | Yes | Yes |
| Low-in person rates for all cards | Yes | Yes |
| Shopify Hardware integration | Yes | Yes |
| Cash flow management | Yes | Yes |
| No hidden fees | Yes | Yes |
| Payments | | |
| External card terminals | Yes | Yes |
| Split tenders | Yes | Yes |
| Partial payments | Yes | Yes |
| Gift cards | Yes | Yes |
| Custom payment types | Yes | Yes |
| Hardware | | |
| Shopify POS hardware | Yes | Yes |
| Shopify hardware warranty | 1-year | 2 years |
| Shopify POS software | Yes | Yes |
| Connectivity screens | Yes | Yes |
| Free hardware shipping and returns | Yes | Yes |
| Compatible hardware accessories | Yes | Yes |
| Check out | | |
| Customizable smart grid | Yes | Yes |
| Global search | Yes | Yes |
| Mobile check out | Yes | Yes |
| Custom sale | Yes | Yes |
| Taxes | Yes | Yes |
| Discount codes | Yes | Yes |
| Custom discounts | Yes | Yes |
| Custom digital receipts | Yes | Yes |
| Refunds | Yes | Yes |
| Tips and gratuities | Yes | Yes |
| Custom printed receipts | – | Yes |
| Exchanges | – | Yes |
| Save/ retrieve carts | – | Yes |
| Staff management | | |
| Staff POS PINs | Yes | Yes |
| Unlimited store staff | – | Yes |
| Retail staff roles and permissions | – | Yes |
| Staff sales | – | Yes |
| Manager approvals | – | Yes |
| QR code login for POS devices | – | Yes |
| Products | | |
| Unlimited products | Yes | Yes |
| Collections | Yes | Yes |
| Variants | Yes | Yes |
| Inventory status | Yes | Yes |
| Multi-location inventory | Yes | Yes |
| Stock adjustments | – | Yes |
| Customers | | |
| Customer profiles | Yes | Yes |
| Customer tags | Yes | Yes |
| Customer contact information | Yes | Yes |
| Order history | Yes | Yes |
| Order notes | Yes | Yes |
| Shipping details | Yes | Yes |
| Marketing preferences | Yes | Yes |
| Loyalty | Yes | Yes |
| Reporting and analytics | | |
| Overview | Yes | Yes |
| Retail sales reports | Yes | Yes |
| Cash flow reports | Yes | Yes |
| Finance reports | Yes | Yes |
| Discount reports | Yes | Yes |
| Product reports | Yes | Yes |
| Cash tracking | Yes | Yes |
| Daily sale reports | – | Yes |
| Cash tracking report | – | Yes |
| Marketing | | |
| Product reviews | Yes | Yes |
| Email marketing | Yes | Yes |
| Social media integration | Yes | Yes |
| Google Ad credits | Yes | Yes |
| Local discovery on Shop | Yes | Yes |
| Support | | |
| 24/7 support | Yes | Yes |
| Onboarding resources | Yes | Yes |
| Migration tools | Yes | Yes |
How does Shopify POS work?
Once you choose the Shopify POS, you have various benefits than others. Using this app, your store can connect with your transactions in-store and online. Moreover, you can view and track your activities on your POS app. As a result, you don't have to get stressed about managing two separate sales records.
Shopify POS works on iPhone and iPad, it allows you to offer a seamless checkout process. In other words, you can make a simple checkout in-store. Moreover, you can identify any discounts that your customer wants. Or, when you have a loyalty program on your online store, you can give an award to your customers for making a sale.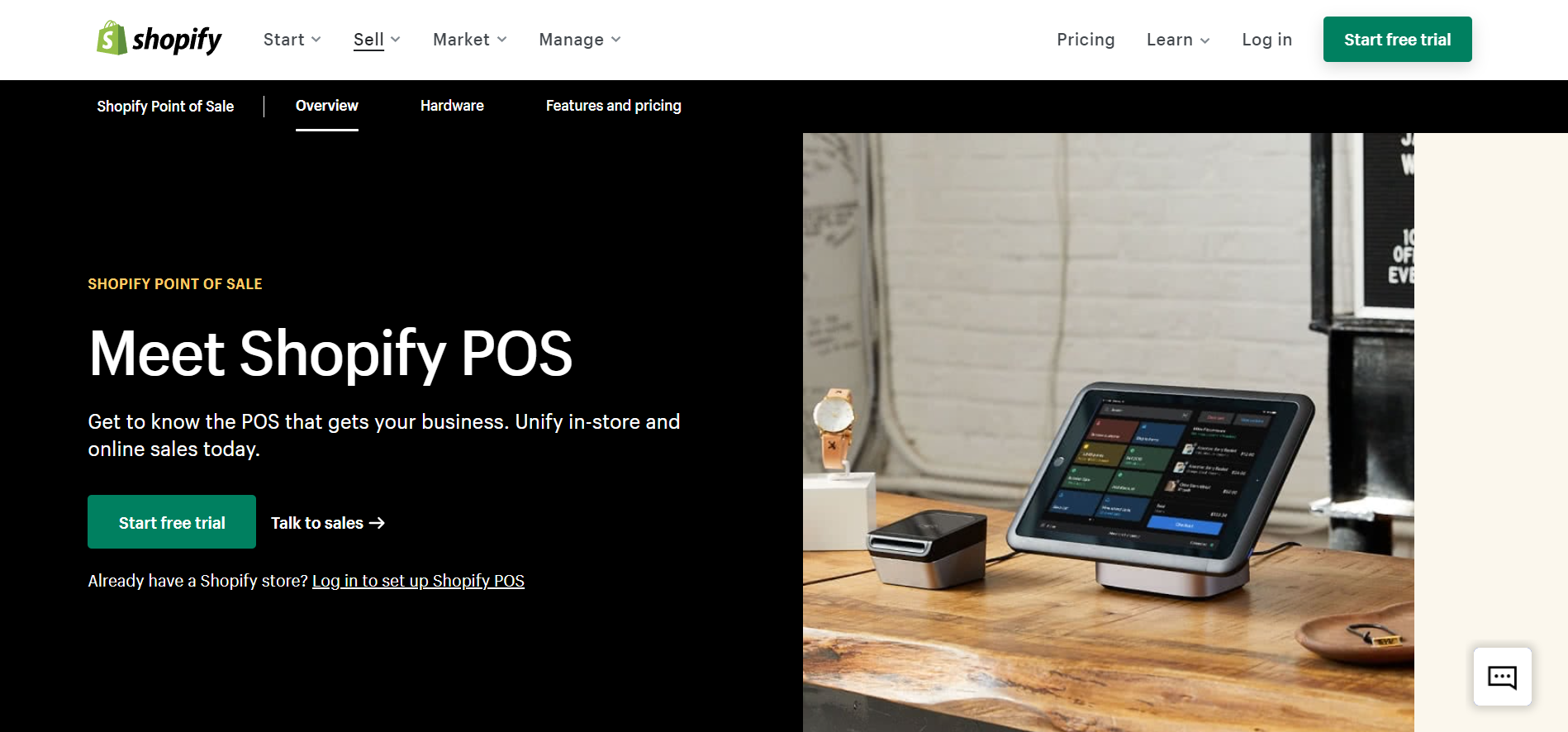 Shopify POS Pros and Cons
With its reasonable pricing and useful functions, the Shopify POS is a recommendation. Because it's friendly to sync with your Shopify Store. But, it still has some disadvantages. Let's drawback to taking a look at Shopify Reviews complaints.
Shopify POS
Pros
This app is highly appreciated by the perfect combination of the POS system with its eCommerce platform.
It is especially suitable for Shopify store owners who want a free POS app that can connect to their eCommerce store. They can manage sales channels on a single platform.
With Shopify POS, you can track your inventory and orders across multiple retail locations and any other active sale channels
Shopify POS Cons
However, a lot of discussions have taken place recently on the Shopify Community. Shopify POS with the latest update for 2 versions of POS Lite as well as POS Pro has created a lot of controversy with its price and features.
The POS Lite version is considered to not meet the full features that a POS system needs to provide. For example, POS Lite does not include the Buy Online and Pick Up in Store features that Shopify POS previously provided.
While with POS Pro, the price of $89/month per location is too high compared to what Shopify brings to users. The cost is increasing many times over, creating a burden for store owners to maintain using Shopify and Shopify POS in the long run.
Alternative to Shopify POS
Square point-of-sale is a system available for iOS and Android devices. It is now deployed by 26,748 customers worldwide as well as gaining over half of the POS market share at 52.04% (Slintel). Like Shopify POS, it also provides many benefits running a brick-and-mortar retail store.

Pricing
Square POS software is free to use. Because there are no setup fees or monthly fees. Only pay when you make payment.
Processing rate: 2.6% + 10¢ per tap, dip, or swipe
Monthly fee: $0 per month
Features
Square POS app is suitable for different business volumes, it covered standard features. Such as digital receipts, customer feedback via receipt. Besides, the simple grid will show your products & categories on the left-hand side and the sales receipts on the right-hand side. It also offers you product variants for tracking your items.
Moreover, Square POS can operate in an offline mode. This feature is suitable for small retailers to run in case weak internet connection. It is a good thing for many businesses to control temporary their store smoothly
In summary, Square POS is one of the good choices for the Shopify POS alternative. When you compare Shopify POS vs Square POS, you can have an overview of several different.
With Lightspeed POS, in fact, you have three attractive benefits, which are multiple systems managing solutions, remote working and handling all in one device, and intuitive, modern tools.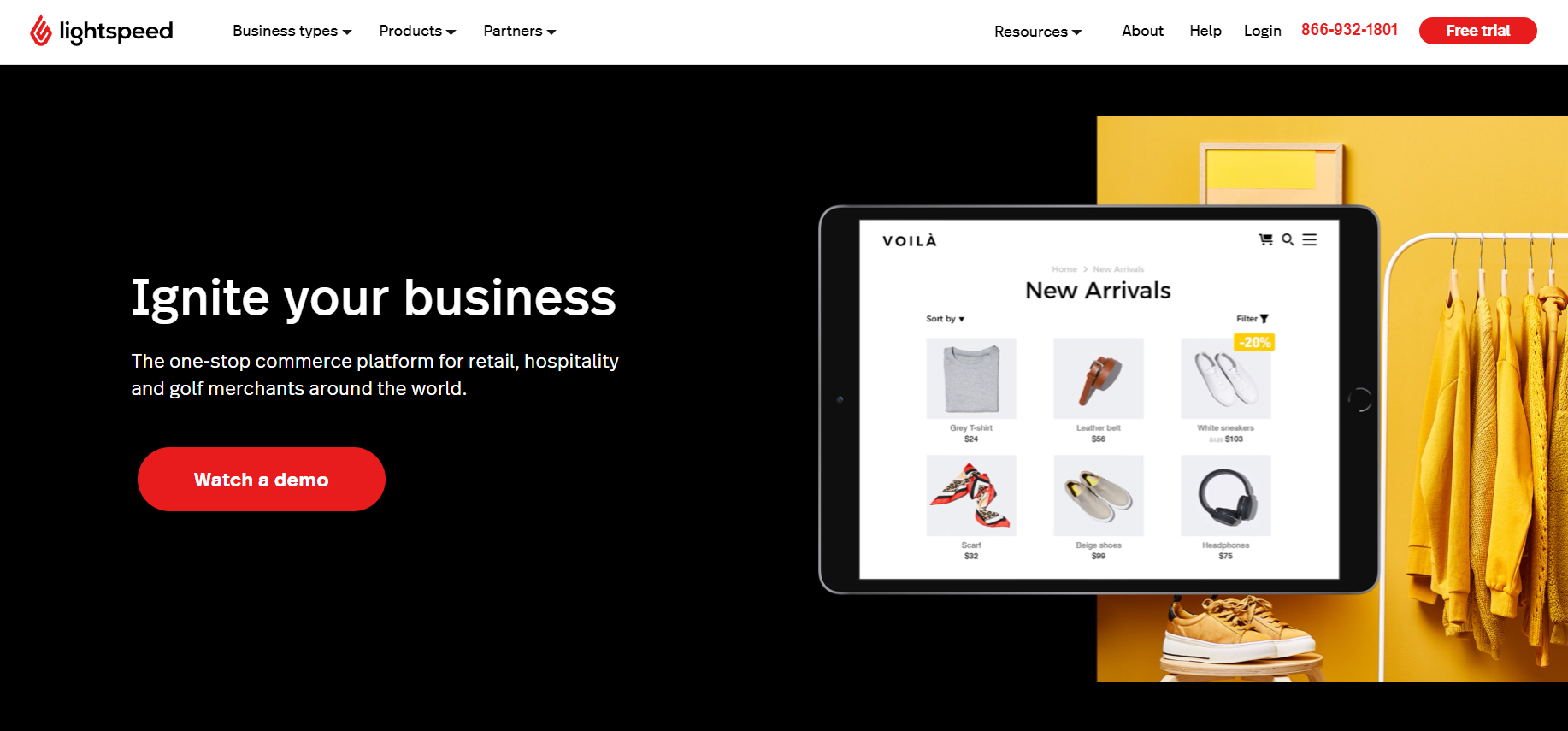 Pricing
Lightspeed POS provides service packages with upgraded features according to the needs of users:
Lean – For your essential business needs: $69/month
Standard – Ideal for omnichannel businesses: $119/month
Advanced – More tools for businesses looking to go further: $199/month
Features
Using the Lightspeed POS, you will experience a lot of advantages. Firstly, your employees can check out from anywhere in the store. Also, your customers can make refunds without using a credit card. Especially, you can import your product catalog by uploading a CSV or Excel file. And, this app has more than 10 report templates for you.
There are more good features of Lightspeed POS that we have not mentioned above yet. Comparing Shopify POS vs Lightspeed Retail POS, so you can have a deep look at the opposition about it.
Others
Besides, it has a lot of Shopify POS alternatives. Each of these has special features that meet your business budget and goals. Such as:
The software is trusted by retailers in over 140 countries and is used in more than 20,000 stores worldwide.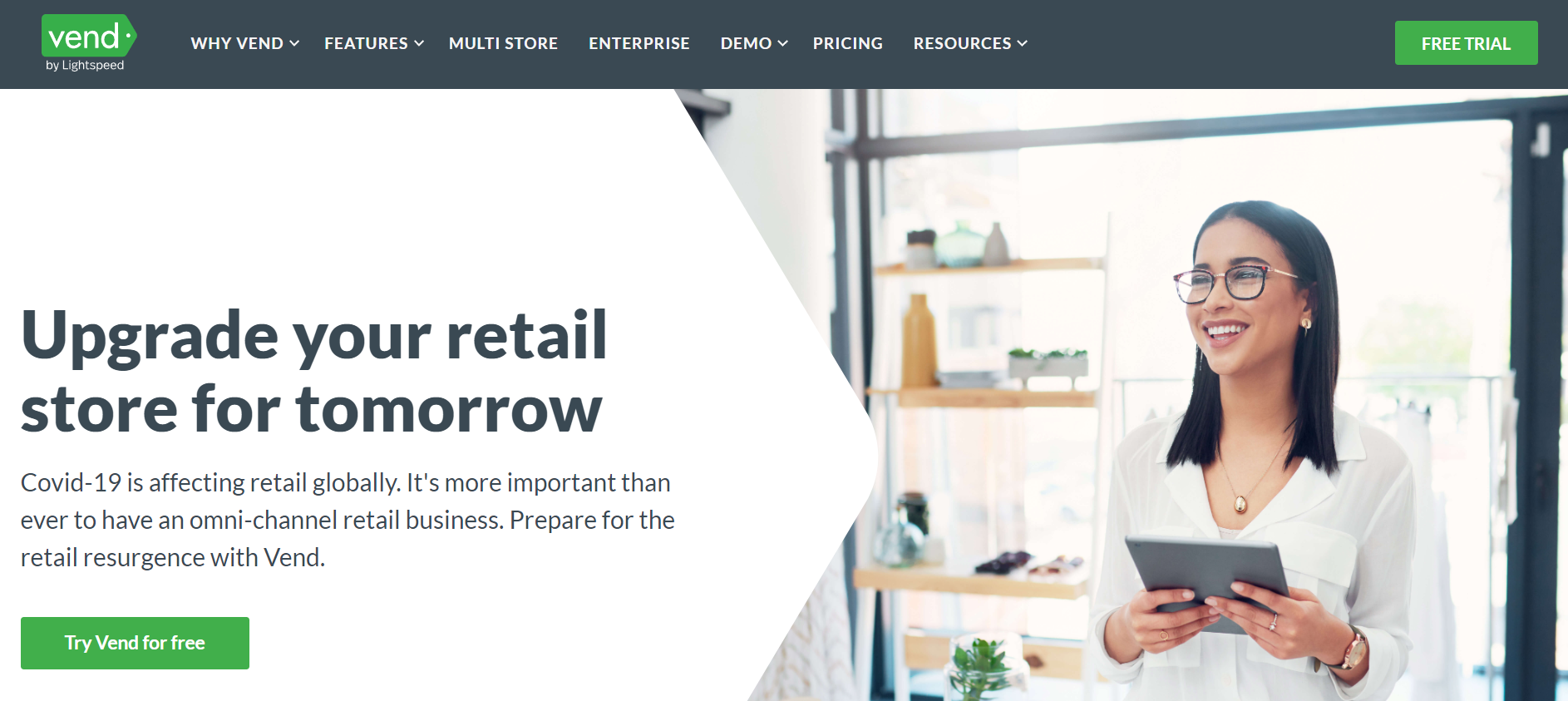 Similar to Shopify POS, Vend POS offers its users 2 options: Lite and Pro.
Lite: All the features you need to build your business and grow your operations
$119/month or $99 per month billed annually
Pro: Pro features for businesses that have multiple locations, need integrations or just want to grow faster
$159/month or $129 per month billed annually
QuickBooks offers a POS software package with an initial cost of $1,200, a one-time purchase. So, the users do not need to pay monthly fees for this POS system. They only need to pay a 2.3% fee for each swipe or dip.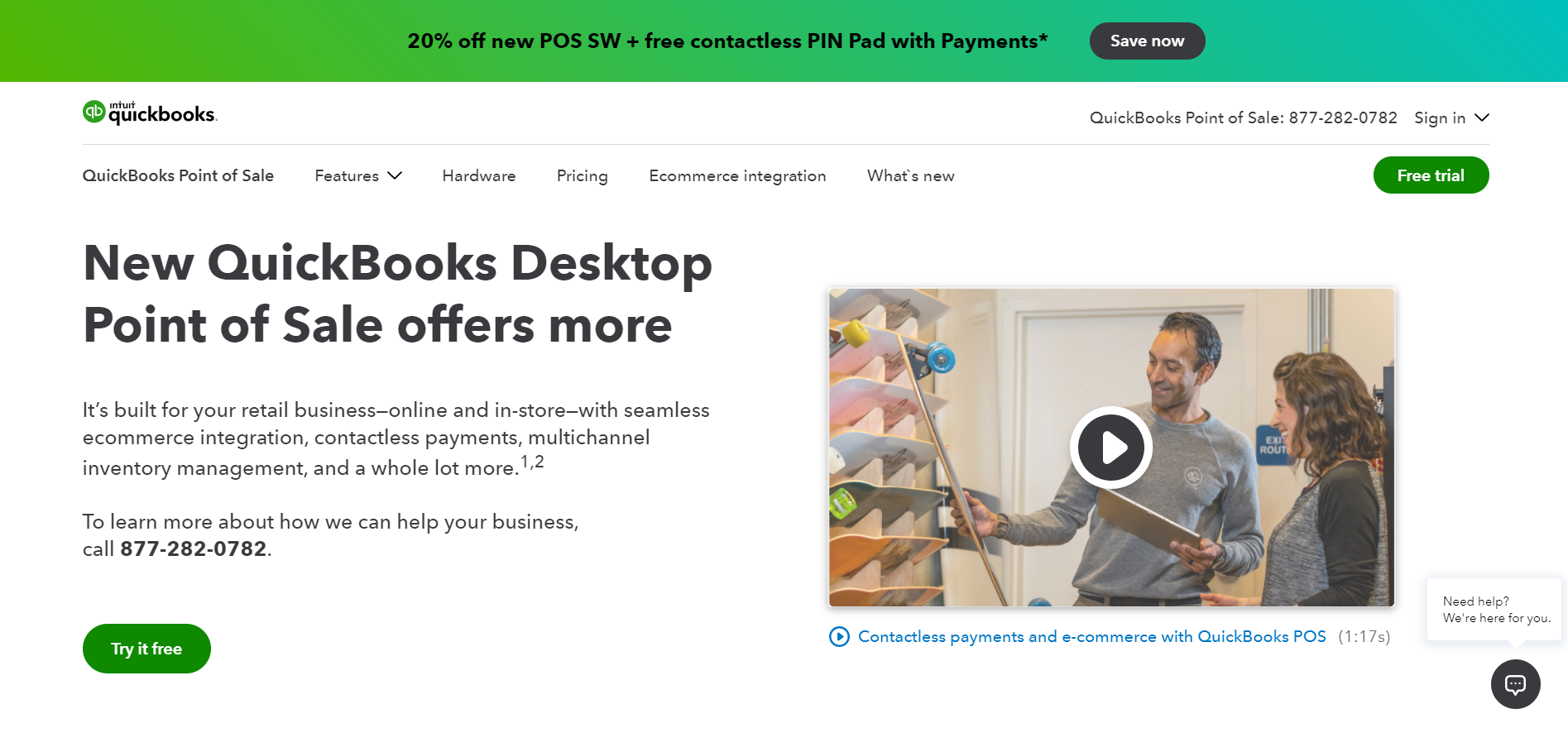 POS Basic: $1,200
POS Pro: $1,700
POS Multi-Store: $1,900
The pricing method coming from QuickBooks POS is especially suitable for small businesses with an infrequent number of transactions.
TouchBistro was a restaurant-specific POS system from the very beginning. More than 12,000 restaurants worldwide use TouchBistro software, with their payments processed to date totaling over $6 billion.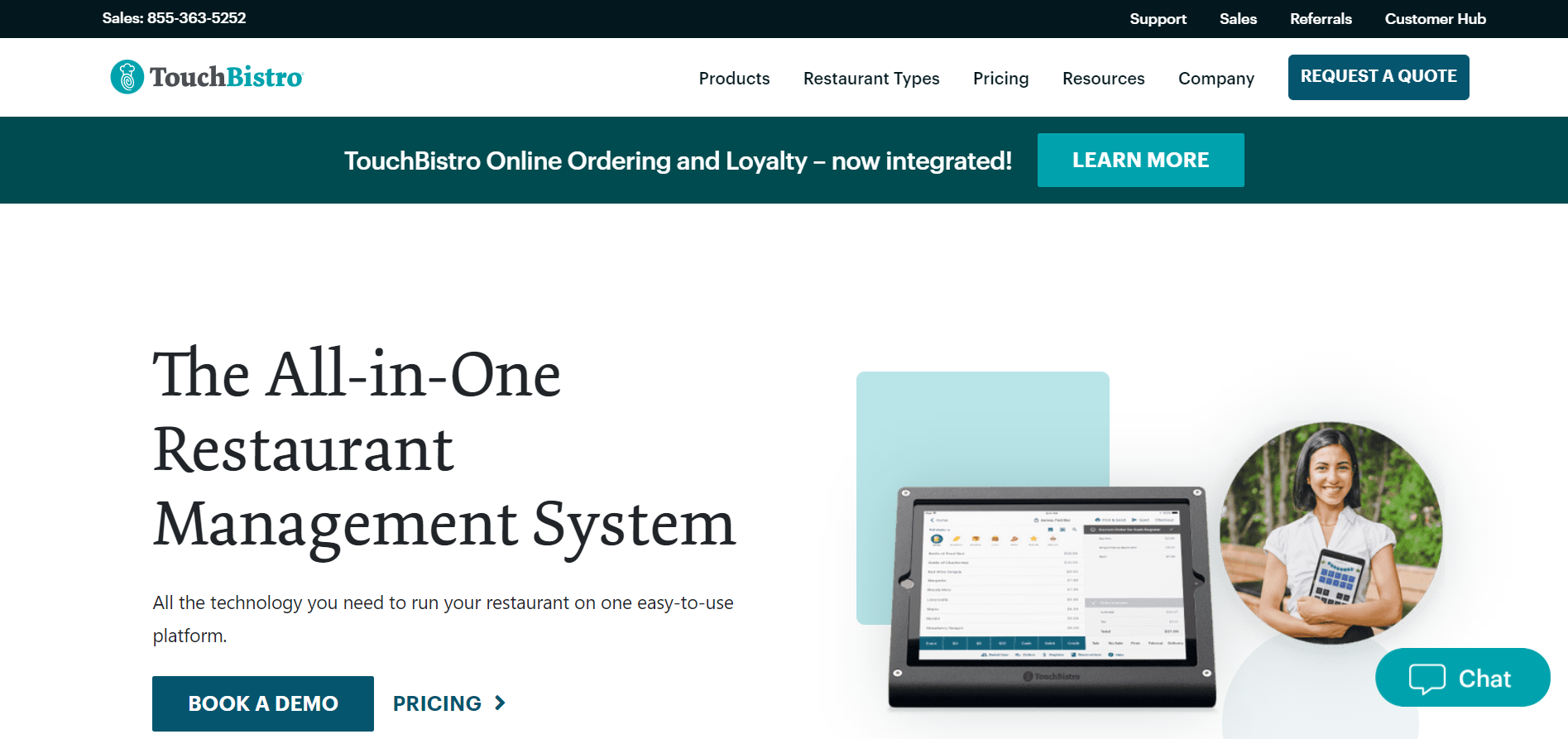 TouchBistro POS offers its POS price starting at $69/month with the most basic features for a restaurant POS system.
It includes many features, for example, menu management, staff management, ordering, reporting, and analysis. Moreover, customization and advanced features related to customer interactions, restaurant operations are billed separately.
Besides, customers need to choose the necessary features for the POS system at their restaurant to have the most complete invoice from TouchBistro POS.
In the same way, Toast is one of the leading POS systems in the restaurant industry with specialized services. This software also becomes the leading cloud-based restaurant management platform and secures Series D funding of $115M, valuing the company at $1.4B.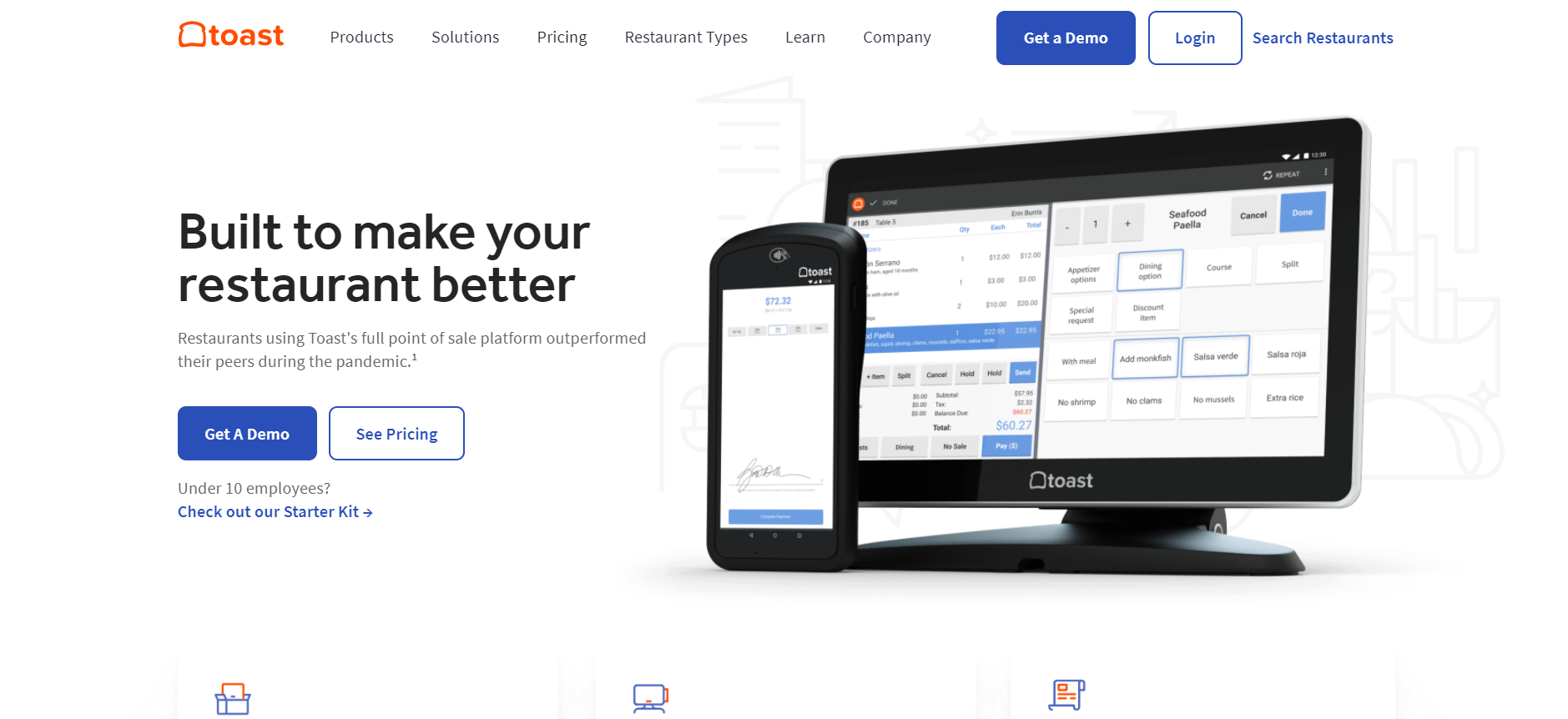 It offers simple, customizable POS Plans for every restaurant:
Pay-as-You-Go: From $0/month
Ideal for small restaurants to get up and running on Toast.
Essentials: From $165/month
Ideal for restaurants looking to expand into off-premise channels.
Ideal for using your data to attract new guests and drive repeat visits.
POS Revel is a full-featured restaurant POS system for financial management, sales, inventory management, and employees. The company that provides the POS system also offers solutions specifically for bars.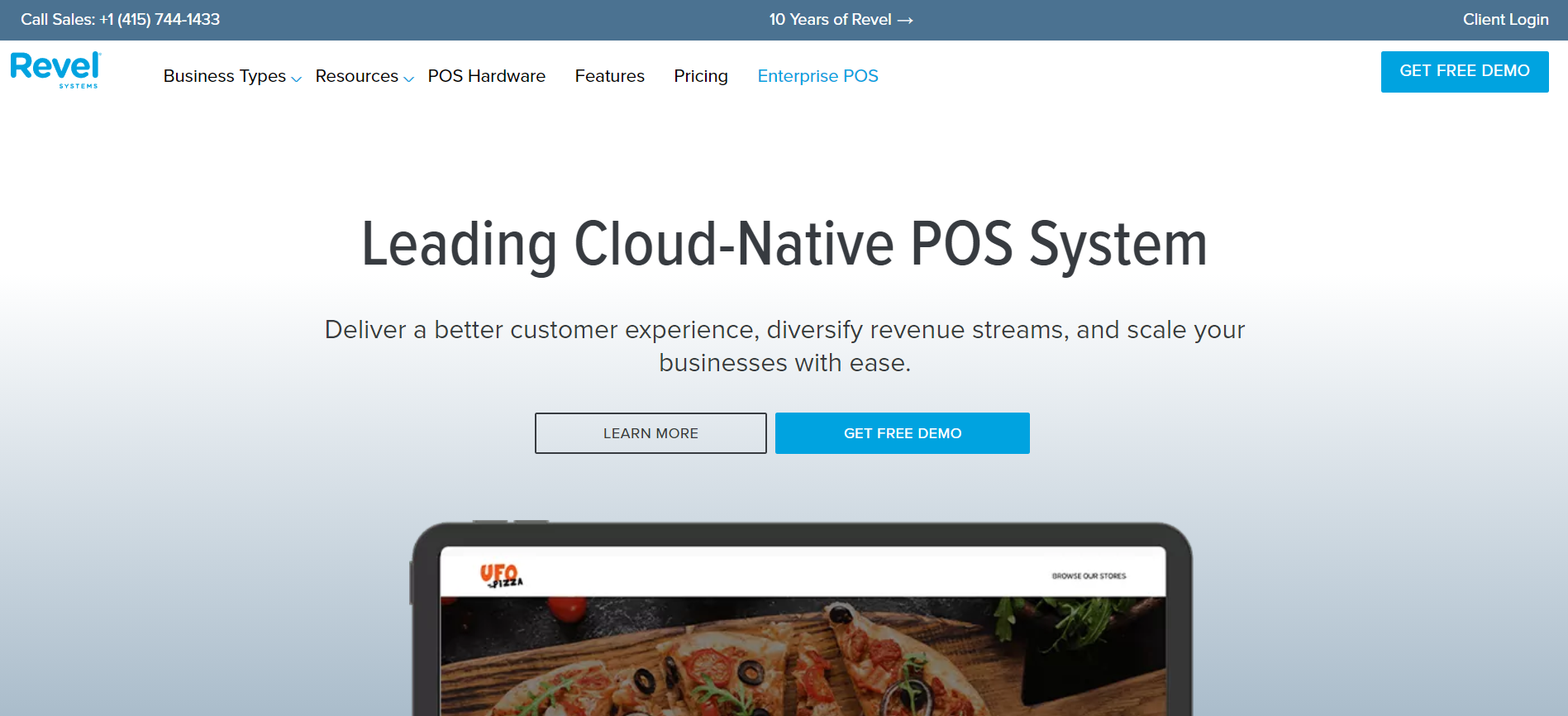 POS software costs starting at $99/month per Terminal
In conclusion, we must mention again, Shopify POS is a good solution for different business sizes who want to use POS software. So, choosing the best POS for Shopify is a necessary thing. But, you can consider the Shopify POS alternative that we listed above to choose your POS app. We hope you can find your answer in this Shopify POS Reviews article.
Shopify POS FAQ
Do you have to pay for Shopify?
Shopify offers you multiple options, so you can choose one that fits your budget.
– Shopify Lite – $9 per month 
– Basic Shopify – $29 per month
– Shopify – $79per month
– Advanced Shopify – $299 per month
– Shopify Plus  – custom pricing
There is also a free trial available, which lasts for 14 days. 
Can you use Shopify POS on a computer?
The Shopify POS is suitable with desktops since it can connect with both online and offline platforms. But, it hasn't supported the POS system on the PC. However, you can choose alternative POS software on Shopify App Store to be compatible with PC.
Does Shopify POS work offline?
Shopify POS needs an internet connection to integrate your Shopify accounts. Because this feature is not currently available on Android devices. In case you work without a network, you can process some types of transactions.
How do I get my Shopify PIN?
When you use Shopify POS, you can create or add a new staff account from in-app settings. Follow these steps to get the Shopify PIN
Step 1: Open Staff
Step 2: Tap Add staff
Step 3: Enter the credentials
Step 4: Enter a four-digit PIN
Step 5: Tap add the PIN
That's all. Now, you have the Shopify PIN.
Does Shopify POS work with multiple physical stores?
Shopify POS allows you to set up multiple locations. Your location can be retail stores, warehouses, popups, drop shippers, etc. So, you can manage and track your inventory and fulfill orders at any physical location.
Does it cost for a second POS?
When your store uses another POS terminal in-store, you will not need to pay more extra costs. It supports using 1 card reader, but it will be fine if you use 2 devices.
The operation couldn't be completed Shopify POS app error
This is probably an error coming from the Shopify POS app recently. One solution for you to quickly continue to track your sales on the Shopify POS app is Uninstall app. After Uninstall the app, please restart your mobile device and Reinstall the app to start using Shopify POS app.
How to calculate Shopify POS Pro price?
The price of Shopify POS Pro will increase according to the number of merchants you use. Your store has 3 facilities, No1 and No2, you use POS Pro. So, your total monthly Shopify POS invoice at these 3 stores is: $89 + $89 + $0 = $178.