Disable Shopify shipping for local pickup or digital products is quite a problem when there are both physical and digital in the customer's cart. Every store owner will face their own set of obstacles that must be addressed and met in order to implement the best and most effective shipping strategy.
In this post, I will show you how to disable Shopify shipping or limit which shipping options are available for specific products to provide customers with a better shipping experience and gain trust.
Disable shipping for digital products
Problem
When a store sells both physical and digital products, a user checks out, then it requires the user to fill out shipping details and then goes to a shipping method page. This is not necessary for the type of product as it is not a physical product.
Solution
Go to the digital product that you want to disable shipping. Scroll down to find the Shipping section and uncheck This is a physical product checkbox. Shopify will recognize that your product can't deliver because it's an unphysical item as a digital product.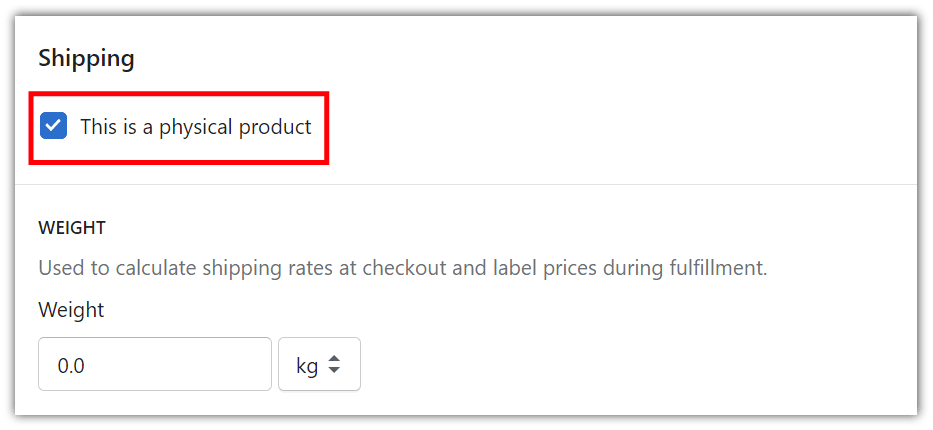 Disable shipping option for pick-up only products
Problem
Currently, if the cart/checkout only contains a product that doesn't ship then the pickup option would be available. Once customers add a shippable product the shipping method appears, which results in the entire order can be shipped. You will need to disable the Shipping Method at checkout if the cart contains a product that doesn't ship and is only available to be picked up from a location. 
Solution
Shopify workaround
You can't disable the shipping method within Shopify's built-in shipping options. Even if you used their Shipping Profiles feature, there is no conditional logic that can be applied to the profiles; it simply does product-based shipping rates.
There is a workaround in the Shopify admin to be able to have pickup only but it's not an entirely smooth process. To display "pick up in-store" to in-state customers only, you can create a new shipping zone called local pickup. For example, choose the United States from the list. For this to work, you'll need to exclude the state from the other United States shipping zone, or it will not let you select it. Once you do that, Shopify will automatically select the state that's available for shipping. Then proceed through the steps above to finish setting up your shipping. 
Go to Settings > Shipping > Shipping Zones Section > Edit the desired zone you want free pick up on.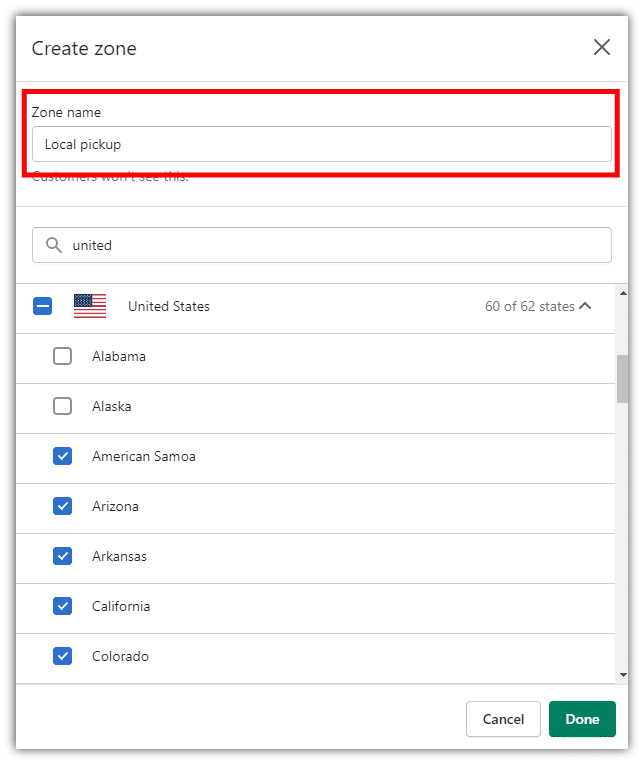 Then go to Price-based rates > Add a rate called "Pickup in store". Enter in minimum price to trigger your rate if or leave it as free shipping.

The second option would be putting a clear note on the product description:
"This product can be picked up locally if you live in (name of town). Please select the free local pickup option on the shipping page."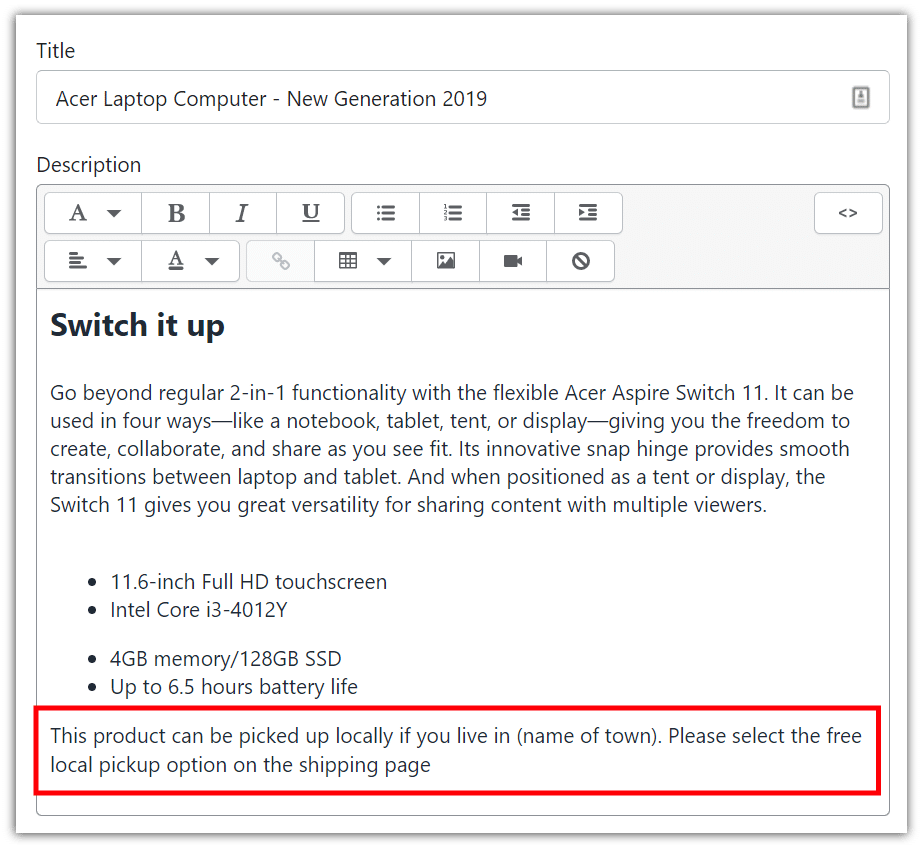 As a consumer who shops online frequently, it's logical to them most websites will ship nationally and even internationally. But if they know the location of the business is in the same city as mine, chances are they can pick it up rather than have it shipped. It's all about being transparent on your website.
Third-party apps
Another option would be to use an app to allow you to customize your shipping options. I would recommend checking out an app like; Advanced Shipping Rules, Advanced Shipping Manager, Better Shipping, and Bespoke Shipping. It could be worth researching through some of the apps to make sure they can do what you're looking for here.
Disable international shipping for products
Problem
There are a lot of things to consider when it comes to international shipping, you'll need a strategy that works for you and your business. And if you are not ready, sticking to your local or domestic market might not be a bad idea. This means you will need to disable shipping on some items that you don't want to ship outside of your country, without affecting other products which are still available to ship internationally.
Solution
Shopify workaround
Generally, if customers are seeing a message stating that their order cannot be shipped to their location, this would indicate that there is no shipping zone available for their country. To make this happen, you'll just need to head into Settings > Shipping > Manage rates, where you'll see your shipping zones. All you need is to have the countries you don't want to ship removed from the shipping zone.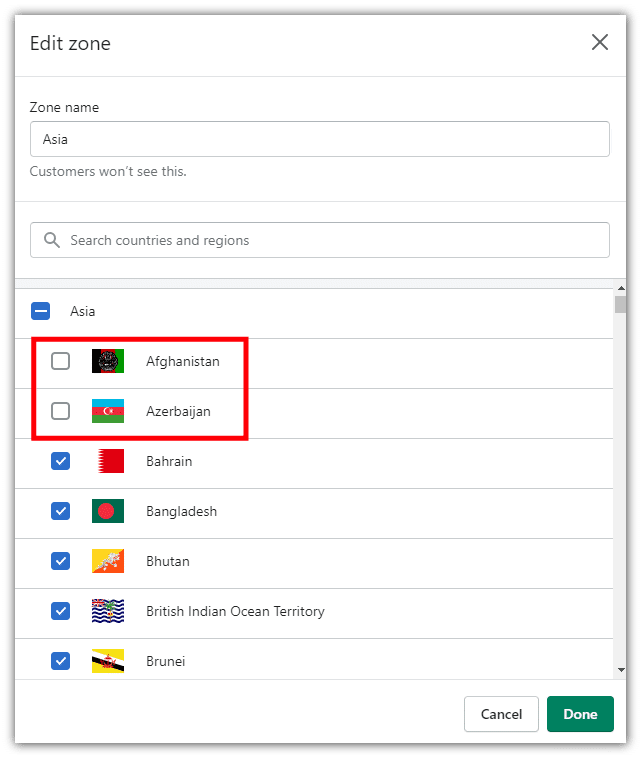 You can also notice your customer by adding this to your product description: "Unfortunately the product that you have in your cart isn't available for shipping to your selected destination. Please remove it from your cart to continue with your checkout."
Third-party apps
Since most of your products are eligible to be shipped internationally and there are just a few products with restrictions, your store may benefit from having per-product shipping rates set up. You can use these rates to generate pricing rules and eligibility for shipping certain products to different countries, so it would help prevent specific products from being ordered internationally, while not impacting your domestic customers. 
In order to set up these shipping rules, you will first need to enable a feature on your account called carrier calculated shipping rates (available in Advanced plan or for an additional $20.00/month). There are a few ways that Shopify can add this feature to your store, depending on which plan you're currently on. Once you have the carrier-calculated shipping rates feature enabled for your account, we will then need to look into using an app like Better Shipping or Advanced Shipping Rules to create the per-product shipping rate rules. These rules will prevent certain products from being purchased internationally, while still allowing these same products to be ordered domestically.
Disable shipping for specific products
You can remove the shipping address option in your Shopify checkout using the bulk product editor. Go to your product menu and select all the products you want to disable shipping, then click Edit product.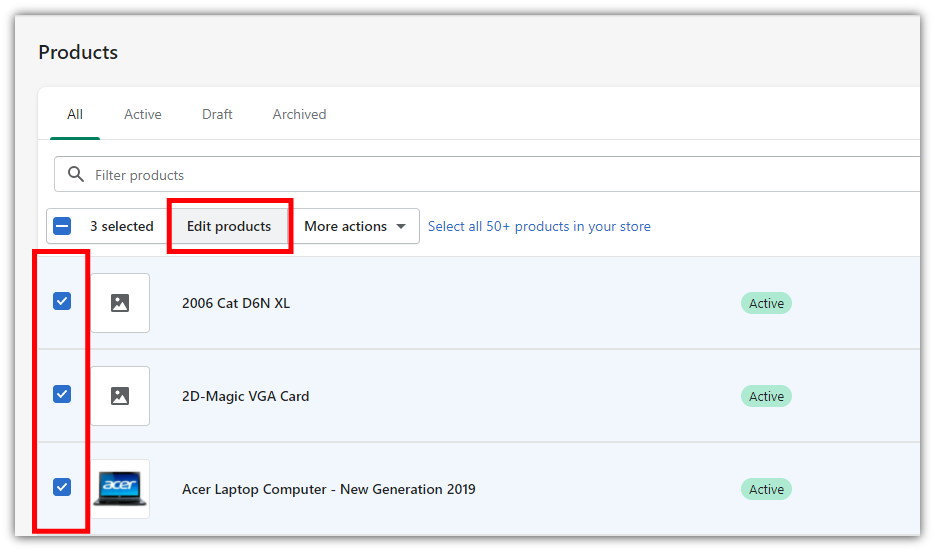 Click Add fields, in Shipping section select Require Shipping.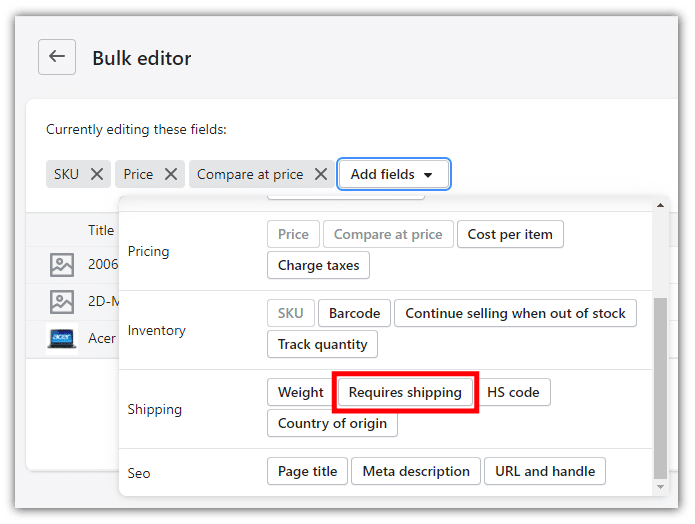 Here, you can add the field for Requires shipping, then make sure all of your digital products have this checkbox unchecked.

Then just click Save all changes at the top right and you should be good to go! Once you do that, when people go through the checkout process, they will only be asked for billing information and a method of payment. After making the changes, you can make sure things work properly by adding your products to the cart and proceeding to the checkout. 
Summary
Setting up shipping for an online store can be difficult and challenging. Hopefully, with our post, you will have a better understanding of how to disable all the Shopify shipping variables and adapting your shipping approach to expand businesses.
Related Posts