Have no idea about Square POS? The Square POS introduction is a complete guide to address all of your consider.
Square POS introduction
Square POS was founded in 2009 under the idea of addressing the payment processing problem within the merchant system. Later on, it developed to be a full-function POS software and provides tools for brick-and-mortar shops or online stores.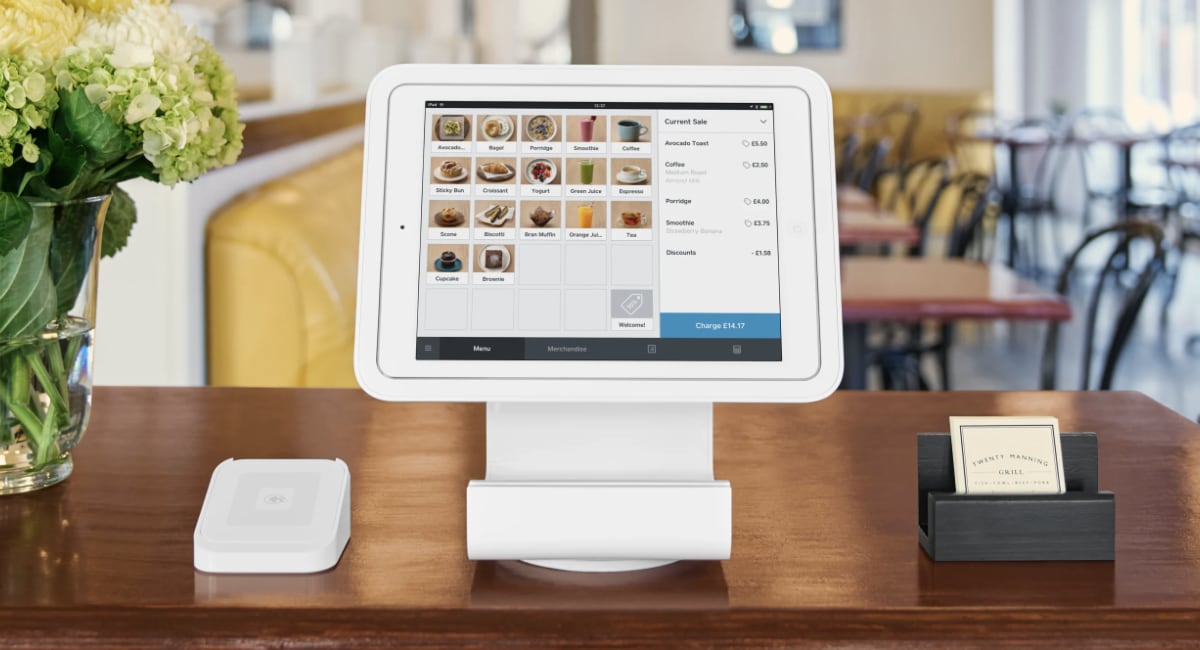 Square designs specialized applications for various industries including Retail, Food, and Beverage, Professional Services (Beauty, Home, and Repair, Fitness). Thereby, serving all businesses of all shapes and sizes. 
Square POS system is now deployed by 26,748 customers worldwide and gaining over half of the POS market share at 52.04% (Slintel). The statistic implies the brand has a strong reputation and its product is trusted by many customers.
Square POS introduction: Software and Hardware
Software
Square designs 4 different POS apps, serving the needs of a specific field. Each POS software has its own feature and free plan offer. However, for larger firms that require more capabilities, you also have a paid offered package for specialized features.
Square POS app
Square POS app is designed for any type of business. It has all the general features that can be applied to manage a business. If your business does not have bulky inventory or too many employees (more than 3) this offer can be a great deal. The app is free and only costs $2.6 when there is a processing transaction, it also runs smoothly for all smart devices despite android or IOS. 
Square Retail
Square provides a Retail app that exclusively assists retail stores to trade through physical sites and online channels. It is different from the Square POS version, the Retail app is designed with built-in tools for advanced inventory management, sales, and staffing. The app fee starts at $60/month/location in addition to the free plan. 
Square Appointments
The appointment app is best suited for Beauty and Healthcare industry. The app turns your device into an appointment-scheduling powerhouse and mobile point-of-sale. It is free for one user, from two users you will have to pay $50/month with an interest of $3.7 per finished transaction.
Square Restaurant
The app helps restaurants speed up their workflow with an optimized kitchen display system, online ordering system, order management and payment processing, and other supplement features. The subscription for the Square restaurant app is  $60/month/location and $40 per additional POS device (except KDS display).
Hardware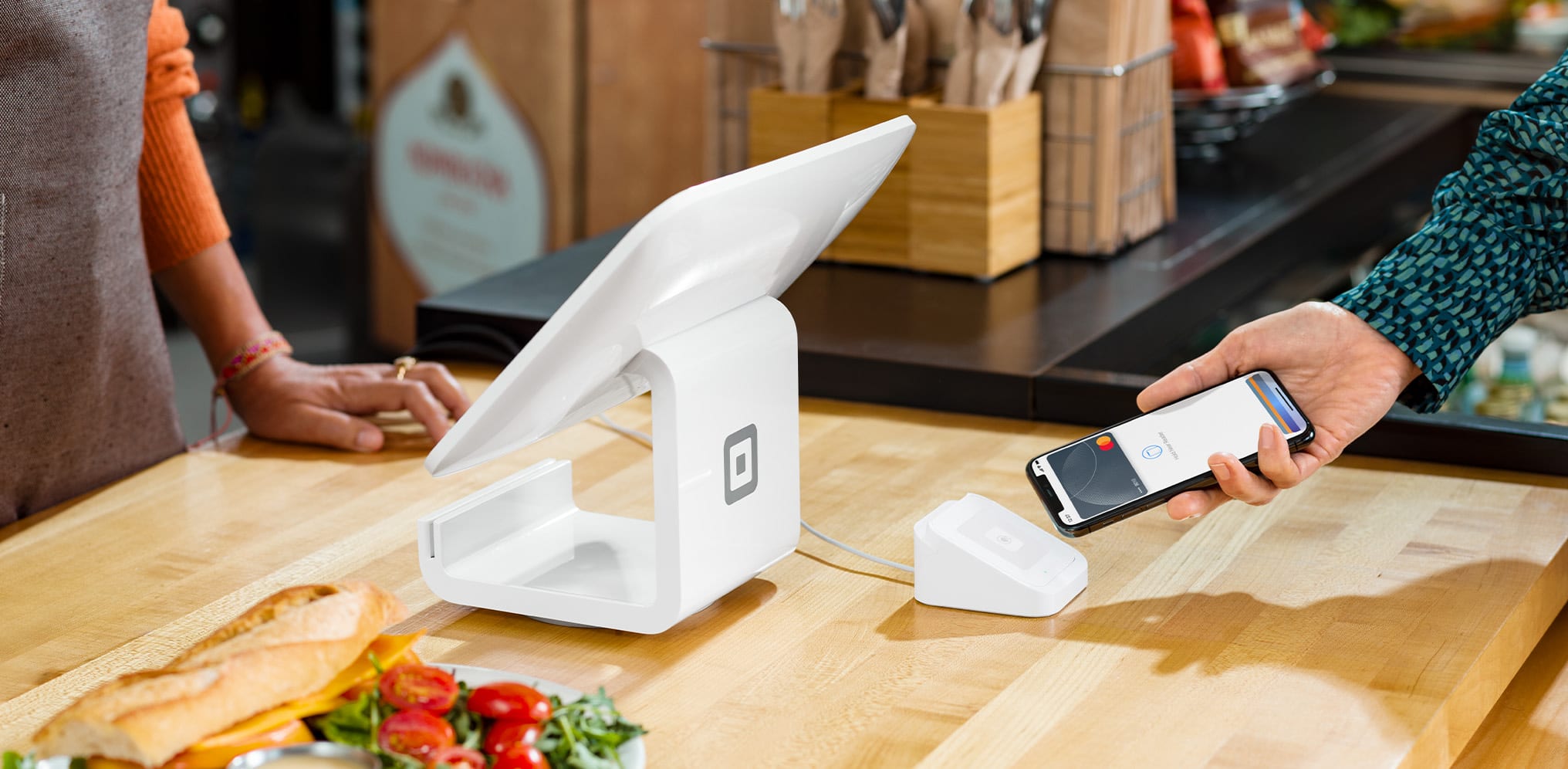 Besides the superior software to support remote management, a POS system is indispensable for hardware devices. Square sets itself apart from other POS systems, they develop both software and hardware, which few competitors concentrate on. 
Square system showcased a hardware shop with detailed features of individual units and bundle kits.
For individual units, it provides Square Register, Chips, and Readers (for card payment processing), Square stands for Ipad. Besides, recently, Square launched two new products that are all-in-one POS devices with built-in card readers: Square Register and Square Terminal.
Regarding the hardware bundle kit, Square is offering 7 different kits (Square Stand Kit, Square Register Kit, Square Restaurant Station, etc) that have prices ranging from $530 to $1,400 depending on the number of devices each kit includes.

You can completely trust and choose the hardware equipment that the Square provides. According to the Square POS introduction assessment, these devices are designed modern, portable, and intuitive.
Main Features of Square POS
As stated, Square customizes its advanced system for a particular service; the functions vary from industries. Square POS introduction only focuses on introducing the main features.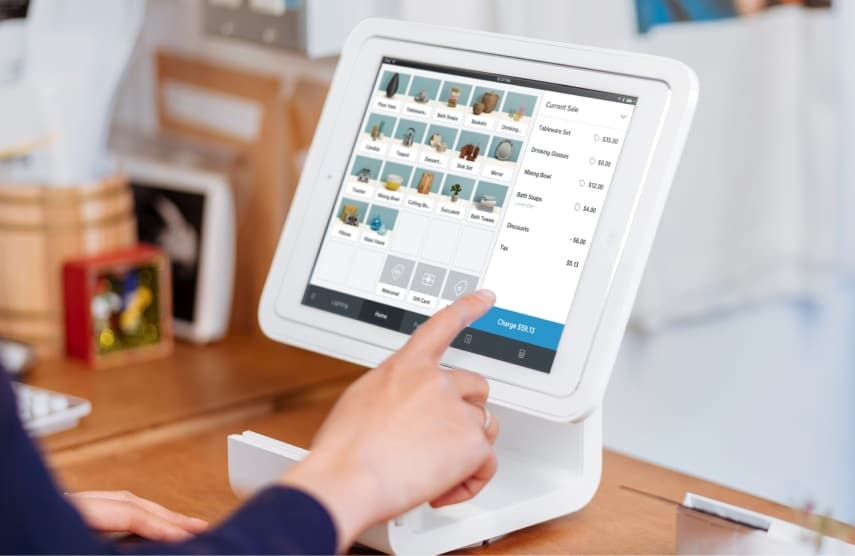 Payments
Square is the first system to make card processing widely available to everyone. The system allows all of the payment methods that customers are able to pay (credit cards, google pay or apple pay, plastic gift cards, invoices, transparent pricing, no long-term commitments, transfers, and process refunds. This is the plus point that differentiates Square POS from others. It helps merchants and consumers from long distances do quick transactions.
Square commits to providing high protection for payment transactions through its gateways. The company ensures there will be no bothering transaction errors happening to customers by consistently doing the dispute management, fraud protection, and monitoring, payments encryption, PCI compliance, account protection tools provision.
Checkout
Square supports Checkout functionality, with activities such as:
Create items for services
The feature enables users to have full control on the stores products and their orders with Items Modifier, Customizable Item Grid, Item Import, Order Management, Itemized Refunds
Transactions Support
The function assists the payment process and related actions, including Offline Mode (accept swipe card payment), Receipts, Split Tender, Automatic Discount, Customer Tips.
Customer Service Support
Users are able to store customers databases and have further action depending on the needs such as Customized Receipt, Order notes, Feedback
eCommerce
The eCommerce checkout functionality of Square powers the Online operation with Online Ordering, eGift card provision, Online Checkout links
Operations
For the operation management, you can reply on the Square system for there is a full package of functions provided:
Report and Insight
Square offers some of the best online reporting. You can check up on the dashboard frequently by using the app on your mobile. The dashboard illustrates advanced analytics based on sales transactions. Thereby easily generating real-time reports by the hour, day, week, month, or year. In addition, you can sort specific information and ask for a report like item categories, mobile staff sales, sales by item, sales by payment method, and more. 
Inventory management
When it comes to inventory management, the system has three basic features for point of sale software Low-stock alert (sending emails for announcing which item has low stock), Downloadable Report (sprint the inventory sheet at any time), Inventory Management Integration (sync your system with an intermediary like Shopventory, Stitch Labs,…)
Location management
It is helpful if your business has multiple stores in different regions, Square system helps you to oversee its operation from Square Online Dashboard by creating a particular business profile on an app. This function is also offered at a free-level version.
Customization
For advanced needs, you can have further consideration on Add-on functionalities to customize your system. Squares  Add-on services have support on Gift Cards, Loyalty Programs, Team Management, and Payroll.
Loyalty Program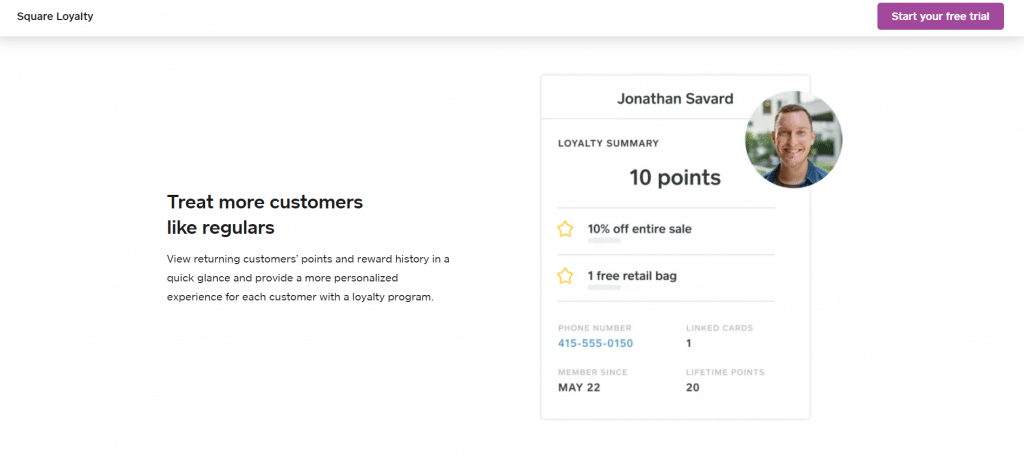 You can have a 30-days free trial for this add-on service. However, it is not preferred as a free long-term contract. At the present, the service costs monthly at $45 and will be adjusted based on each locations total loyalty visits per month. Square makes a promise that its loyalty program can help merchants increase by 40% in customer visits. The program allows you to have digital loyalty cards to automatically record customers new purchases as additional points. Besides, you can also view the sales and loyalty of customers.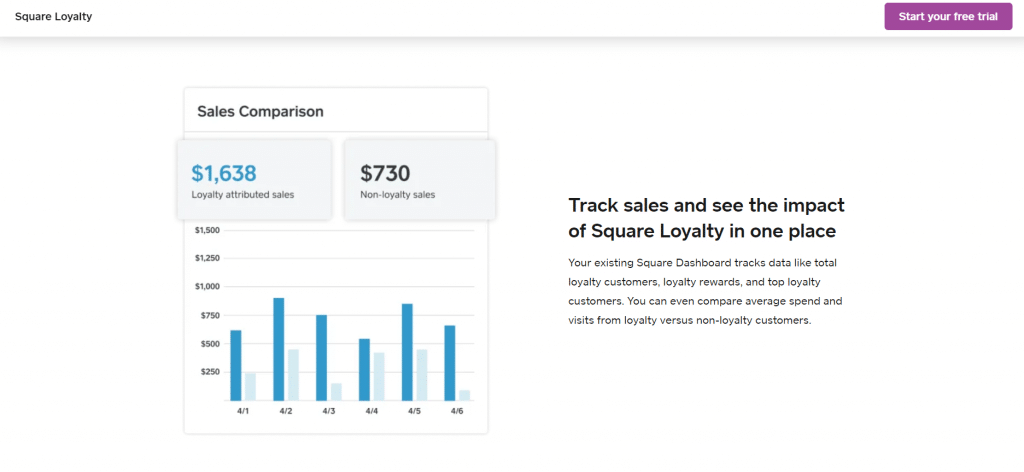 Team Management
For this feature, Square has two options, one is a free version with limited offers, another is a paid version with more functions. The free Square Team app can be used to clock in and out on employees phones. The paid one costs $35/month/location and includes multiple wage rates, early break clock-in prevention, and many more reporting features.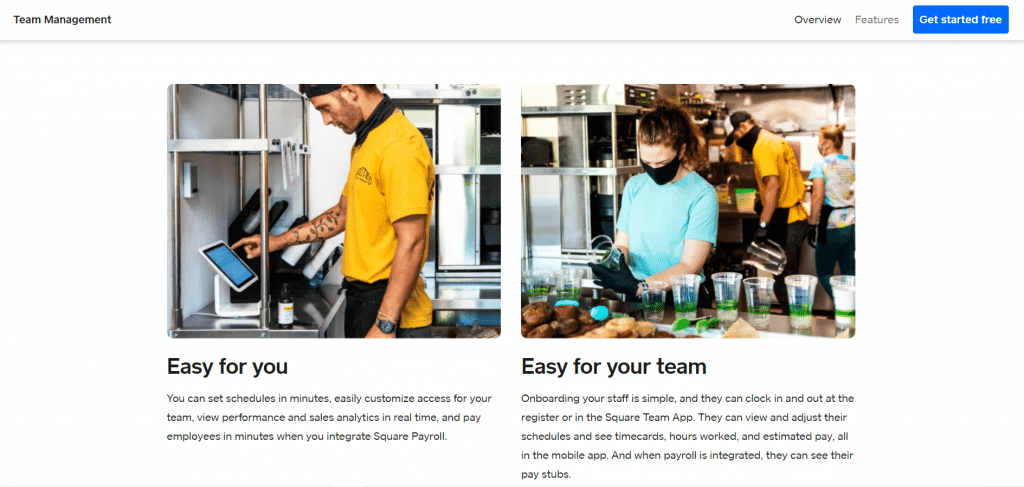 Payroll
This payroll service charges $29/month plus $5/month per person paid. With the payroll feature, you are less worried about employees salaries. The system will automatically have the jobs done for you. It helps the owner track employees working hours, sick leaves, other benefits. Especially, if you register for Square Payment, you can pay the salary through its system without waiting for the banking process.
Email Marketing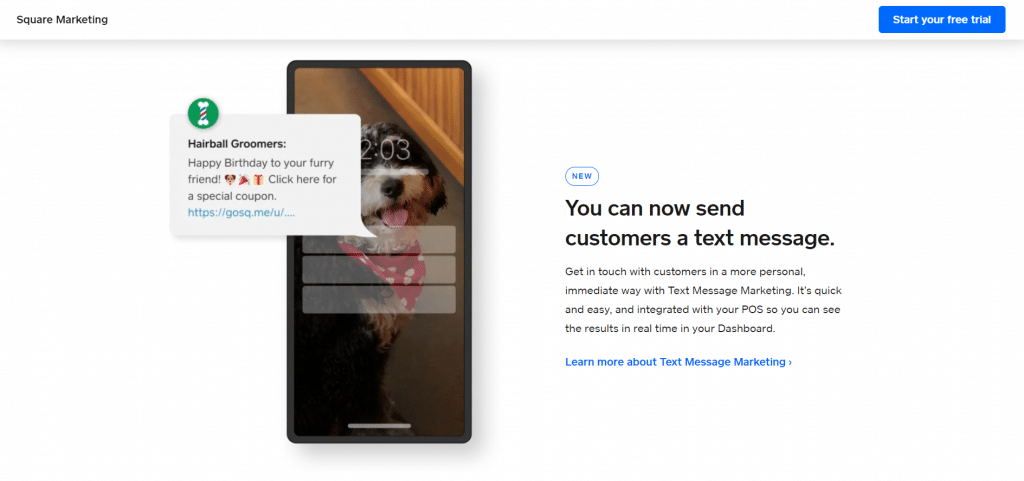 The email marketing feature provides some model email templates and allows you to automatically send those emails to customers. The fee for this add-on will be charged based on the quota of customers. If you want to send emails to below 500 customers, it will cost $15/month, from 501 to 1000 customers, it will be $25/month, from 1001 to 2000 customers the fee is $35/month.
Unlike other competitors, which only provide a few connections with limited intermediaries, Square creates an app store in the dashboard, which gives access to various third parties.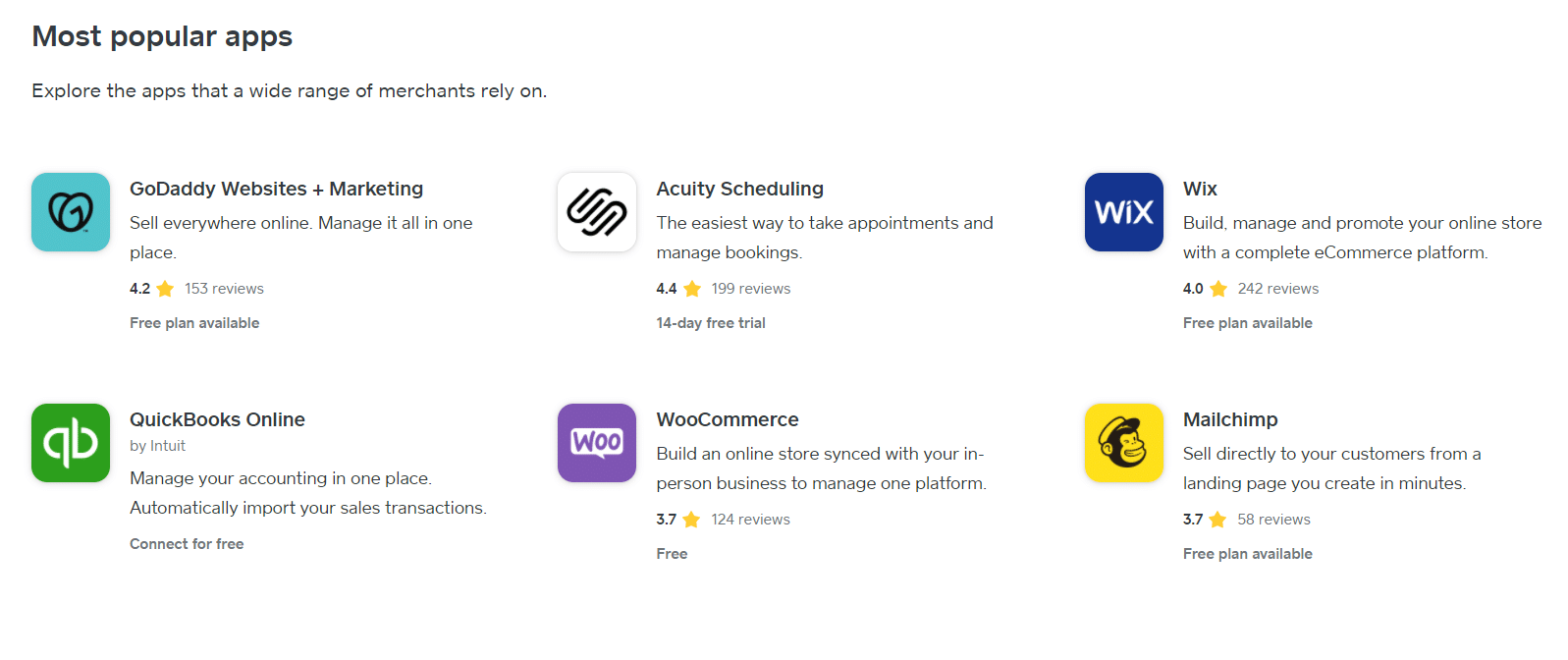 Squares Integration is rich, you can find and sync your point of sale system with lots of popular third-party apps and software. It offers around 180 different apps within many fields and categories such as Accounting, Ecommerce, Healthcare, Loyalty, Invoicing, Booking, Marketing, Restaurant, etc.
Therefore, it is convenient for you when your needs exceed functionality that existed in the system as well as connect the third party that your business has already used.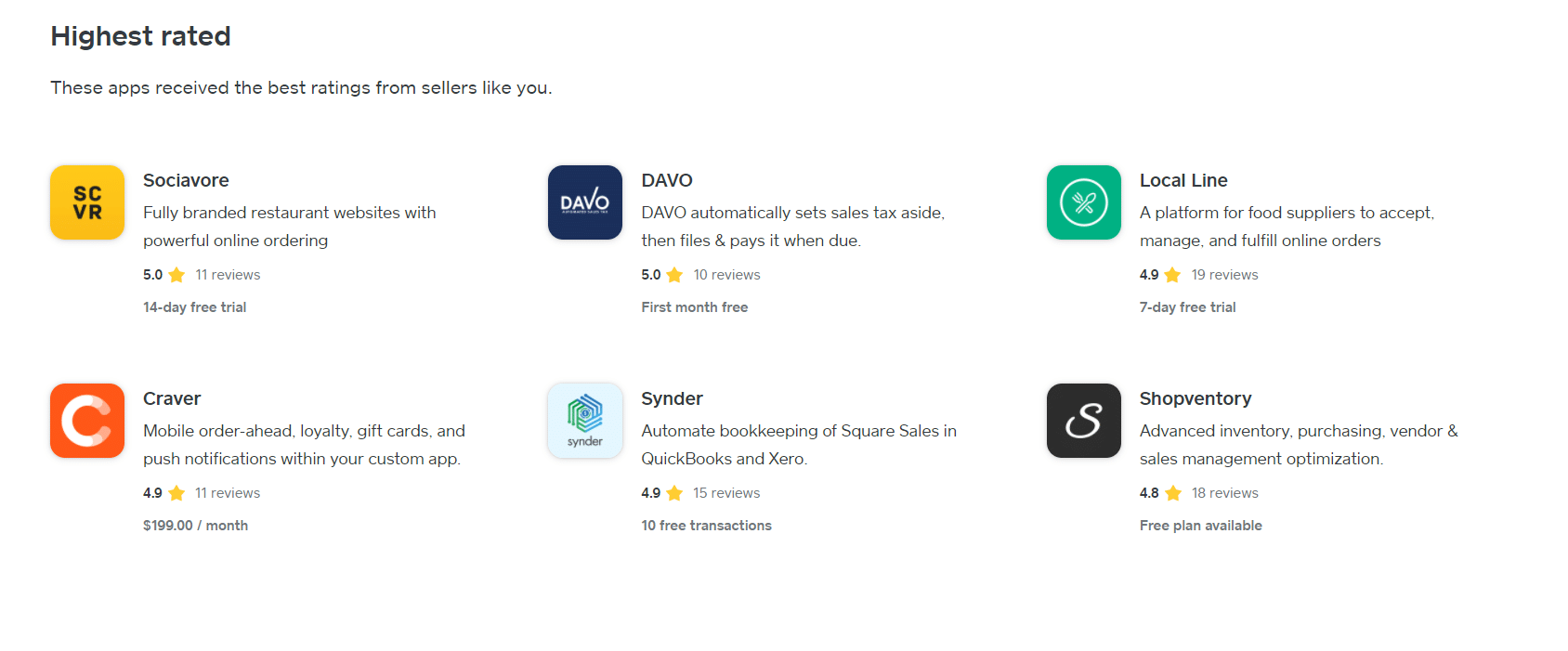 Especially, with Squares APIs, you are delegated to customize the functionalities, such as Inventory API, eCommerce API, Reporting API, In-app Payment API. This offer is not highly developed but expected to be boomed in the future.
Plus, merchants can look at the option of building their own eCommerce platform through Square to sync with the point of sale system. If you decide to have an eCommerce platform powered by Square, you will get a free web hosting service and acquire your website domain through Square. At first, the features of the web are basic, but you can pay more for the upgrade to get advanced functions and your own domain.
On the other hand, if you already have a web store, you can have the process payment right on your website by integrating the process payment of the Square system with the help of specialized middleware.
Why do we choose Square POS?
Square has many competitive advantages as a preferable solution for many businesses.
The system designed for various industries
First, the advantage when choosing Square is that the system is designed specifically for each industry. You will not be confused when finding apps suitable for your companys industry. Unlike competitors, Square clearly separates options into various app categories for you to synchronize and customize.
The system constantly updates
Second, the Square system constantly improves the services by innovating new products. For example, Square Terminal and Square Register hardware are new products that Square has launched for high-end solutions.
Moreover, there are also updates on the software side, such as Square online checkout. If the hardware supports card payment at stores, the Square online checkout has been introduced for online payment. Users do not need to have a presence in every eCommerce site, they just need to implement a payment button to their web store, link, and Facebook posts for customers to make the payments. This new functionality is also provided with a QR code for the stores to classify customers orders and later have appropriate handling. 
It provides sleek interafce
Third, Square has a friendly interface that doesnt need your staff to have much training. Square suggests merchants follow the instructions through the demo videos and you can follow the instructions and perform proficiently. In addition, you will not have any difficulty integrating Square apps with the operating systems used on the phone, Square supports well on both Android and iOS operating systems.
It have a good price
Another thing that customers are happy about Square is that the pricing of the packages is very clear, mentioned transparently, and without any hidden costs after the two parties have agreed. In addition, merchants can flexibly choose payment methods. Instead of paying an average of $6,876 in monthly fees, business owners can opt for Squares 2.75 percent rate per swipe. If you dont like that idea, you can vote for the flat rate of $275 a month with no additional fees.
Customer Feedback
The Square POS Introduction collects the feedback that customers have used Square reviewed. 
In different review forums, Square received high satisfaction ratings:
Forum
Capterra
Trust Radius
Trust Pilot
G2 Review
Review Rate
4.7/5
(1651 reviews)

9.0/10
(65 reviews)

4.7/5
(2,988 reviews)

4.6/5
(496 reviews)
Positive Feedback
Negative Feedback
Variable Payment Method: It convenient for users to accept customers different payment gateways when using Square
Customer Support: Users complain that Square does not have good customer support. Some said it is not available 24/7 and they can not make a phone call asking for help, and the problems do not resolve quickly
Ease of use: Square has a friendly user interface with many free features for the basic level.
Transaction Fee: Many are unhappy about the transaction fee. It is quite high at 2.75% per transaction.
Easy to open an account: It is very open for a new user to register a new account. Square allows customers to have an insight into the system by free trial before considering upgraded features.
Overloaded System: When the transaction amount is high, the system is slow and witnesses a lag while selecting an item to add to the cart.
Rich Integration: Customers also like to customize their system with various third-party connections.



Rich Integration: Customers also like to customize their system with various third-party connections.
Integration Process:  The integration does not sync well with eCommerce, said by a user. Besides, some also complained about the error that they can not sync their already used apps with Square.
Final Words
Square POS is a comprehensive POS system and it is also affordable for small businesses and startups. At the present, on the point-of-sale market, Square is the leading player within the field. It partly demonstrates that the system is meeting the demand and satisfaction of most customers.
Although there are several limitations such as poor Customer Support or Integration errors, there are solutions that help merchants to improve the problems. If you are facing integration problems within your Square system, you should contact us for prompt, proper help! We provided optimal solutions in a related area.
We hope all the above information of Square POS introduction is valuable for your search!