Which is the better platform between Shopify and Magento? When it comes to starting an eCommerce website, choosing the right platform can have a big effect on your future business strategy and growth plans. And there are a lot of differences between Magento and Shopify, two of the world's most successful eCommerce platforms. Choosing the right one for your needs can be a difficult task. So this post will help you compare Shopify and Magento to decide which is best for your online store.
How To Choose An Ecommerce Solution?
The right digital commerce platform can dramatically transform how you do business both online and offline. What works best can be determined by your objectives, budget, and level of expertise. So, when deciding between Shopify and Magento, think about which of these factors matter most to you:
Cost
Scalability
SEO
Friendliness
Point of Sale
Apps and Extensions
Community and Support
Magento vs Shopify Full Comparison
Popularity
Though Magento has long been a successful platform, Shopify has emerged as one of its most serious competitors in recent years. Magento may climb even higher on the list with the release of Magento 2, an improved version of the original platform, making it an ideal solution for businesses of all sizes.
First appeared as an eCommerce open-source platform in 2007. Magento is best known for its flexibility, high customization, and scalability, which is ideal for fast-growing small businesses. There are 2 editions available: Magento Open Source and Magento Commerce.
While Shopify is popular due to its low startup cost and easy-to-use interface. Shopify is an eCommerce platform that can help companies of all sizes, from startups to large corporations. There are two available options: Shopify and Shopify Plus.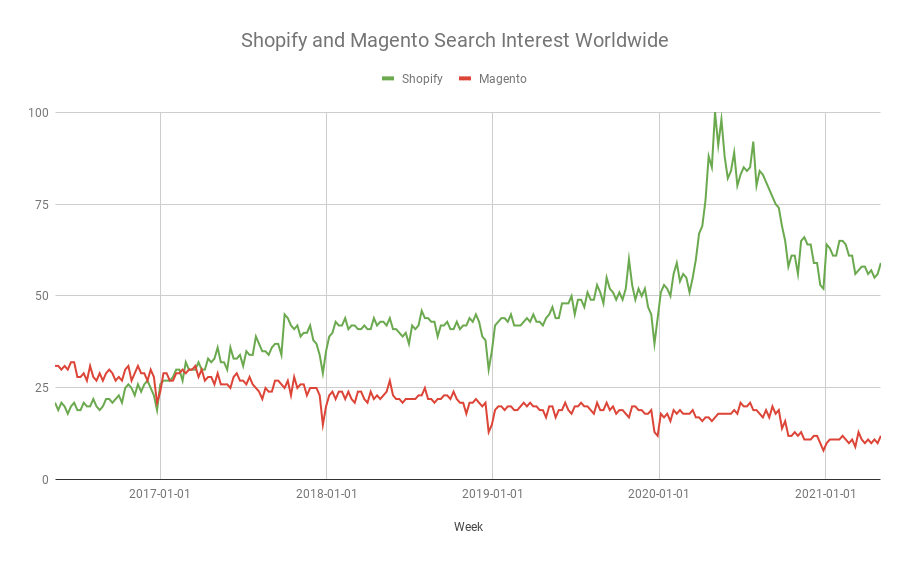 This chart represents the search interest of Shopify and Magento all over the world for the last 5 years
We can see the explosive growth of Shopify's popularity on the graph. At the beginning of this period, Magento was leading the market but was soon surpassed by Shopify. Reach its peak in 2020 Shopify gradually asserts the dominating position, while Magento is falling behind in the race of popularity.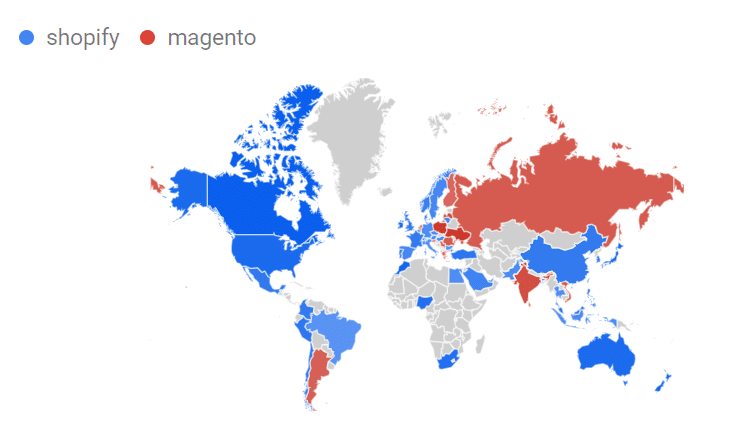 The reason while Shopify outnumbered Magento is understandable. Shopify is more beginner-friendly, with a basic user interface, while Magento is more feature-rich but better suited to experienced developers. We will study this factor further in the next part.
Features
Despite the fact that both platforms deliver a wide variety of features and functionalities that enhance store efficiency and increase sales, they have major differences.
The most noticeable difference between Magento and Shopify is the closed-source vs. open-source software.
Magento is an open-source eCommerce platform that allows you to modify the source code. This means that merchants are free to make any code adjustments required after the installation process to properly apply the software to particular use cases. The open-source software model has increased in popularity, and it has a number of advantages, including a massive developer community and the ability to be flexible. There are no limits on what you can do as long as you have what it takes. Meaning that this is awesome if you are a developer or have the resources to get things done. If you don't – you might be worried about hiding a development team.
Shopify, on the other hand, is a closed-source SaaS (Software as a Service) eCommerce platform. It implies that the merchant stitches to the platform's established standards. Shopify's internal research and development efforts include automated updates, security fixes, and other technical resources. Shopify is easy to use for beginners. Give yourself a weekend or a few hours, and you'll be ready to go. But as the eCommerce market expands, the closed source technology's limitations become apparent. Merchants are restricted by the features on the Shopify roadmap, and platform support response times can be slow.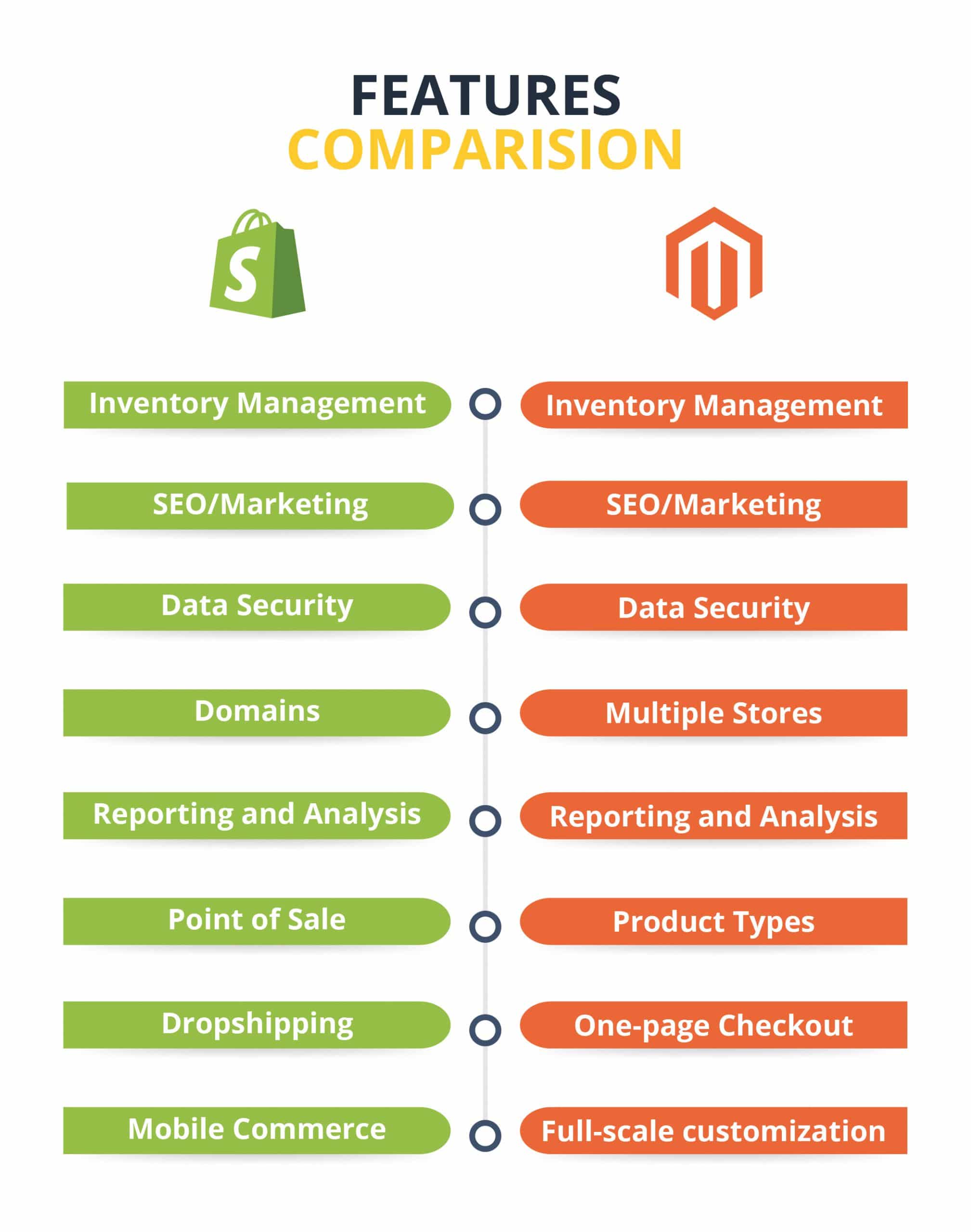 Ease of use
If you choose a platform that is too difficult to use, you will be unable to build the eCommerce store you want, which may be detrimental to your brand's reputation. Both Magento and Shopify have a user-friendly and well-designed interface.
But when it comes to coding Magento is more difficult to use than Shopify. Magento is more versatile than Shopify in that it allows you to customize your store with code, but it's still much more difficult to use – making it difficult for most users to create a store they're proud of. While Shopify offers a wizard mode that makes it easy for even non-technical users to set up their stores. With Shopify's drag-and-drop editor and simple tools, users can easily change the basic attributes of the store website without writing a single line of code.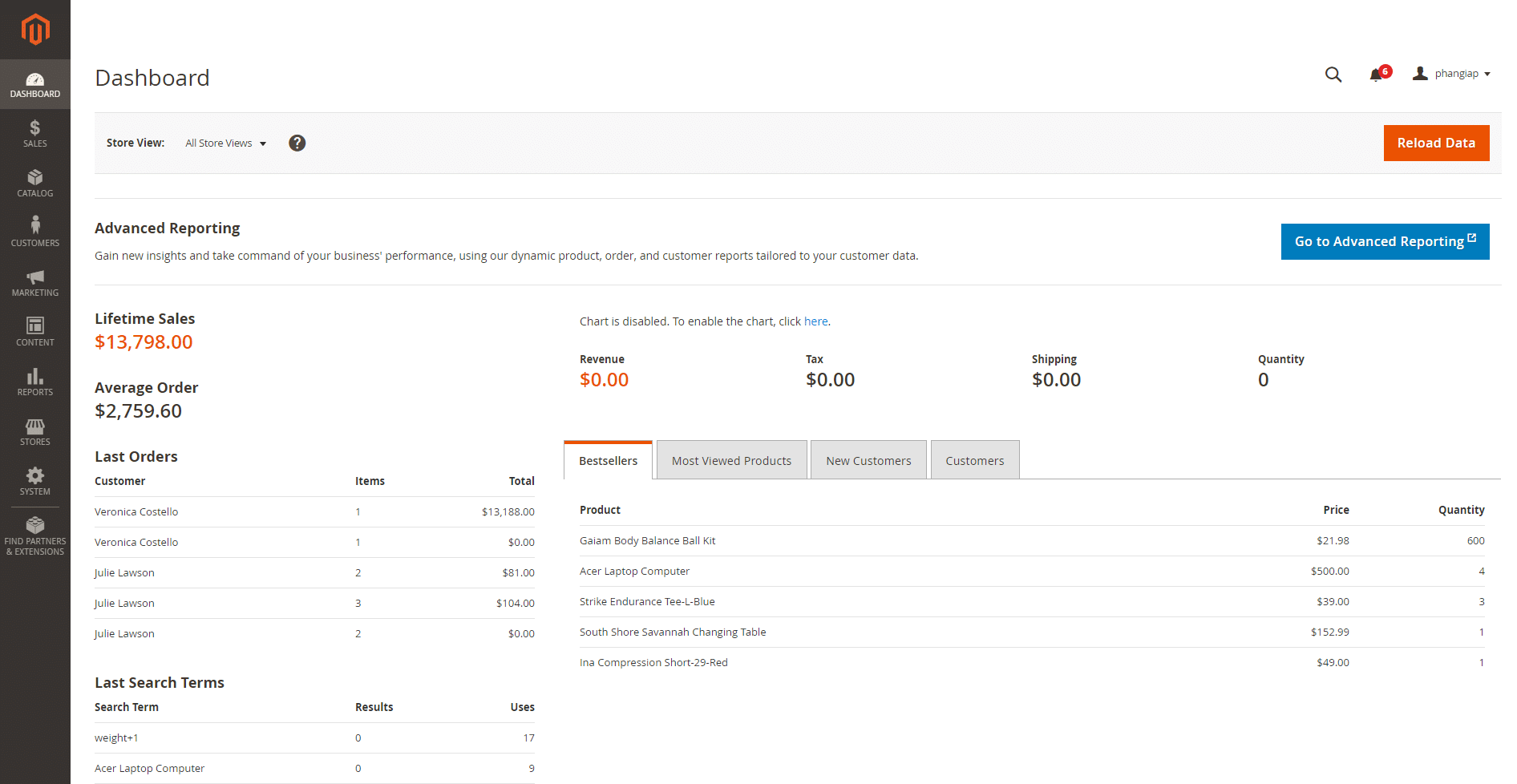 While the Magento platform is simple to set up (multiple languages, payment methods, etc. ), it will necessitate technical expertise and extensive developer support. Magento isn't ideal for beginners, seasoned eCommerce merchants can find all of the features they need in a flexible, customizable design.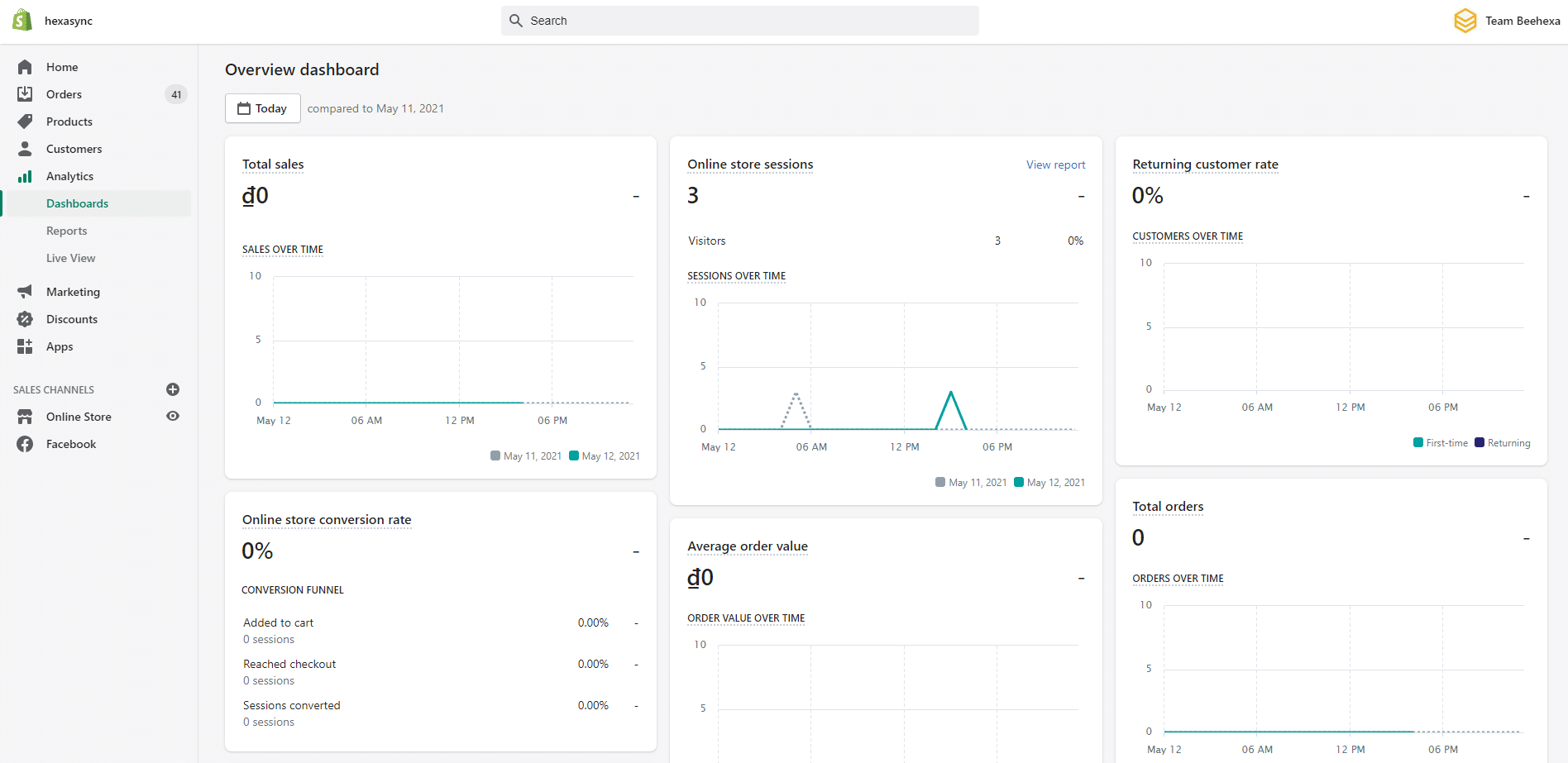 Stick with Shopify if you're just selling a few items or don't have much technological expertise. Few beginners will walk into a Magento store and start working right away; you'll need to spend some time learning how to use it.
Pricing
Shopify Plans
Different platforms have varying budgets. We all know that cost is the stumbling block for both new and existing companies. As a result, the cost must necessarily be included in our study.
Shopify uses a three-tiered pricing structure. It costs $29 to $299 a month and is fully flexible to your company's needs. Remember, apart from design and SEO, these should be the only costs associated with your platform. So, in the grand scheme of things, a well-functioning Shopify site could cost a small-to-medium-sized company about $299 per month (before apps and themes.)
Since Shopify is a hosted site, you won't have to worry about hosting, speed, or maintenance issues. A domain can cost anywhere between a few dollars to several hundred dollars per year, but most domains cost between $10 and $30 per year. Additionally, Shopify charges transaction fees for payment processors such as PayPal, Braintree, and Authorize.net. The premium percentage varies from 2.0 percent to 0.5 percent, with lower transaction fees associated with more expensive monthly subscriptions. This means that Shopify gets a share of any online purchase. If your store receives a large number of transactions, the fees will quickly add up. By using Shopify's direct payment portal, users can skip these fees.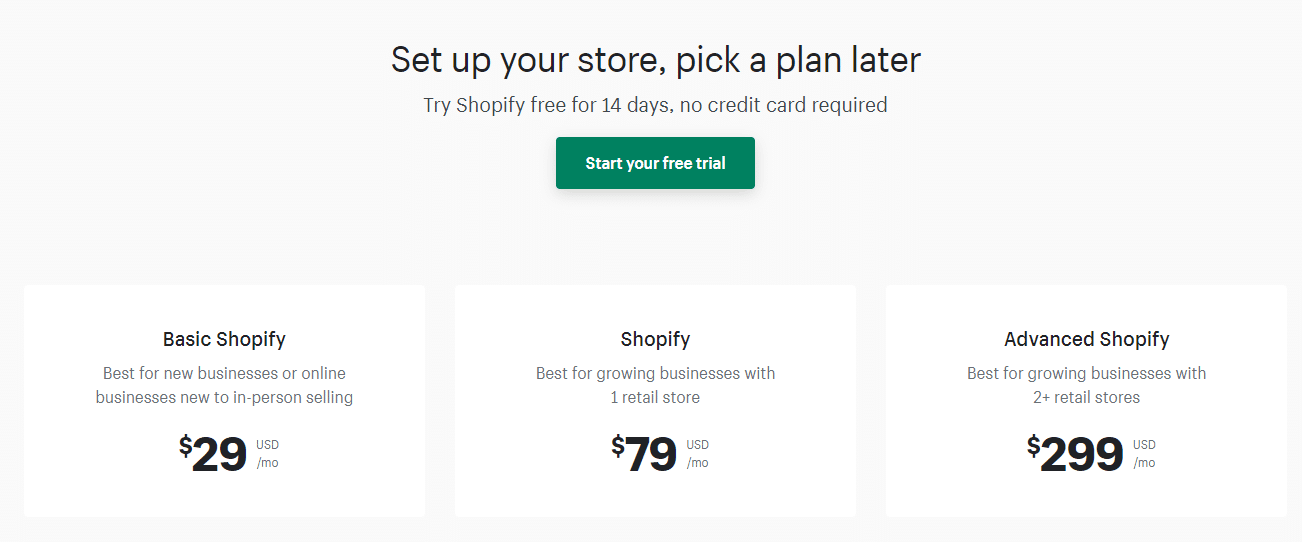 Magento Plans
Things get a little more complicated when it comes to Magento and pricing. It's an Open Source platform, which means it's free to use and available in the public domain, which is a big plus. Magento 2 offers a completely free Community Edition and charges a fee based on the needs and size of the e-commerce shop. As a result, Magento 2 is appropriate for any online shop. However, since Magento is self-hosted, merchants will also need to buy a hosting solution for it, which will cost between $1 and $200 per month.
The total Magento cost depends on the development services you use. Despite the fact that consumers will have to pay for hosting on a monthly basis, e-commerce store owners will have more choices for hosting solutions that are best suited to their platform. Indeed, site speed, storage, and the number of items an online store can accommodate are all affected by hosting, which is critical to a store's website. They also sell an Enterprise version, the cost of which is determined by your online store's unique requirements.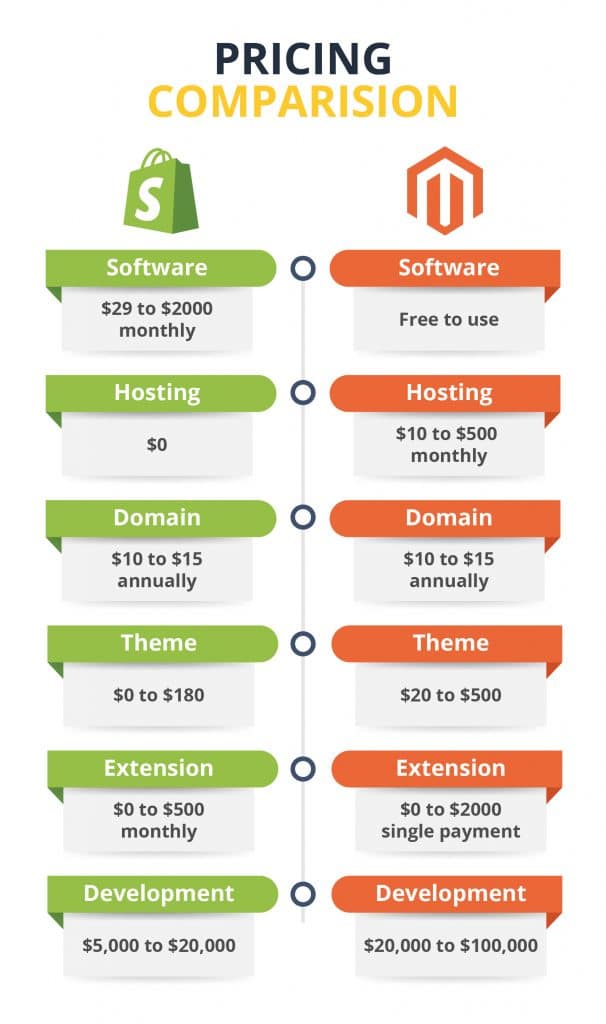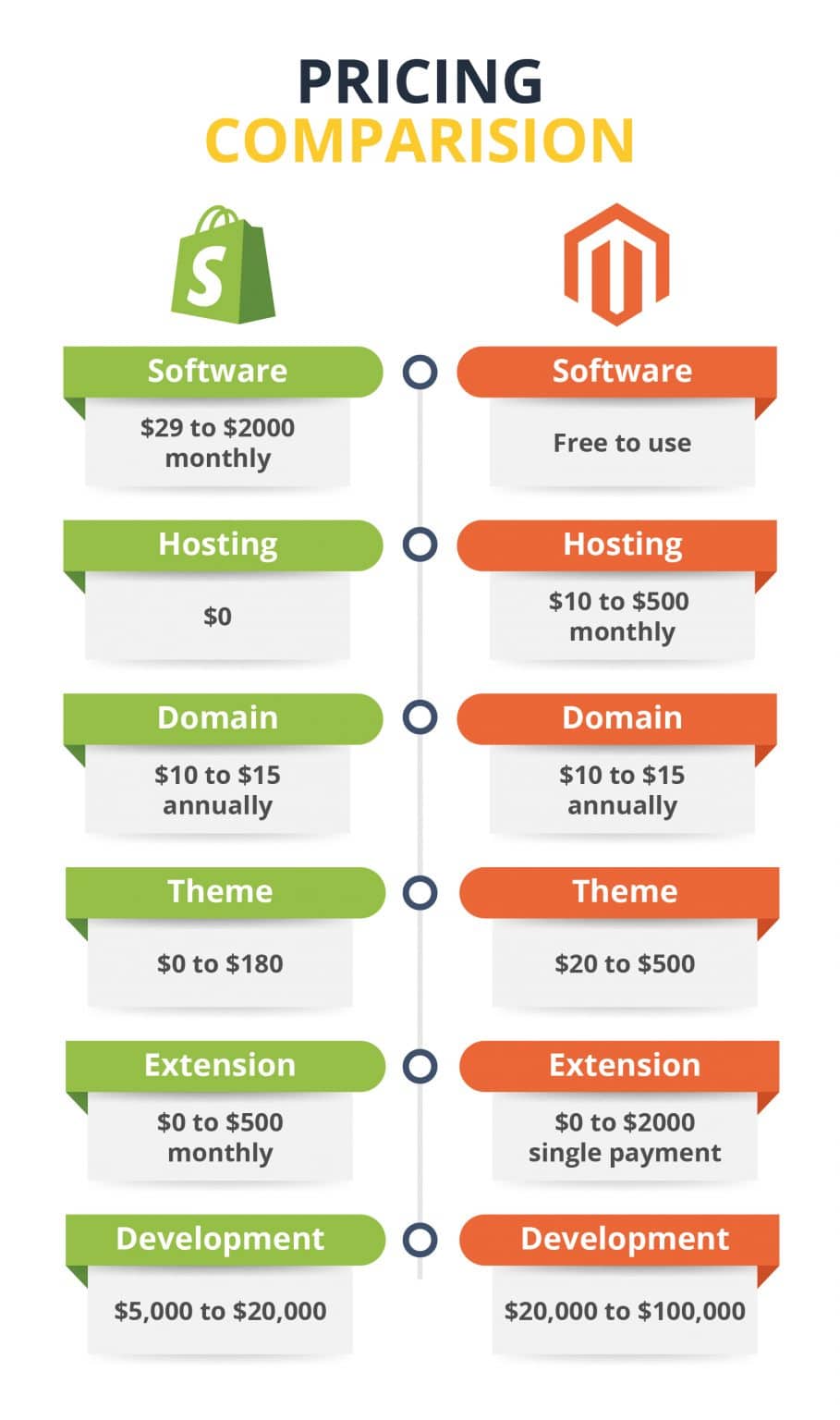 SEO
The key to the success of every modern digitally-driven commerce platform is search engine optimization. Both Shopify and Magento also have extensive SEO capabilities. While Magento is more efficient, Shopify is simpler to use for the average consumer.
Since Shopify has a lot of excellent marketing tools, it's fast and simple to build an online store that's search engine friendly. The built-in apps can easily generate and auto-populate most SEO options, making the process very easy.
The same goes for Magento. There are over 250 SEO apps to choose from in the marketplace, all of which can perform similar tasks and functions, but there is no doubt that it will take you longer to get to the same stage.
Particularly if you're relying on third-party plugins and extensions. I would suggest Shopify's SEO interface because it is integrated into each page of the web automatically. In the end, how involved you want to be in your SEO activities is the deciding factor. While Shopify is a little easier to use, all of the features are archivable from both platforms in one way or another.
Apps and Extensions
It's critical to add additional capabilities to your online store, particularly if the platform's built-in features aren't sufficient for your eCommerce needs. Both Shopify and Magento make it simple to add applications, plugins, and add-ons to your store.
With thousands of add-on extensions, Magento truly stands out in this field (both free and paid options), giving you an almost limitless number of ways to enhance your website with desirable features. This is due in part to Magento's open-source software, which encourages users to make their own plugins.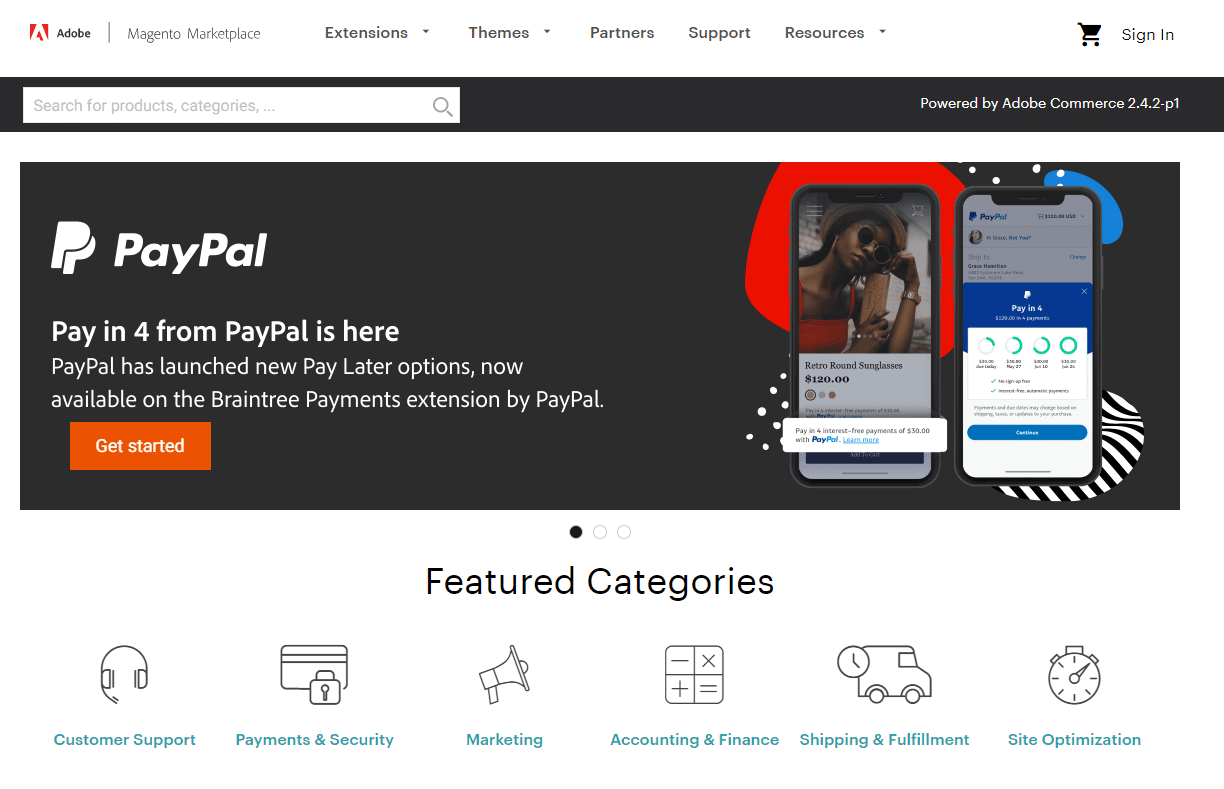 On the other hand, Shopify apps might not be your solution in comparison to Magento extension and integration. Extensions and apps can be classified into categories like marketing, sales, SEO, accounting, or report for example. But the good point is with Shopify, you can add most plugins just with the click of a button. Still, some of them might require coding knowledge.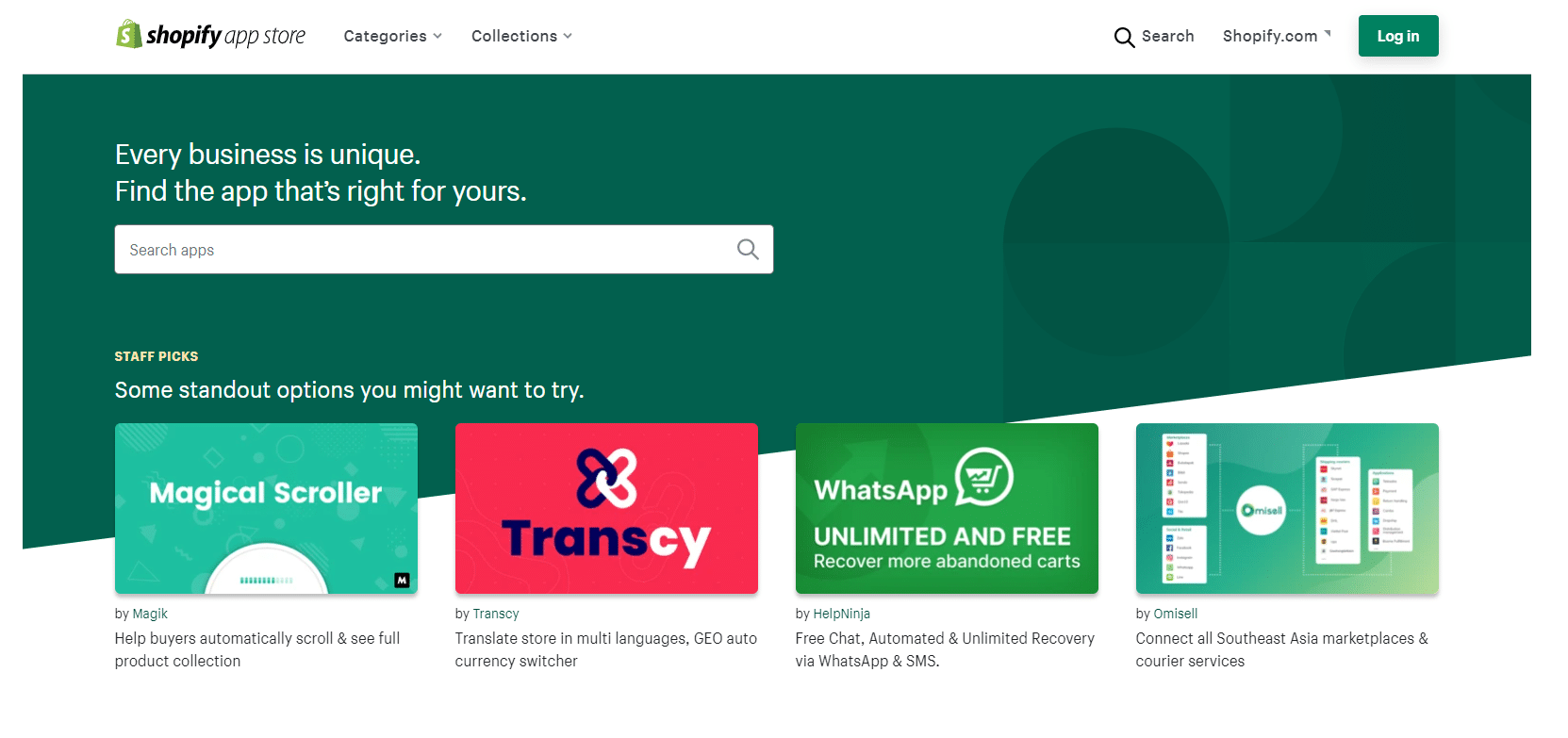 Shopify charges you a monthly fee while Magento is annual. And Shopify themes are proprietary, so not so much deep tweaking is allowed. On Magento 2, you can still fully customize themes, and create your unique store branding.
Since Shopify and Magento 2 are two of the most popular e-commerce platforms. Many common third-party systems, such as ERP, POS, CRM, Accounting, and payment gateways, have been integrated with them. Both systems will handle the majority of the integration. If you are looking for an integration solution for either platform, please reach out to us for a free demo.
Both Shopify and Magento have the potential to extend their features. But it is the simplicity and breadth of functionality of Magento's extensions, not their number, that makes it the clear winner in this category. A merchant may also hire a Magento developer to build a custom module tailored to their eCommerce business, something that Shopify does not allow.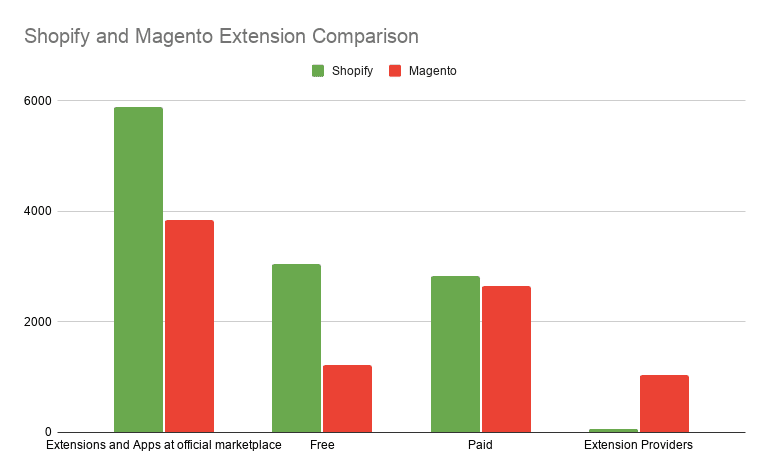 In June 2019, Shopify announced: 25.8 million total number of apps installed, and more than 80% of merchants use third-party apps.
Revenue
Total revenue for the full year 2020 was $2,929.5 million, an 86% increase over 2019. Within this, Subscription Solutions revenue grew 41% to $908.8 million, while Merchant Solutions revenue grew 116% to $2,020.7 million. (Source: Shopify)
According to Adobe Inc., its Magento Digital experience, which includes Magento Commerce, had increased revenue by 5% YoY. By May 2019, it was $800 million, and by the same month in 2020, it was already a whopping $826 million.
Point of Sale
As a key offering of its platform, Shopify will have its own point of sale service. Although it can meet some basic requirements, in the long term Shopify POS is not the best solution in the market. Instead, you can build a great end-to-end customer experience with Shopify's app store, which includes tools for in-store fulfillment, various distribution channels, discounts, and much more.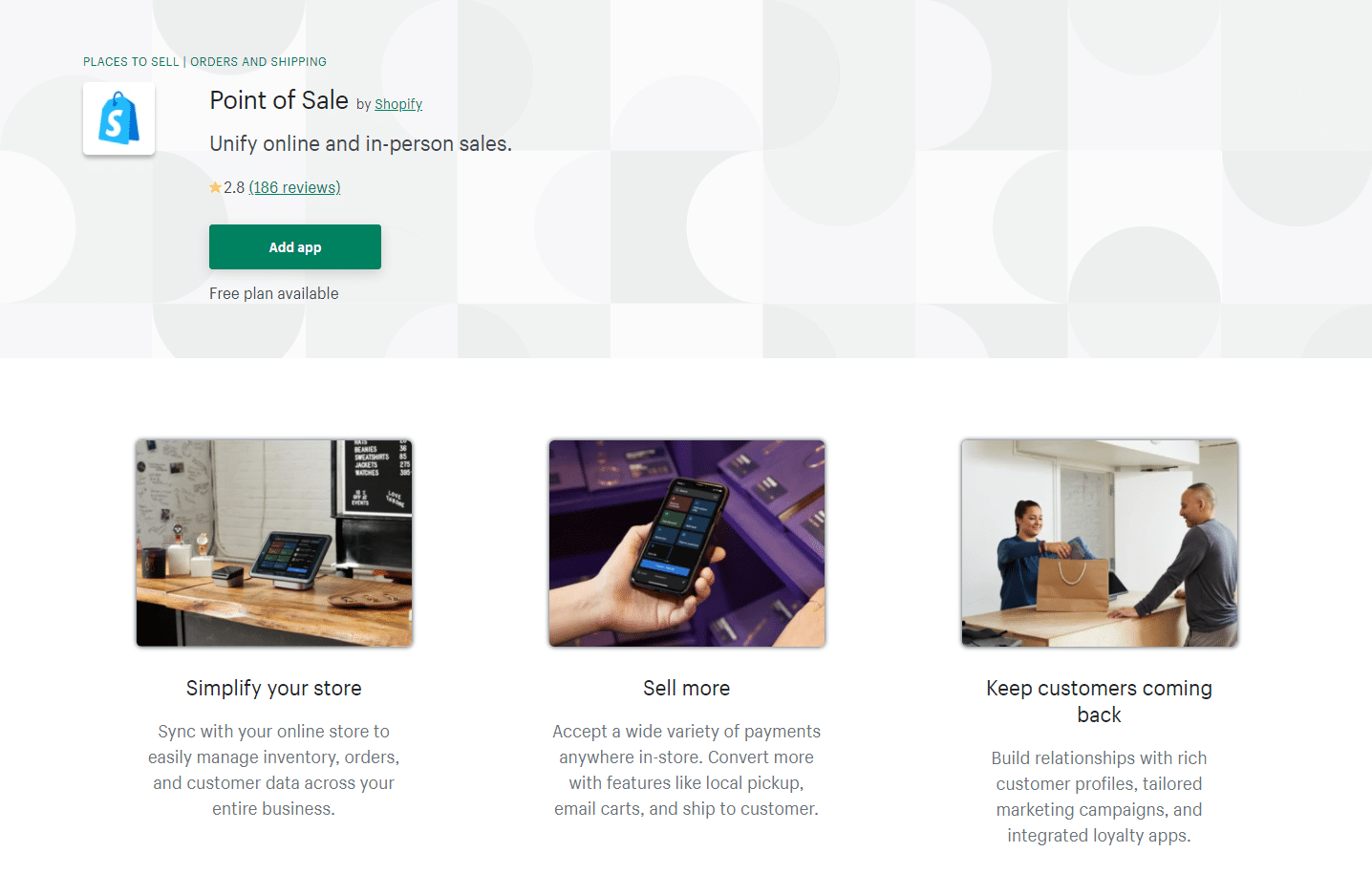 Magento does not have its own POS system but the market offers a lot of extensions that will meet your expectations as long as you can afford it. However, because anyone can publish Magento extensions, it is critical to thoroughly research each one before using it, as there are still security issues to be aware of.
Support
As an eCommerce business owner, creating and maintaining a website is just a small part of your work, so if you're doing it alone without the support of a developer, you'll want a platform that's simple to use and maintain.
Magento's customer service falls short of Shopify's. Shopify provides excellent customer service by offering phone, live chat, and email support 24 hours a day, seven days a week. Shopify's customer service often responds quickly. Meanwhile, Magento doesn't provide phone support 24 hours a day, and even other support options cost money. The advice for Magento 2 users is to seek help from the huge Magento 2 group.
You will find tons of valuable resources from both the user guides of both Shopify and Magento. Documentations and videos walk you through the process of creating an online store.
Community
Hundreds of thousands of live websites are powered by both networks, which are backed up by two large communities. Users gain a significant benefit from having a broad and involved group. You can easily find plenty of professional and talented people whether you are using Shopify or Magento 2. They will walk you through the process step by step and provide you with valuable tips from basics to advanced setup like Extensions and Apps.
Magento community has unquestionably attracted a sizable developer and design group to its website. Over the last decade, a large number of people have collaborated with Magento and contributed to its growth. Shopify also has its own community with lots of experts that can help form basic to advance settings.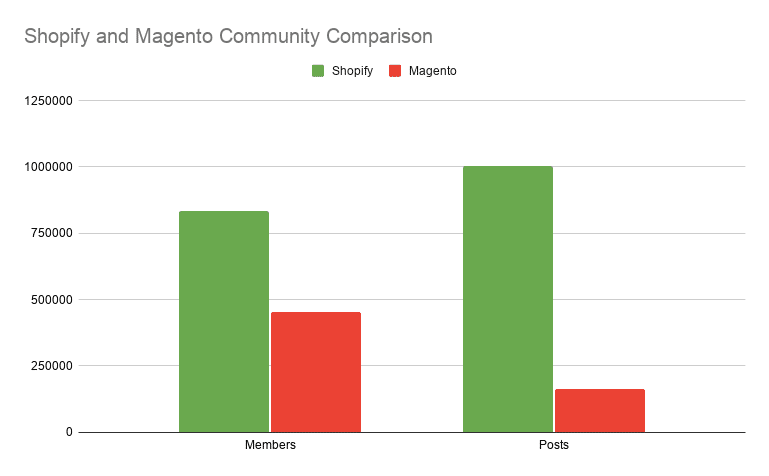 Even so, Magento has a much greater group of experts and collaborators than Shopify. Magento has attracted a larger number of developers, designers, and other professionals who are actively adding to the platform because it is open source. There are also several companies that specialize in setting up, designing, and managing Magento stores, while Shopify is more concerned with the end-user experience.
Partner Programs
A diverse global network of Magento Solution Partners provides a broad range of design and implementation services across a wide range of verticals, divisions, and geographies. No matter where you are on your digital commerce path, they are ready and able to assist you.
Magento has a large network of partners and developers that provide additional resources to grow your business, and help you create commerce experiences. Shopify's partner network is getting really strong too now. You have access to free training courses, in-depth documentation, and other tools as a Shopify Partner to help you learn about Shopify and develop your company. You'll also have insider access to Shopify's product roadmap, demos of forthcoming functionality, and Partner support to quickly answer any questions you or your clients might have.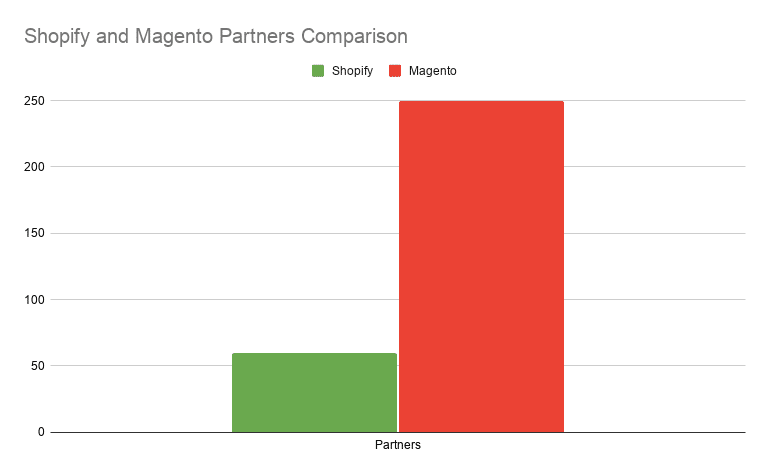 Still, compared to Magento, Shopify has a smaller community. Due to Magento's open-source nature, the platform provides merchants with the ability to do highly complex things, which Shopify just doesn't have.
Conclusion
Consumers in today's online marketplaces are searching for more than just products; they want to be immersed in exciting shopping experiences. To meet these expectations, the platform solution must be adaptable enough to deliver new brand experiences on a regular basis. Both platforms have advantages and disadvantages. However, deciding which is better between Shopify and Magento is entirely dependent on your circumstances.
If you have regular items, just 1 or 2 storefronts, a medium-sized product list, and no tech team or expert, Shopify is a great option. For the majority of small to medium enterprises, the monthly cost of Shopify & Apps is affordable. Magento could be right for you if you run a large eCommerce business that requires a lot of versatility and you have all the technical skills in-house to handle it. Shopify and Magento are two of the most popular eCommerce platforms. Although they have distinct approaches to handling eCommerce, they both have obvious advantages in some market scenarios. Understanding your business is the first step to make the right decision.