What are Shipping Profiles on Shopify?
Shopify Shipping Profile is an advanced feature for implementing custom shipping settings and optimizing shipping rates based on the products and shipping locations. Shopify offers a built-in feature for merchants selling on its platform to buy and print shipping labels and track shipments for orders.
Shipping and fulfillment are crucial to eCommerce companies' sustainability and long-term viability. You're wasting money if you're not delivering your goods in the most cost-effectively and reliably possible way. Understanding the shipping rates used in the shipping industry is one way to minimize shipping costs.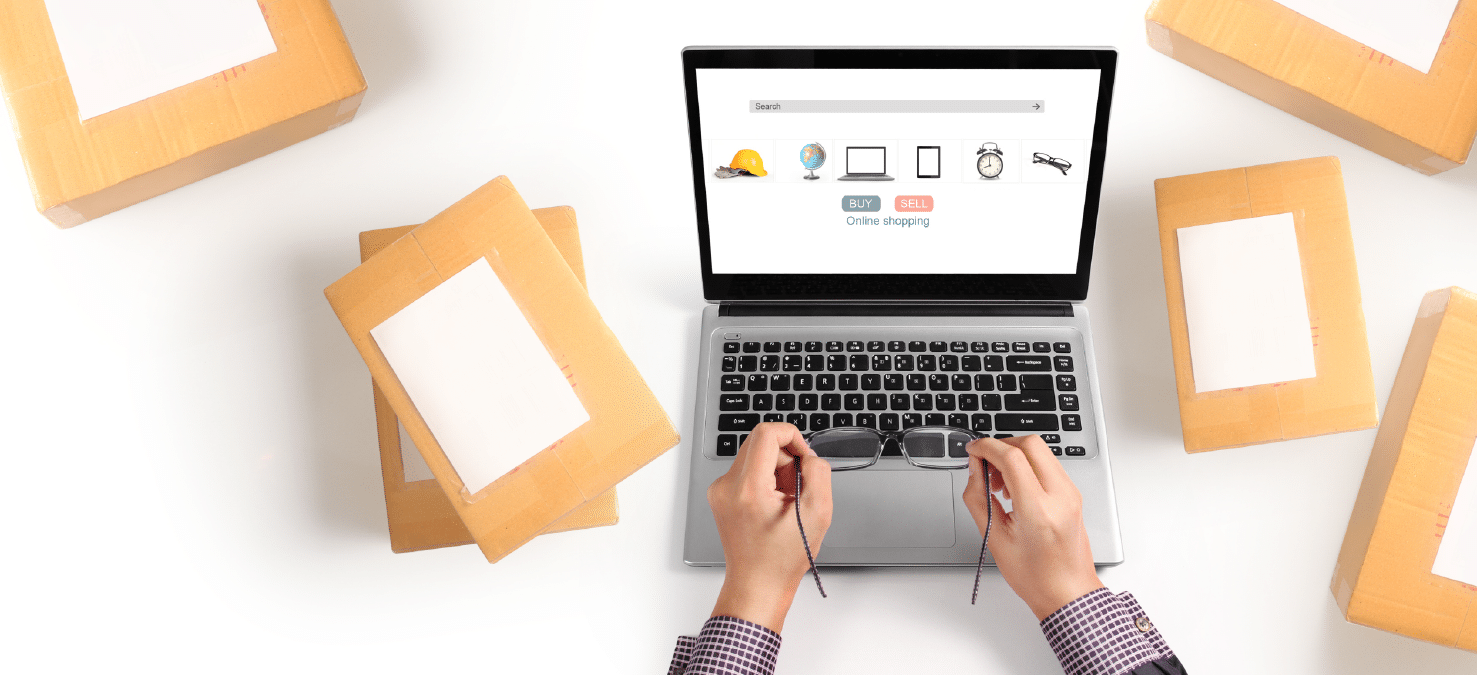 Since Shopify is one of the most popular eCommerce platforms, we've got an overview of everything you'll need to know to make the best shipping choice for your business. A few fundamentals will lay the groundwork for the rest of your shipping. Although you can adjust each of these as you gain more knowledge, these are the major decisions and measures that make up your high-level shipping strategy. Some case studies might help you in the running of your business.
How does Shopify Shipping Profile work?
Before building a shipping profile, you must first understand how shipping zones and shipping rates operate. A zone and rates can be assigned to each position in a profile. You also consider apps that affect shipping. Before you use shipping profiles, contact the developers of the apps you use to ensure that they work with shipping profiles
You can use shipping profiles to set shipping rates for particular goods and charge various amounts depending on where the products are being shipped to and from. You may add goods to a shipping profile that share the same shipping rates and then set up shipping zones and rates for each location that fulfills those products.
Benefits
Custom shipping rates for different products and zones
Price-based and weight-based rules
Create shipping zones for domestic and international orders
Show real-time rate at checkout
Connect with your third-party carriers account
Local pickup and delivery option
Limitation
Number of store locations based on Shopify plans
A product or variant can belong to only one shipping profile at a time
Combine rates from multiple profiles at checkout causes double charge
Unable to setup advance shipping rules
Unable to show or hide shipping methods at checkout
Can only bulk print 20 labels at a time
How to set up Shopify Shipping Profile?
General shipping profile
General shipping profile is the default setting for your shipping. Create shipping zones and apply shipping rates to them to customize your overall profile. If a product or variant isn't in a custom profile, it uses the general profile's shipping rates.
Custom shipping profile
Additional shipping profiles help you handle products with varying shipping costs and regional availability. If you add a product or variant to a second shipping profile, then it is removed from the first profile. Shopify will automatically combine rates if the order includes products from different profiles, which means higher shipping costs.
If you are finding a way to separate shipping rates, this might be the solution. For each of your vendors, you can create a separate shipping profile. Each vendor has their shipping profile; it allows for combined rates at checkout when a customer purchases from different vendors/shipping profiles. Since each shipping profile has its own set of shipping rates, this allows your customers to buy multiple items from the same vendor and their order will be subject to the same rate(s). For example, if a customer purchases two items from two shipping profiles with a $20 flat shipping rate and $10 flat shipping rate, the customer will have to pay $30 in total.
Steps to set up Shipping Profile on Shopify
From your Shopify admin, go to Settings then click Shipping and delivery.
From here you'll see Delivery methods at checkout.
In CUSTOM SHIPPING RATES, click Create new profile to create a shipping profile.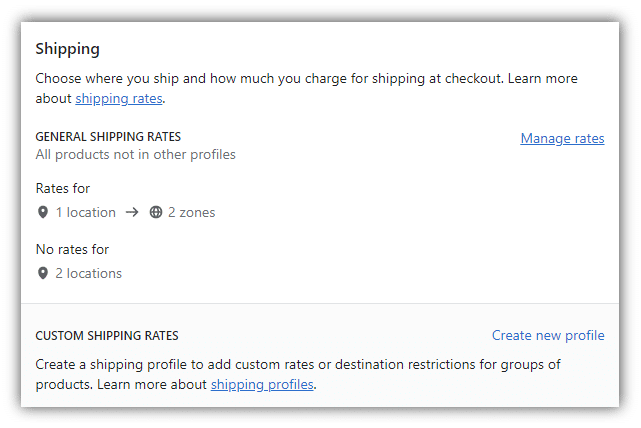 Enter a Name for the profile
Use the search bar to Add products to the shipping profile in the Products section

The Shipping from identifies the locations from where you can ship products from. For example, you have retail store locations but also want to ship from the home office, warehouse, and store inventory.

After selecting the locations from where you can ship products, click Create shipping zone in Shipping to

Here, name your shipping zone and select the countries or regions that are part of the zone.
Then click Done.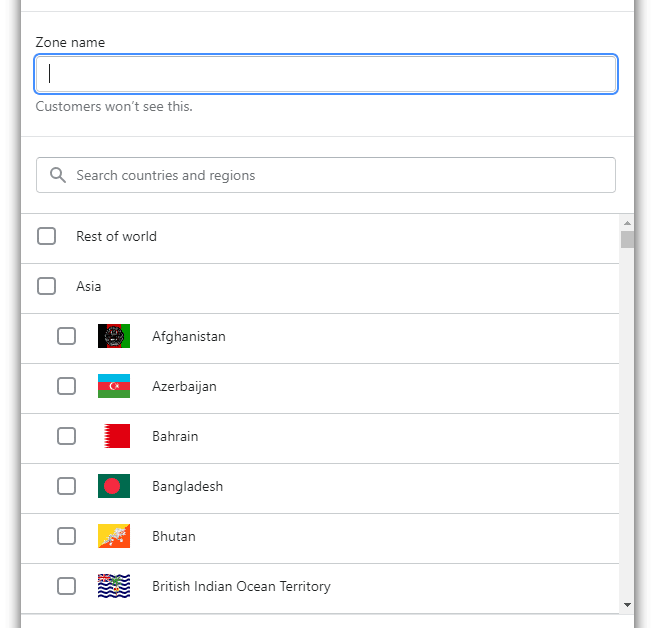 Your shipping zones will correspond with each country you would like to set up shipping options in. For instance, if your main customer base will be in the US, but you also believe you will have some customers ordering from Canada and the UK, you will set up a shipping zone for the US, one for Canada, and one for the UK. Lastly, you can also set up a Rest of World zone that will cover all other countries.
For each shipping rate you want in the zone, click Add rate, choose the rate's details
Then click Done.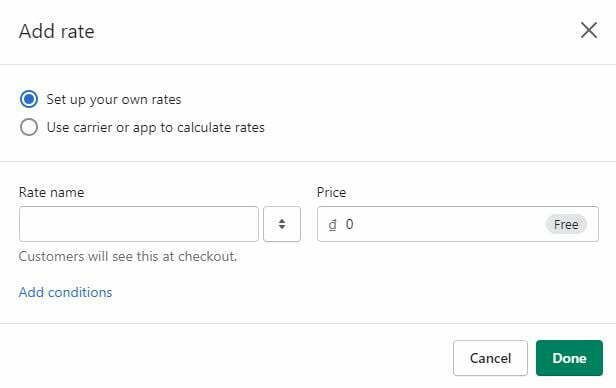 How to manage shipping rates in shipping profile?
General shipping rates
Flat shipping rates are fixed shipping rates applicable for all shipping boxes and don't depend on item shape, size or weight, as long as below some limit.
Priced-based shipping rates
Priced-based rates will let you set flat shipping rates based on orders value. For example, an order under $50 would have $4 shipping rates and above $50 would be cheaper.
Weight-based shipping rates
The same as priced-based rates, weight-based rates account orders weight for shipping rates.
Free shipping rates
In Shopify, you can set free shipping by selecting the shipping cost to $0. Still, customers should meet some conditions depending on their order's total weight or total price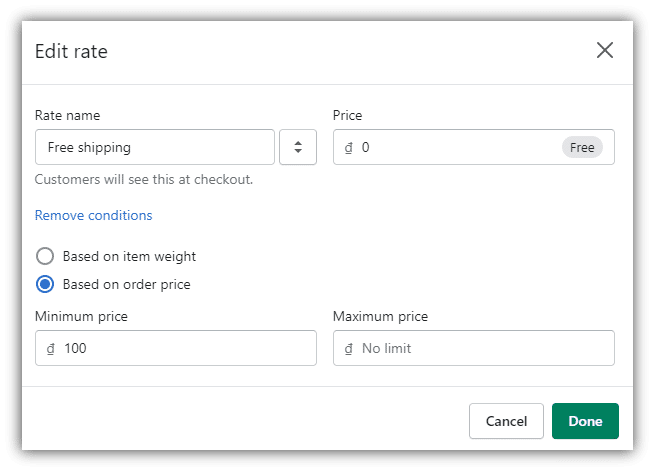 Third-party carrier-calculated shipping rates
Shopify has a carrier-calculated shipping feature that allows you to connect your account with a shipping carrier. That carrier will handle the shipping rates for you and display them to customers during checkout. For example, if your business is based in the United States, then you can display rates from USPS, DHL Express, or UPS. If it's based in Canada, you can display Canada Post rates.
When you add carrier-calculated shipping rates, you also need to enter accurate weights for each of your products so that you can provide accurate shipping rates to your customers at checkout. So If you can get your items in the correct package size and weight, take advantage of Cubic Shipping rates from USPS. In most cases, it can save you a bundle.
Third-party carrier-calculated shipping rates can be activated for Basic monthly Plan with below two options:
Ask Shopify Support to activate the third-party calculated shipping rates feature for a monthly fee of $20.
Switch from monthly to yearly billing, and you can ask Shopify Support to get the third-party calculated shipping rates feature added for free.
Third-party app-calculated shipping rates
Calculated shipping rates are determined at checkout by a third-party shipping service based on the order's details. This helps you charge your customers the exact amount that a shipping carrier, such as UPS or FedEx, will charge you when you purchase a shipping label.
In addition, the shipping options shown at checkout will be based on the default package size solely. Since Shopify currently doesn't take into account the dimensions of the products, it cannot determine the correct package and the number of products that can be fit in a package. You need to use a third-party app that helps you with advanced packaging methods to achieve this
While integrating with shipping apps, info such as shipping policy is made available when customers search for items in the catalog. The prices are provided for customers and add them to the total cost of the order – taxes and customs duties are automatically calculated upon checkout.
How to improve Shipping Profiles in Shopify?
Disable combined shipping rate at checkout
With one shipping profile
When you have multiple inventory locations, many aspects that have to be enabled for this to work and allow customers to still purchase from both without being double charged.
First of all, the products need to be available at both locations (Inventory count looks to be irrelevant as Shopify assumes the merchant will transfer stock)
Secondly that location needs to be checked to fulfill online orders (Settings > Locations)
Solutions
Enabling shipping from multiple inventory locations allows Double-Charging, so leaving one inventory location as a shipping location eliminates this.
This does not impact customers' ability to purchase any particular stock. It's almost as if Shopify assumes that the merchant will move inventory between locations as they need. Customers can purchase items from any inventory location and they will only be charged once though. Inventory purchased by customers will be deducted from the inventory location that is enabled as a Shipping Location.
With multiple shipping profiles
When you have multiple shipping profiles and a customer orders products from more than one profile, Shopify normally combines the shipping rates and shows them to your customers at checkout. The problem is when customers see the high rates, they usually abandon their carts.
So how to ship to the same location without double charging the customer. There are some suggested solutions but they won't address the problem thoroughly:
Go into your online store profile; add a note in the subtotal line in the translate section. Explain to your customers that double charges will be refunded. This isn't ideal as the customer doesn't want to pay you money just to get it back; they want the actual cost at check out.
Put up the price for small cheap items so that they can all be delivered at the correct rate when combined. This has undoubtedly reduced conversions.
Solutions
Since the third-party apps are just way too expensive and require most of the time to switch to a premium plan, Shopify has failed to provide merchants with the ideal eCommerce solution.
I don't know whether in the future they would make adjustments like adding a checkbox to separate shipping rates or not. But currently, paying for third-party apps is the only solution. Here are what features you should be looking for in an app:
Set unique rates for different groups of products
Hide and show rates based on the min/max order price and weight, or whether the order contains certain products
Have different shipping rates but also a maximum general shipping cost for multi-product buys
If products are from different shipping profiles, only the highest rate or the cheapest will be available
Offer your customers local pickup and delivery based on zip / postal codes
Restrict shipping methods from products
You may want to consider these apps:
Limit items sold
Limit items sold happens when you want to limit the number of items sold per day, week or month. For example, merchants that open a bakery shop. Due to their resources, they can only make 50 cakes of all kinds in a day. The problem is to let the customer know that day's limit without adding a limit to inventory. The fact is not possible without an app.
There are a couple of other apps in the Shopify App Store with this function as their primary feature. Specific settings like the limit number of orders per day would require higher plans. You can see them below:
OrderLogic – Min & Max Limits
Limits by Limistsfy
Mechanic
Display shipping method at checkout
Price base condition
For example, customers can have free shipping when their order reaches 100$ and above. To display only free shipping during checkout, you can set another standard shipping rate with conditions less than 100$.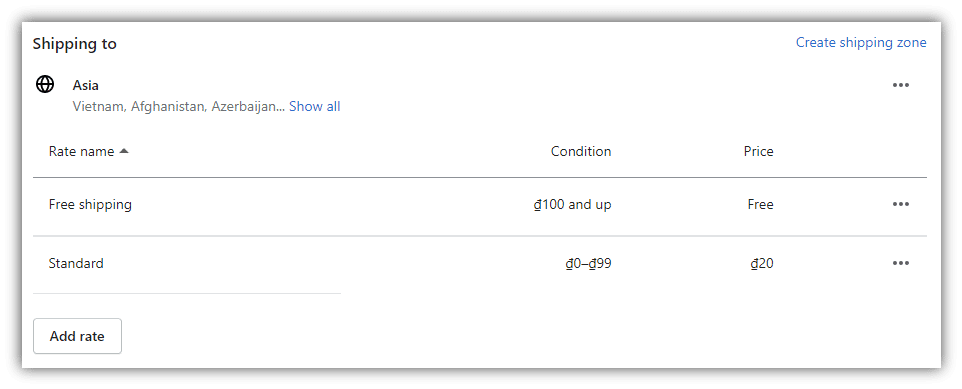 Weight base condition
If your shipping profile has rates for expedited shipping for various weight ranges, and in addition, you have free shipping over $100. The two are not mutually exclusive in the shipping chart, so when a customer's cart is over $100 they see free shipping as the first item, but they also see the equally valid weight-based shipping rate. This scenario happens if both weight base shipping and free shipping are available.
To display only heavy items shipping: (weight-based shipping overlaps free shipping)
Create a shipping profile for light items only. Offer free shipping if customer orders above $100 and raise the item price a little to cover the shipping cost.
You can add weight-based conditions to charge a shipping fee in the second shipping profile. Shopify combined rates at check out so you don't have to worry about missing any shipping fee.
In this way, if order has products from both profiles, Shopify will display heavy items shipping only.
To display only free shipping: (free shipping overlaps weight-based shipping)
Create 2 shipping profiles like above. In the heavy items shipping profile, add another free shipping rate for orders above $100 and it should do the trick.
The only thing that you need to consider are orders between $1-100, because other than that, customers will receive free shipping no matter how heavy the items are.

The apps Better Shipping and Advanced Shipping Manager would allow you to set specific rates for your products, which would save you a lot of time and it would make for more accurate results.
No shipping methods available
Are you unable to sell products from your Shopify store because the error message "there are no shipping methods available for your cart or destination" appears? Don't worry, this is a typical shipping settings problem on Shopify that can be resolved with the following changes. You should check the following setting:
No shipping zones set up for the destination address
Set up Shopify shipping zones and Input missing rates
Change your inventory settings if you are using a shipping integration
Double-check your shipping settings
Shipping weights for every single product
Weight-based freight rates for all possible shipping weights
Set your default package weight to zero
Price-based freight rates for all possible checkout values
Dropshipping
Custom profiles might be automatically created depending on what dropship app you use. Each dropshipping app comes with a unique set of shipping standards and practices. You should use one dropshipping app at a time to avoid conflicting rates at checkout. And make sure your shipping rates are set up on your website to cover the shipping cost, particularly if the drop shipping company bills you separately for the cost of shipping.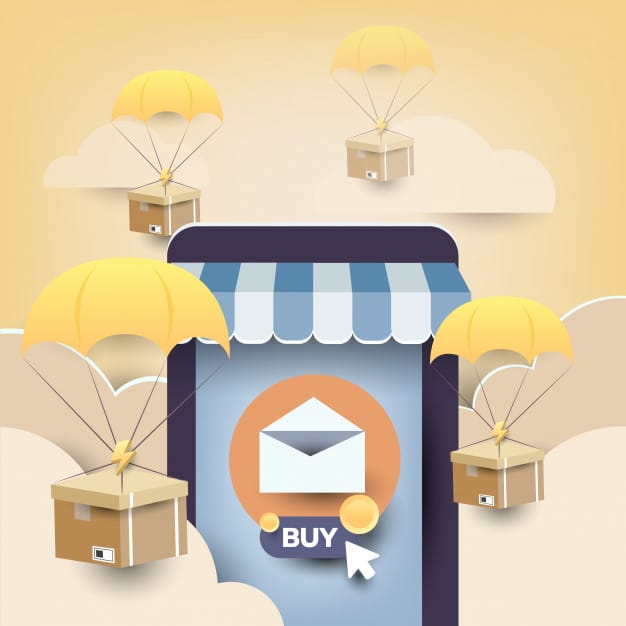 For example, if you are dropshipping with Oberlo and integrating with Shopify. The app automatically places all of the Oberlo products you create in the Oberlo shipping profile, and automatically sets up the shipping rates in that profile. You can still go into that profile and review and change the rates if you are not happy with what Oberlo set up.
Customers who order from your shop will see the rates from whichever profile the products they are purchasing are set within your shipping settings. If an order includes products that ship from various locations or profiles, the shipping rates for each shipment are added together at checkout to create a total rate.
When you have multiple shipping profiles and a customer orders products from more than one profile, Shopify normally combines the shipping rates and shows them to your customers at checkout. To handle it accurately, you will have to use an app that lets you create multiple rules always to charge what you want. You can use the Multi-Carrier Shipping Label app if all your products are in a single profile. When there is a single profile, you can adjust the rules to skip the small product from shipping.
Local pick up
In order for local pick-up to work, your product inventory will need to be added to the respected location. Could you clarify if the inventory is set to the correct location? I'd also recommend reviewing the Shopify document on Local Pickup to ensure you have all the correct settings in place for this feature to work. Notice that the local delivery methods include both local pickup and local delivery, which can't be changed once the customer finalizes the order.
Suppose your business tends to do more local pickup orders than shipping orders. Customers usually do not see the local pickup option at checkout, they instead go into shipping options. This will cause customers to be frustrated.
While removing the "Shipping" option from the checkout page is not possible, you can ensure your customers can not place shippable orders by deleting and/or removing any shipping zones/rates. You will only want local pick-up rates to appear in your shipping settings.
The only option left is to use Shopify third-party apps like In-Store Pickup Local Delivery or Store Pickup + Delivery to schedule your local delivery and pickup date and time. There are also third-party apps that let you create multiple rules-based scenarios so you always deliver exactly which shipping methods you want for every situation.
Best Shopify Apps to Improve Shipping Profiles
Advanced Shipping Rules

Advanced Shipping Rules allow you to set up your basic to wildly complicated shipping specifications. Set unique rates for different groups of products. Adjust carrier rates, edit rate titles, ship-from postcode, customs/duties, package dimensions. Use by item, % of the price, and more. You'll be able to configure and manage all your own rates and rules, without needing a developer to help.
Feature
Hide, Show, and Adjust rates using many variables and conditions.
Set unique rates for different groups of products
Advanced package dimensions settings
Advanced rate types like 'By Items', 'Per Pound', 'Percentage of Product Price'
Integrates with Printful, Printify, Pixels, and Gooten
Price
7-day free trial
$9/month: 2 Product Groups + 1 Blended Rate
$29/month: 5 Product Groups + 2 Blended Rate
$59/month: 20 Product Groups + 3 Blended Rate
$99/month: Unlimited Product Groups + Unlimited Blended Rate
Advanced Shipping Manager

Advanced Shipping Manager delivers full control over all of your shipping rules and methods. No matter how complicated your challenge may be, easily create multiple rules for a shipping method, allowing for multiple origins / various couriers to be accounted for in a single method. Connect with over 70 parcel and freight couriers. Our integrations include Purolator, AusPost, CanadaPost, UPS LTL, FedEx LTL, and more!
Feature
Real-time Shipping Rates
Item Level Origin Zip/Postal Code
Block Shipping Methods
Offer Real-Time Delivery Estimates for Item Page and/or Checkout
Charge Real-Time Duties & Taxes or Present the Estimated Amounts at Checkout
Price
7-day free trial
$85/month
Better Shipping

Better Shipping provides you with complete control of how your shipping rates are measured. Allow you to easily set up and manage shipping rates and regulations that are more appropriate for your customers and your store. Shipping prices are returned easily and regularly at the checkout, allowing you to relax knowing that your shipping is taken care of. Take full control of your shipping rates at every level. Better Shipping has you covered if you need different shipping rates for your small, medium, or large products.
Feature
Take full control of shipping rates at every level.
Set a flat shipping rate for every single product or variant in your store.
Restrict certain products from delivery areas based on zip codes.
Keep your customer experience consistent even with products coming from multiple drop-shipping suppliers.
Price
7-day free trial
$19/month: Unlimited shipping rates at checkout + Unlimited shipping rules
Shipping Rates by Parcelify

Shipping Rates by Parcelify let you create custom shipping rates based on product information including Product Tags, Product Types, Product Name, Collection, Vendor, and SKUs. Filtering rates by hiding and showing rates based on the min/max order price and weight, or whether the order contains certain products.
Feature
Local delivery and pick-up: Provide local delivery or in-store pickup for orders from certain zip codes, postal codes, or city name
Free shipping: Offer free shipping for orders over a certain price.
Dropshipping: Setup per item pricing for any drop shipper such as Oberlo, Printful, and Printify, etc.
Flat rate shipping: If a certain product or combination of products is in the order, the entire order ships for a flat rate.
Weight-based rates: calculate the rate based on the weight of the order.
Price
14-day free trial
$14.99/month
Best Limit Items Sold Apps for Shopify
Order Limits ‑ MinMaxify

MinMaxify can help you streamline the implementation of restrictions on your cart ordering process. You can apply restrictions for an entire cart, specific products, or groups of products. With MinMaxify, it's easy to define minimum and maximum product and cart limits for your orders, from simple to complex.
Feature
Limits can be set on:
The total dollar value in the cart
Total number of items in cart
The number of individual items
Multiples of items in a product group (ie; 6 bottles in a case)
Limits based on customer tag such as wholesale
Total weight of items in the cart
Price
14-day free trial
$4.99/month
OrderLogic ‑ Min & Max Limits
OrderLogic allows you to define minimum and maximum product quantities for all products in your Shopify Store. With a simple interface, you can limit how few or how many of each product your customers can order. You can set minimum and maximum order amounts and quantities. Set up your wholesale shop today and easily enforce a minimum order amount or quantity for your customers.
Feature
Specify Product Mins and Maxs
Specify minimum orders as well as maximum orders by price or item quantity limits.
Use tag constraints to set up groups of products to apply a minimum, maximum, or multiple constraint.
Price
7-day free trial
$4.99/month: Product Constraints + Order Constraints
$9.99/month: Product Constraints + Order Constraints + Tag Constraints
$14.99/month: Product Constraints + Order Constraints + Tag Constraints + Buy Button Constraints
Min&Max Limits by Limitsify

Limitsify is a min-max app that redefines the way of adding limits to orders. It gives flexibility and an easy-to-use interface to configure minimum and maximum limits for cart and supports various order logic. Limitsify allows you to set up multiple minimum and maximum limits for your store. Set minimum and maximum limits based on price, SKU, weight, category, vendor per day, week, or month.
Feature
It supports the following Shopify limits for :
Purchase amount for each checkout
Products in your store or any SKU
Products that belong to a specific product type
Number of items for the specific vendor
Price
10-day free trial
$4/month: all limits except delivery
$7/month: Units per day/week/months limit
Best Shipping Label Apps for Shopify
Shippo

Shippo helps you streamline your shipping, so you can focus on growing your business. Get discounted shipping rates, print labels, and send tracking info to your customers from one place. Use batch label printing and automation to speed up the process and prevent manual error.
Feature
Add your brand, logo, and colors to tracking Pages, shipping emails, packing slips, and more
Connect with 50+ carriers around the world
Automatically sync package information back to Shopify
Generate customs forms and commercial invoices automatically
Price
Free: use your rates for a small monthly or per-label fee
Multi Carrier Shipping Label

With Multi Carrier Shipping Label, you can display Real-time shipping rates from multiple carriers like FedEx, UPS, USPS, DHL, etc to your customers at the checkout page. One-click and all the shipping labels for the day are ready for your printer to print. You can also schedule a pickup for multiple orders, generate manifest and provide shipment tracking details to your customers via email.
Feature
Domestic and International Shipping Rates
Live Shipping Rates from Multiple Carriers
Weight-Based packing for flexible packing
Generate and Download Shipping Labels in Bulk
Generate Return labels
Live Tracking Dashboard
Automate Live Rates from multiple carriers
Price
14-day free trial
$9/month: 100 orders
$29/month: 1000 orders
$49/month: 3000 orders
$99/month: unlimited orders
Shipandco

Featuring a user-friendly interface, Ship&co helps you automatically import orders from multiple stores, compare your carrier account shipping rates, print labels and customs documents, and track shipments – all on a single dashboard. Any updates on your orders such as change of shipping address, order notes, edits to products are automatically updated on Ship&co's dashboard as well.
Feature
Synchronize your orders from multiple shops in real-time
Easily compare multiple carrier shipping rates by adding your own carrier account
Print shipping labels, invoices, and international customs documents in just 1 click
Track the status of your shipments with tracking numbers automatically synced to your shop.
Fulfill orders for multi-location Shopify stores.
Price
Free to install 0.25USD per shipment, or from 9USD per month
Summary
Let's test to make sure everything is working properly after building and mapping each of your shipping methods. Navigate to your store as if you were a customer, adding a few items to the cart, changing the shipping address, and so on. It would be perfect for imitating a customer and placing a live test order.
Shopify Shipping Profile can be a very useful tool for small merchants who only sell on the Shopify platform, particularly with the significant discounts on label prices. However, there are some disadvantages that most growing or larger retailers would want to avoid. Use the information in this guide to set up your Shopify Shipping Profile and help you decide if it's the right choice for you and your company as a whole.