Is your conversion rate lower than what you expect? Do not worry! Shopify App Store has thousands of solutions that can help you. 
Notwithstanding, choosing the finest apps that work best for your business among these thousands of apps is challenging and time-consuming, especially for small businesses that do not want to spend extra money. That is why we researched and compiled this list of our top 26 best Shopify applications to increase sales and conversions, including both free and paid apps.
Read to the end to know how to choose the best Shopify apps for your business.
10 Best Free Shopify Apps to Increase Sales and Drive conversions
Judge.me allows you to collect and display star ratings and reviews for your Shopify stores and products. Reviews and other user-generated content, such as photos and videos, provide social proof that boosts your conversion rate, organic traffic, and buyer engagement.
Price: 
Free plan available. 
Awesome:  $15/month
Feature:
Review Carousel
All Reviews Page, Floating Reviews Tab
Question and Answers and custom forms, questions
SEO Rich Snippets
Instantly loaded reviews to increase page speed
Upsell Recommendations- Free is an app dedicated to tracking and analyzing each visitor to your stores unique browsing and purchasing activity. It forecasts which things your consumers are likely to want to purchase next. Afterward, display the most relevant goods that your consumers are most likely to buy at that time.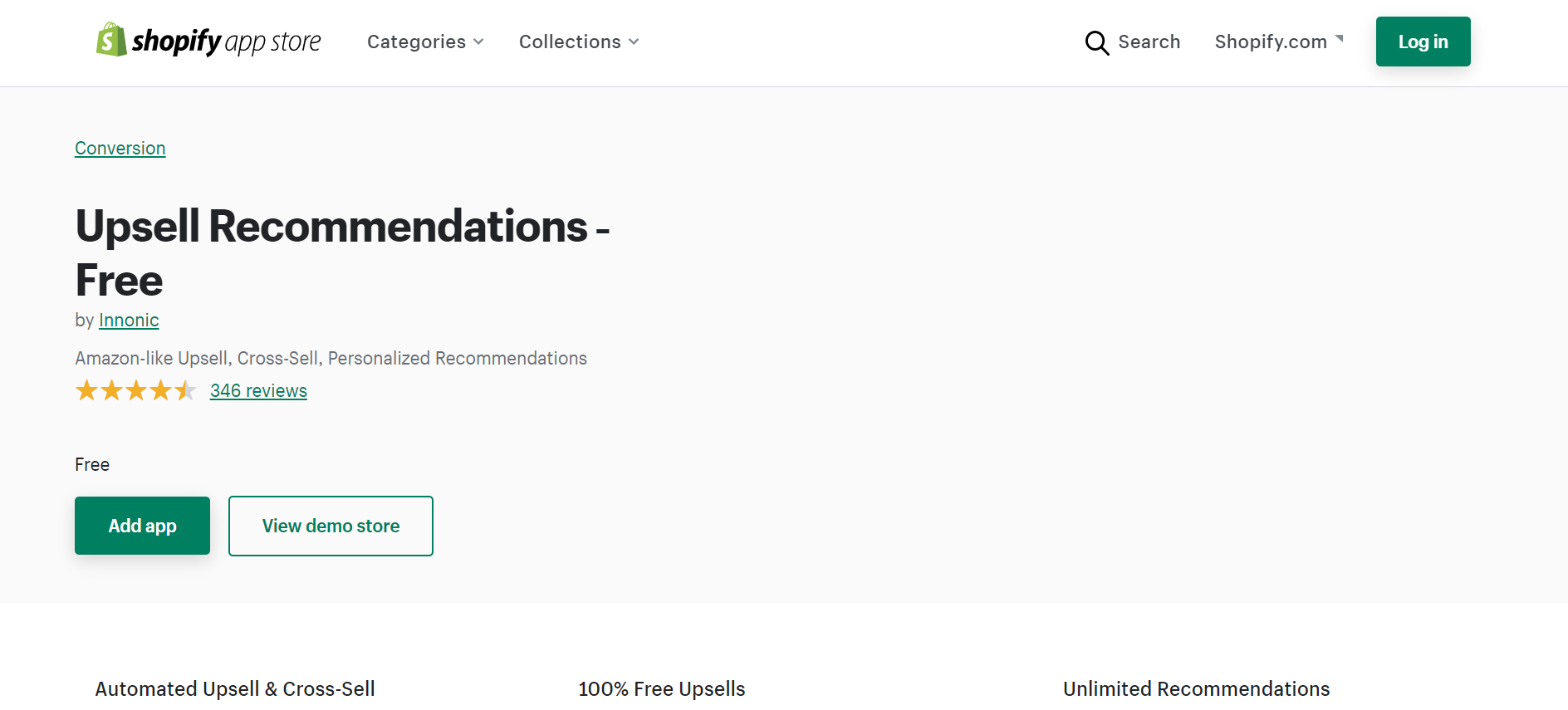 Price: 
100% free app. No monthly fee and setup cost. No commission.
Features:
Customizable design: style the upsell widget to look like part of your store.
Customizable position: you can decide where you place the upsell widgets on your page.
UpPromote is a fully automated affiliate and influencer marketing solution. It enables you to create, manage, and thrive with Affiliate marketing.
Price: 
Free plan available.
The paid options include 3 plans:
Grow affiliate: $21.99/month
Professional: $69.99/month
Enterprise: $139.99/month
Feature:
Grow your affiliate team
Empower affiliates
Manage affiliate effectively
Track the performance and grow your business
Customers leave your website for a variety of reasons. You may solve these issues with Trust Hero by showing free payment and security badges on your product pages. Buyers can then generate conversions.
Price: 
Trust Hero ‑ Trust Badges is completely free-so you can enjoy all these amazing features without paying a cent.
Features: 
Improve sales and conversion rates by displaying trust and security badges to your customers.
No developers needed!
Reach more customers with Mobile Friendly design.
Klaviyo helps you use owned marketing channels such as email, SMS, website, and in-app notifications. Furthermore, it helps create memorable experiences by listening and understanding customers and turning them into valuable and relevant messages.
Your eCommerce store can increase ROI when switching to Klaviyo.
Price: 
Free plan available. Free to install (Email free for up to 250 contacts. SMS free for up to 50 SMS contacts.)
The paid options include 2 plans:
Email: $20/month (Up to 500 contacts, upgrade as you grow.)
SMS: $5/month (Up to 150 SMS contacts, upgrade as you grow.)
Features:
Powerful pre-built integrations
Free and flexible account options
Pre-built forms, templates, and automation
Personalization and targeting
Out-of-the-box automation
Dynamic forms
Best-in-class segmentation
Growth-focused reporting
SMS
Social advertising
With 30+ sales and conversion features in one place, this app provides everything you need to generate leads, automate email marketing, and drive more conversions.
Price: 
Free plan available. Free for up to 300 contacts
The paid options include 3 plans:
Basic: $11/month. Unlimited emails for up to 600 contacts
Essentials: $25/month. Unlimited emails for up to 3000 contacts
Pro: $95/month. Unlimited emails for up to 10,000 contacts
Features: 
30+ sales and conversion tools in one place:
Sales popup campaigns
Email capture popups
Exit-intent popups
Upsell popups
Cart recovery popups
Embed forms
Popup and forms analytics
Welcome emails
Abandoned Cart Emails
Email newsletters
Follow-up emails
Better CRM. And more. 
Oberlo is one of the best Shopify dropshipping apps on the market. It eliminates the need to bother about packaging or delivery.
In just a few clicks, you may acquire items from suppliers such as Amazon/ AliExpress,.., add them to your store, and distribute them to your consumers without keeping an inventory. Furthermore, it is simple to keep track of your customers orders.
You dont need to think about packaging or shipping anymore.
Price: 
Free plan available.
Paid plan: $29.90/month
Features:
Learn to Dropship
Find Products to Sell
Free Chrome Extension
24/7 Customer Support
Available in 6 languages: English, French, Spanish, Italian, German, or Brazilian Portuguese
Inventory and Price Auto-Updates
Bulk Orders
Real-Time Order Tracking
Variant Mapping
Customize Your Listings
Affiliate Program
CAPTCHA Solver
When you connect your Shopify store to Mailchimp, you can improve customer relationships and loyalty. You can also create marketing campaigns on the go, build landing pages to expand your reach, view insights about individual contact, and track performance. Thus, this app helps you make more sales, bring your customers back, and find new customers and subscribers.
Price: 
Free plan available. Based on 2,000 contacts
The paid options include 3 plans:
Essentials: $11/month. Based on 500 contacts
Standard: $17/month. Based on 500 contacts
Premium: $299/month. Based on 10,0000 contacts
Features: 
Listen to and understand your customers
Analyze their behaviors and preferences
Act more personally to build stronger relationships
ModeMagic is an all-in-one store conversions application, that helps you boost sales on your e-commerce store. ModeMagic helps you automate your flash sales and promotional campaigns, inventory management, and revenue strategies.
Price: 
Free plan available (for upto 50 orders)
The paid options plans:
$9 per month (for upto 150 orders); 9 cents per order thereafter.
Scale: $299 per month (for upto 5000 orders); 5 cents per order thereafter.
Features:
Product Badges and labels display all the right information to enable quicker purchases.
Trust packs help win customer confidence in your online store.
Product feature cards deliver relevant product information to help make better purchase decisions.
Automation playbooks allow easier automation of sales and promotion campaigns.
This app sells quality print and embroidery goods in different categories, ranging from t-shirts, leggings, and more. Because its in-house fulfillment centers and partner facilities are located worldwide, customers can get fast fulfillment and reasonable shipping rates wherever they live. 
Price:
Free plan available.
The paid options include 2 plans:
Plus plan: $9/month
Pro plan: $49/month
Features:
​Control over your profit
Free design templates
​Warehousing & Fulfillment
Discounted samples
24/7 customer support
Stamped.io is a powerful, easy-to-use customer marketing platform that helps you capture and showcase high-impact reviews & ratings, customer photos/videos, and Q&A in your Shopify stores.
Price:
Free plan available (Lite version).
The paid options include 3 plans:
Basic: $23/month
Premium: $49/month
Business: $119/month
Feature:
Boost Sales with Reviews
Increase Traffic with Reviews
Improve Reviews Quality
10 Best Paid Shopify Apps to Increase Sales and Drive conversions
Octane AI provides an all-in-one platform for data collection and personalization at every stage of your customers journey, including website, email, ads, SMS, and Facebook Messenger. 
Price:
Starter: $49/month
Pro: $199/month
Pioneer: $499/month
Features:
Shop Quiz: Collect detailed zero-party data to power deeper personalization and make intelligent product recommendations
Conversational Pop-ups: A faster way to increase opt-ins, conversion, and data collection
Facebook Messenger & SMS: Like email marketing, but with much higher open rates
Make better decisions: Detailed analytics for each piece of the platform
Bold Upsell is a Shopify app that allows you to upsell and cross-sell products.
It allows your consumers to upgrade to a higher-end model, more extensive version, or even a kit by providing variation and quantity alternatives.
Price:
Starter: $9.99/month
Plus: $19.99/month
Premium: $39.99/month
Pro: $59.99/month
Features:
Make each customer order bigger and better.
Setting up your upsell offers is quick and easy!
Upsell smarter.
Create a high converting shopping experience.
ShipStation is one of the best Shopify free shipping apps. This platform makes shipping faster, easier and lowers the cost of shipping. With ShipStation, you can sell more while saving time and money.
Price:
Starter plan: $9/month
Bronze plan: $29/month
Gold plan: $69/month
Enterprise plan: $159/month
Features:
No other platform makes shipping faster, easier, and more affordable.
Access Instant Carrier Discounts
Connect Your Favorite Carriers
All Your Orders - One Platform
Brand Your Delivery Experience
Delivery Options
Support from Day One
ReferralCandy leverages the power of word-of-mouth marketing to bring in new consumers and boost revenue on your website. Use widgets to encourage clients to promote your goods with their friends through a refer-a-friend campaign by giving them rewards and exclusive discounts. 
Price: 
$49/month + Commissions on successful referral sales (0.25-5%)
Features:
Automate your referral program and watch the numbers grow
Deliver a branded customer experience
Detect suspicious transactions and take action with Fraud Center
Connect your favorite marketing apps for power-ups
Run an automated affiliate program
SEO Manager makes it easy for you to understand SEO that will assist your store in being found on Google.
Price: 
$20/month
Features:
Edit titles
Edit description
Google result simulator
SEO issues scan
SEO issues scan suggestions
Focus/Keyword suggestions
Image ALT text issues scan
Automated title, description, and image alt test templating
Index/No Index
Local business structured data
Google sitemap submission
Integrated Google Search Console analytics
Google trends integration. And more.
If you knew the product youre considering was being bought by many people before, would you take the same action?
By showing customers that your products other shoppers have purchased from your store, you can encourage them to make a purchase.
Price: 
$6.99/month
Features:
Build trust with social proof
Create a busy live atmosphere
Perfect for large and small businesses
Use retargeting to increase conversions
Customizable and user-friendly
Built-in FAQ and tooltips
Track notification performance
Multi-language support
Premium customer support
This app allows you to send branded emails to help your brand develop and enhance conversion and sales. You may also collect and show feedback from your email contacts.
Price: 
Paid plans start from $9/month, based on the number of subscribers. Free to install.
Features:
Reduce cart abandonment and grow revenue
Optimize your most opened and clicked email marketing campaigns
Nurture your new customers, drive repeat purchase, & reward your most loyal customers.
With visual product reviews and customer feedback, your customers can become your biggest advocates.
Collect emails with this email marketing app and start sending personalized brand emails to help you convert more customers.
Affiliately makes it is simple to start an affiliate marketing program. You may customize every aspect of the app to realize your ideas and create a program that perfectly fits your needs.
Price:
Starter: $16/month
Advanced: $24/month
Pro 1000: $59/month
Pro unlimited: $129/month
Features:
Admin panel to manage your program and view statistics
Personal affiliate panel for each of your partners
Automatic update of referred orders based on the Shopify order status (paid, fulfilled, canceled, refunded)
Control the affiliates earnings in case of changes in the orders prices or partial refunds
Change the tracking link template and set custom tracking codes for your affiliates
Block specific products, so affiliates will not get a commission for them
Set custom commissions for specific products and enable royalties
Upload banners for your affiliates
View and control affiliates stats
Pay earnings to affiliates through PayPal. And more.
Loox is a full-featured product review app that allows companies of all sizes to automatically gather customer reviews with images and videos and pleased customer content. As a result, you can use Loox to boost trust, promote word-of-mouth and referrals, and raise customer retention and revenue.
Price:
Beginner: $9.99/month
Growth: $34.99/month
Unlimited: $599.99/month
Features:
Collect more reviews, photos, and videos
Beautiful displays that make your brand shine
High ROI: Loox is a revenue generator
Easy setup and 
24/7 support
Loox reviews do not slow down your website
Bundle Bear offers bulk discounts and gifts to encourage people to buy more. Customers will appreciate receiving more of the same goods at a lower price.
For example, customers frequently notice these programs:
Buy 2 X and get %/$ off
Buy X+Y and get %/$ off
Spend $X and get %/$ off
Features:
Stack discounts - combine bundle discounts and discount codes
Unlimited discounts and bundles
Mix and match discounts
X+Y bundles
Free gifts
Cart goals (spend X get % off)
Free shipping
Tiered pricing and discounts to specific products, collections or all products in bulk
Easy buy more pay less - create volume discounts
Customers can claim multiple bundle discounts
Apply discounts while keeping the app hidden
Design settings perfectly match any brand
Optional custom CSS and JS
Target specific countries
Set start and end dates
Show on home page
Hides dynamic checkout buttons automatically
No theme code changes or code injections
Price: 
$19.99/month
Best Free Store Design Shopify Apps to Increase Sales
PageFly is the complete page builder for Shopify that optimizes every landing page, homepage, blog, product, and collection to accelerate sales.
Price: 
Free plan available
Silver: $19/month
Gold: $39/month
Platinum: $99/month
Feature:
Intuitive editor
Personalized mobile view
Strong compatibility
Free plan
24/7 chat support
Perfect speed
LayoutHub is an easy page builder that helps merchants quickly set up an online store with any page type using a library of pre-designed layouts and blocks.
Based on all pre-made templates, you can easily import a complete page layout or insert each block in any page position.
Price: 
Free plan available
Basic: $14.99/month
Pro: $29.99/month
Premium: $59.99/month
Feature:
Email Support
Footer branding
Use all Premium layouts
Support Standard page only
Limit 3 pages, layouts
AVADA SEO Suite is a comprehensive SEO optimization tool for SEO in Shopify. It optimizes image ALT, JSON-LD, Meta tags, Sitemap automatically for almost all pages. Make sure your website meets Google Search best practices.
Price: 
Free plan available. 
Pro: $29/month
Feature:
Improve website loading speed
Faster Google index of websites images, content
Google structured data
Standardized meta tags
Integrate with Google Search Console
Present your holiday sales with a fully customized bar on your website. Convert visitors into paying customers and generate more sales. Offer targeted discounts based on country, products & collection, time period, and traffic source to optimize your return from promotions.
Price:
Free plan available.
Premium: $9.99/month (or $8.25/month billed at $99 once per year).
Feature:
Fully customizable banner
Display at any desired position
Device targeting
Page targeting
Option to add link/button to bar
Emoji support on the bar
This app promotes free shipping with progressive messages to encourage customers to buy more. You can translate the Free Shipping bar into multiple languages, reach the global market and increase sales. Free Shipping Offers with Progressive Messages.
Price:
Free plan available.
Premium: $9.99/month (or $8.25/month billed at $99 once per year).
Feature:
Fully customizable banner
Display at any desired position
Device targeting
Page targeting
Option to add a link to the bar
Emoji support on the bar
ReConvert is a simple yet powerful app for thank you page optimization. It allows you to customize your thank you page fully & easily with a drag & drop interface.
Price: 
Free plan available (Up to 49 monthly store orders (not orders generated by the app))
Pro thank you page: $7.99/month (Up to 99 monthly store orders (not orders generated by the app)).
Feature:
Up to 50 monthly store orders
Surveys
Social widget
Order tracking
Upsells
Reorder
Conclusion
Shopify is a growing e-commerce platform with simplicity and ease of use. People love Shopify because it does not require any technical knowledge to use. In which, store owners of all business sizes can open Shopify stores and sell their products. However, youll still need the support of third-party applications to make your business more efficient. Finding the correct add-on apps, on the other hand, is complex and time-consuming. 
Above are the top 20 best Shopify apps to increase sales and conversions weve collected from our research. Of course, there is no 1 size fits all. The best Shopify applications for increasing sales and conversions are also decided by your target audience, the type of business you have, the features you want to have, and the budget you can pay for.