Do you want your store to stand out and have a lot of extended features? This article will help you answer this question. It helps you understand better about Magento extension and who are the best magento extension providers.
What is a Magento Extension?
Magento Extension is a block of PHP code embedding traditional functions, it allows you to extend many functions in your store without needing a developer to alter your site's code. And this helps buyers have a positive online shopping experience.
Normally, every extension has many functions that are not provided by Magento. Magento providers will analyze, develop and test to ensure each extension will meet the needs of your business and market.
There are more and more extensions released by Magento extension providers. To know what is a Magento extension provider and how it works. Let's dive into the next part to learn more.
What is a Magento Extension Provider?
Magento extension provider is a company that notices the pain points in Magento eCommerce industry, problems faced by store owners then they analyze and develop many extensions that fulfill every eCommerce store owner's needs.
They are the pioneers in the eCommerce industry to help your store boost sales and conversions with an impressive and utility interface.
Magento is constantly evolving with a large number of Magento extensions. Thus, there are many marketplaces, where Magento modules are easy to find, however choosing the best extension and provider for your business is not an easy decision.
Let's explore one by one this list of the top 9 Magento extension providers below.
Top 9 Magento Extension Providers
Mageplaza is one of the best Magento extension providers. With over four years of comprehensive experience in Magento Module Development, they reached 7+ million downloads of Mageplaza extensions. Becomes the most trusted Magento 2 extension globally.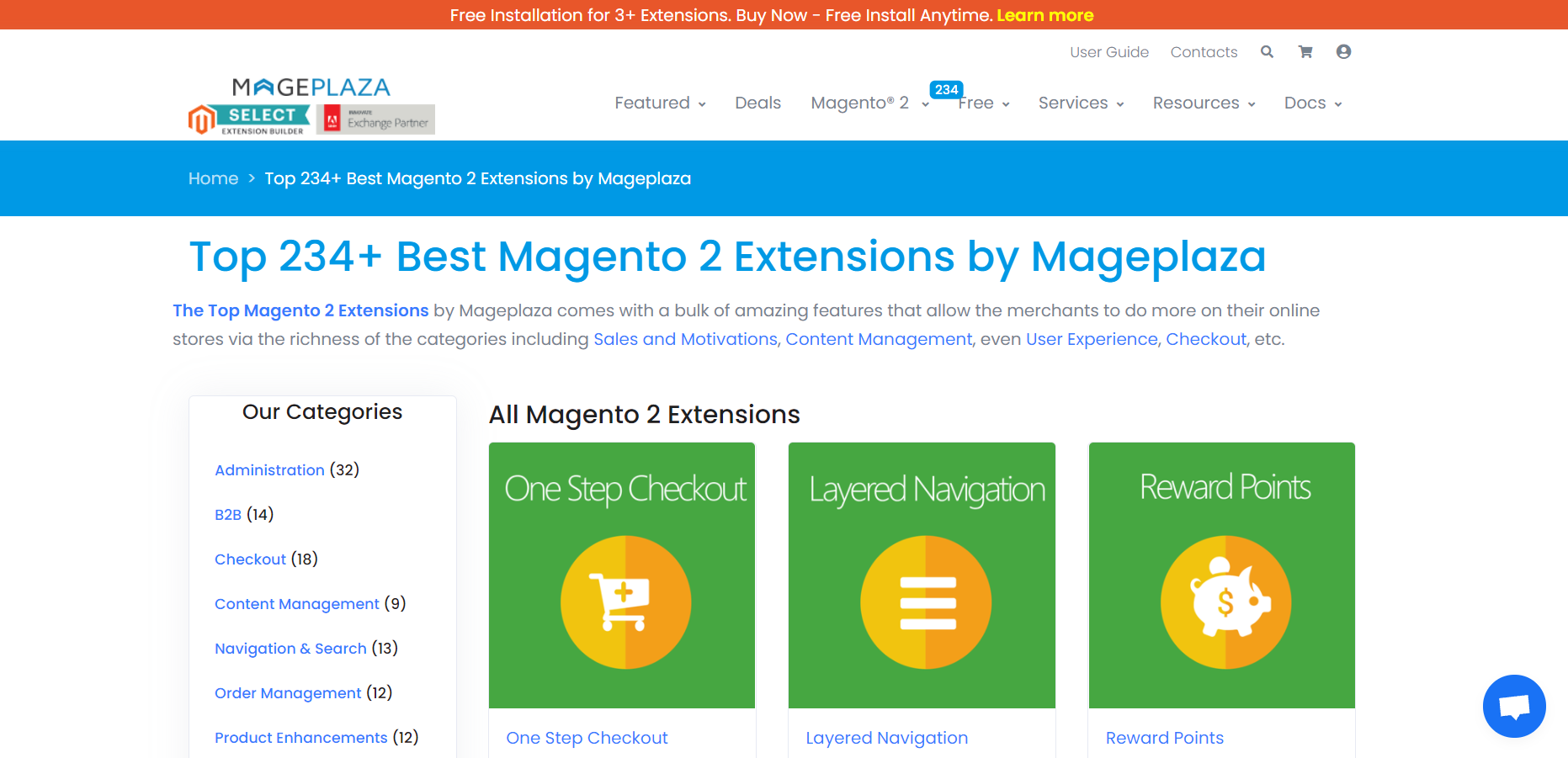 By now, they have 300+ extensions, with over 200.000 customers around the world and helped their customers increase conversion rate as well as expand revenue.
Mageplaza extensions have many prices ranging from $0 – $1325.
The best extensions of Mageplaza:
One Step Checkout
Layered Navigation
Reward Points
Amasty is a premier Magento extension builder. From 2009 until now, they helped over 120.000 global businesses scale up with all levels.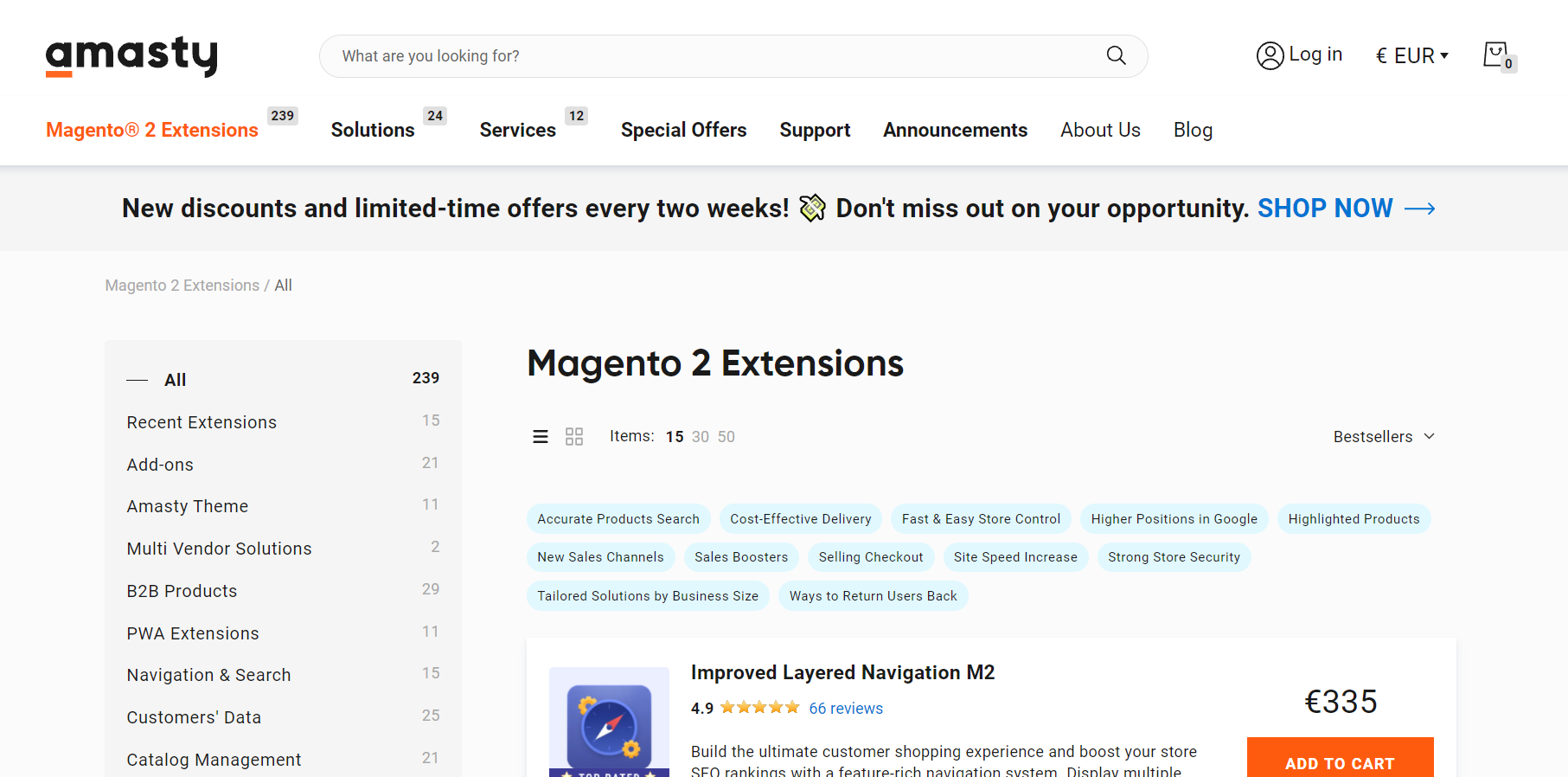 They have 300+ extensions and services for all kinds of businesses in the world. They have a lot of customers who are famous companies like Canon, eBay, Blizzard,…
Amasty extensions have many prices ranging from $0 to $1117.
The best extensions of Amasty:
Improved Layered Navigation M2
Google Page Speed Optimizer M2
Calcurates All-In-One Shipping Solution M2
WebKul is a company operating for more than 11 years in the eCommerce industry, they have contributed to making extensions of various open-source eCommerce platforms. In Magento, they have 400+ extensions.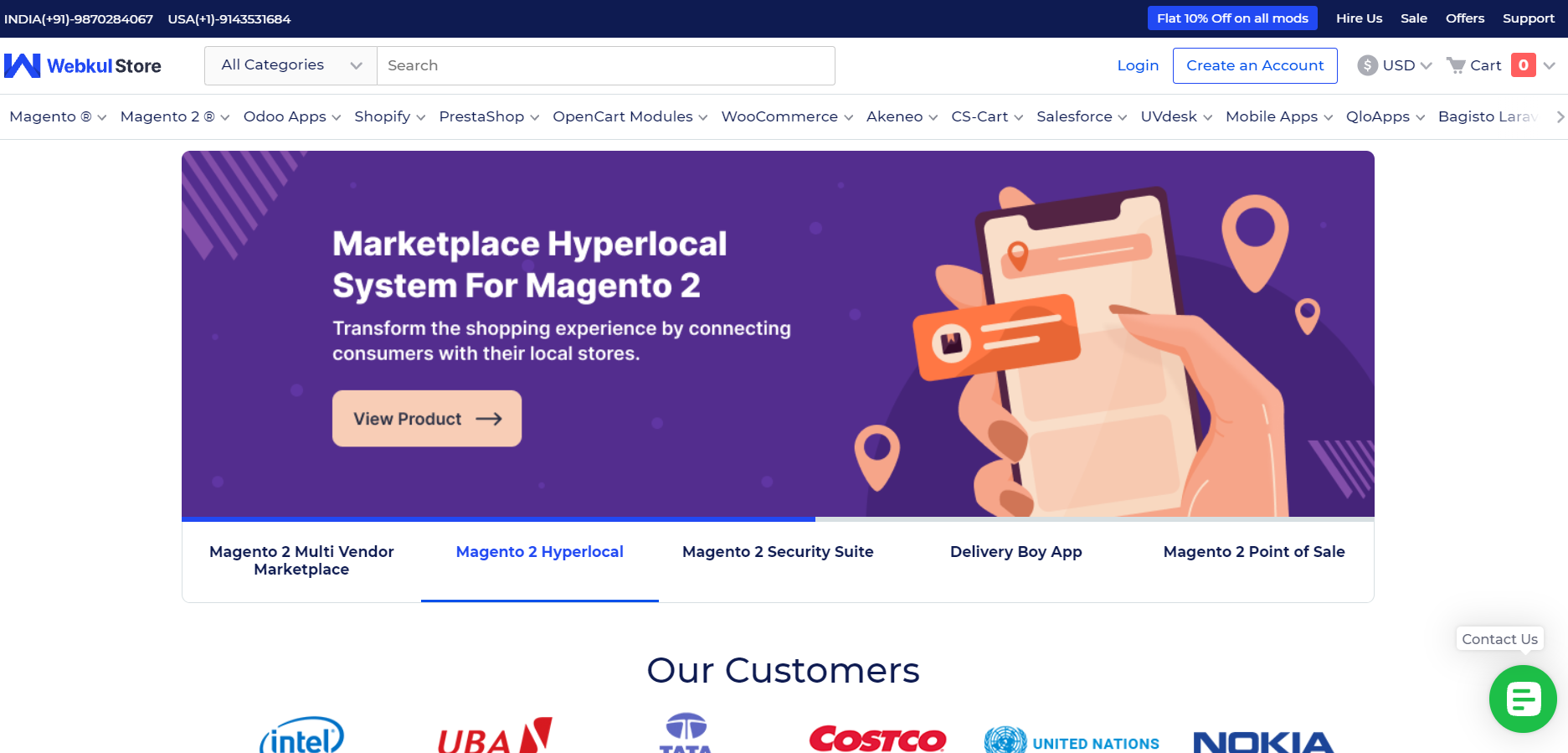 With 11 years of experience, they helped over 90.000 customers to get more buyers and expand revenue.
WebKul extensions have many prices ranging from $0 – $2999.
The best extensions of WebKul:
Magento Mage Slide Tweet
Odoo Bridge For Magento
Magento Google Plus Wall Feeds
FME is a Magento development company with 10 years of excellence in web, extensions and custom development. They have more than 15.000 extension users from over the world.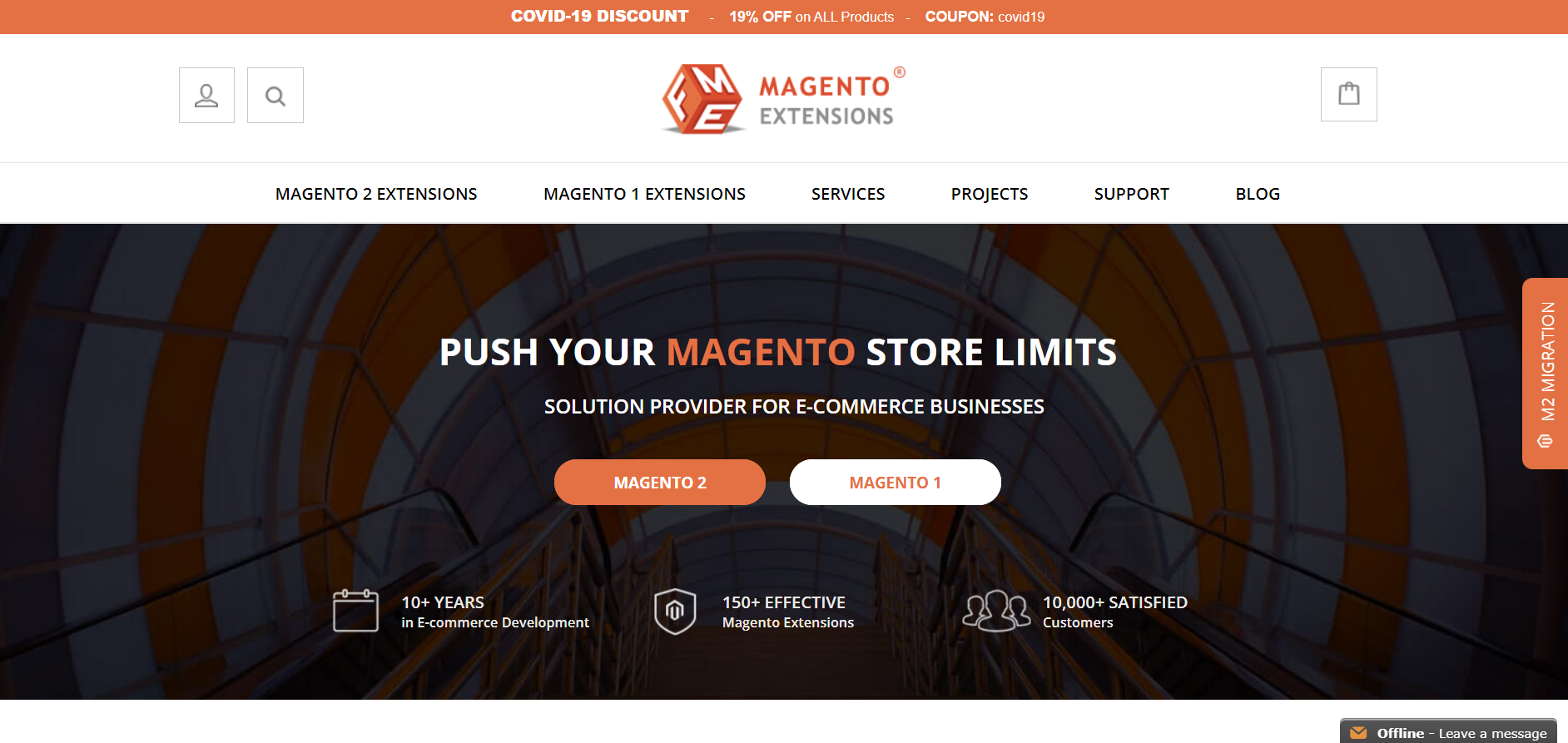 Now, there are 150+ Magento extensions in FME. They also make an effort to make extensions meeting the needs of customers day by day.
FME extensions have many prices ranging from $0 – $299.
The best extensions of FMEextensions:
Magento 2 Product Attachments
Category Banners
Magento 2 Product Videos
Mageworx is a company, that has over the last 12 years of experience in the eCommerce industry, they have built dozens of plugins that are now used by thousands of stores across the globe.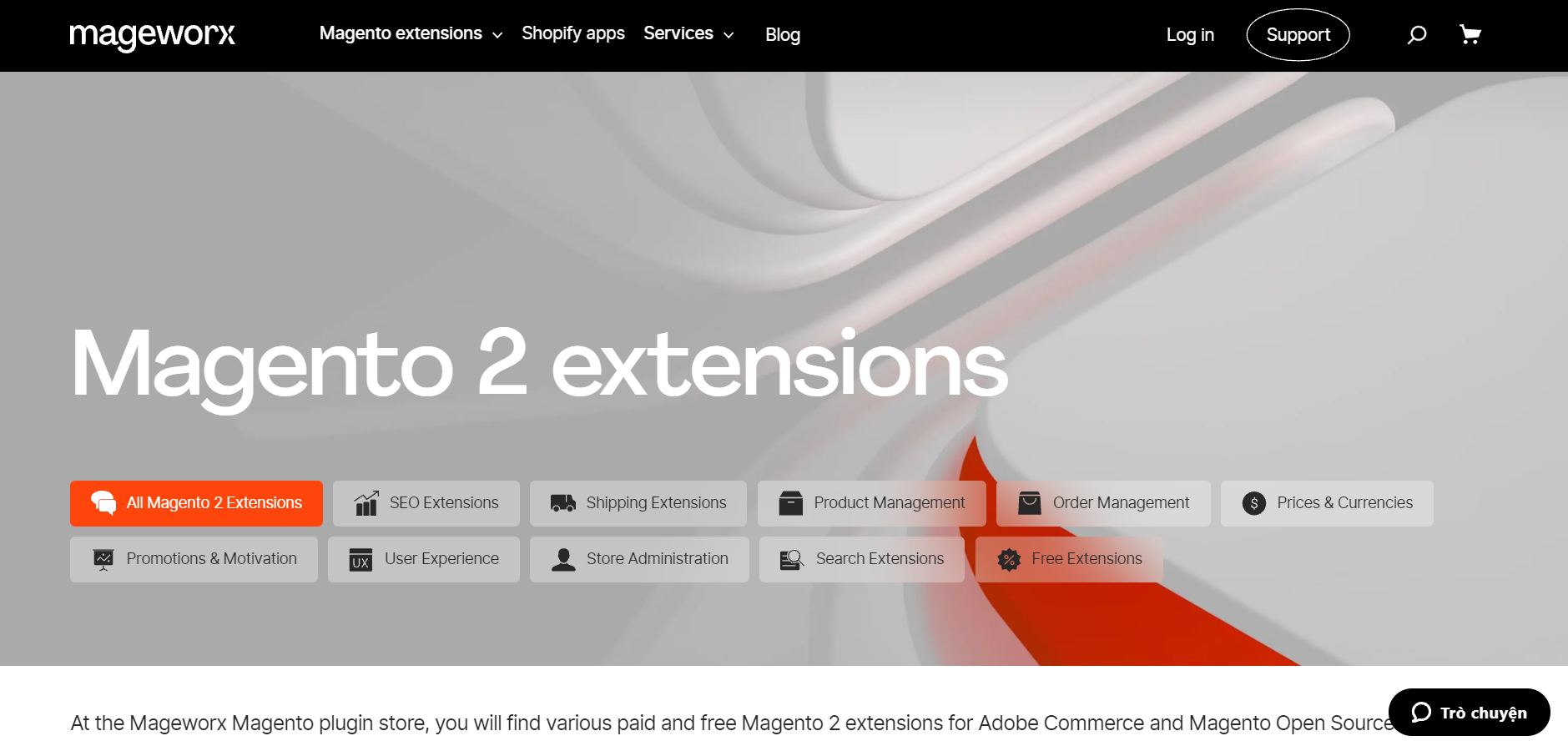 They have 49 Magento extensions with over 40.000 customers all over the world.
Mageworx extensions have many prices ranging from $0 – $399.
The best extensions of MageWorx:
SEO Suite Ultimate
Advanced Product Options Suite
Order Management
MageBees is a company that focuses on creating Magento extensions with the best features that are high in quality and extremely secure.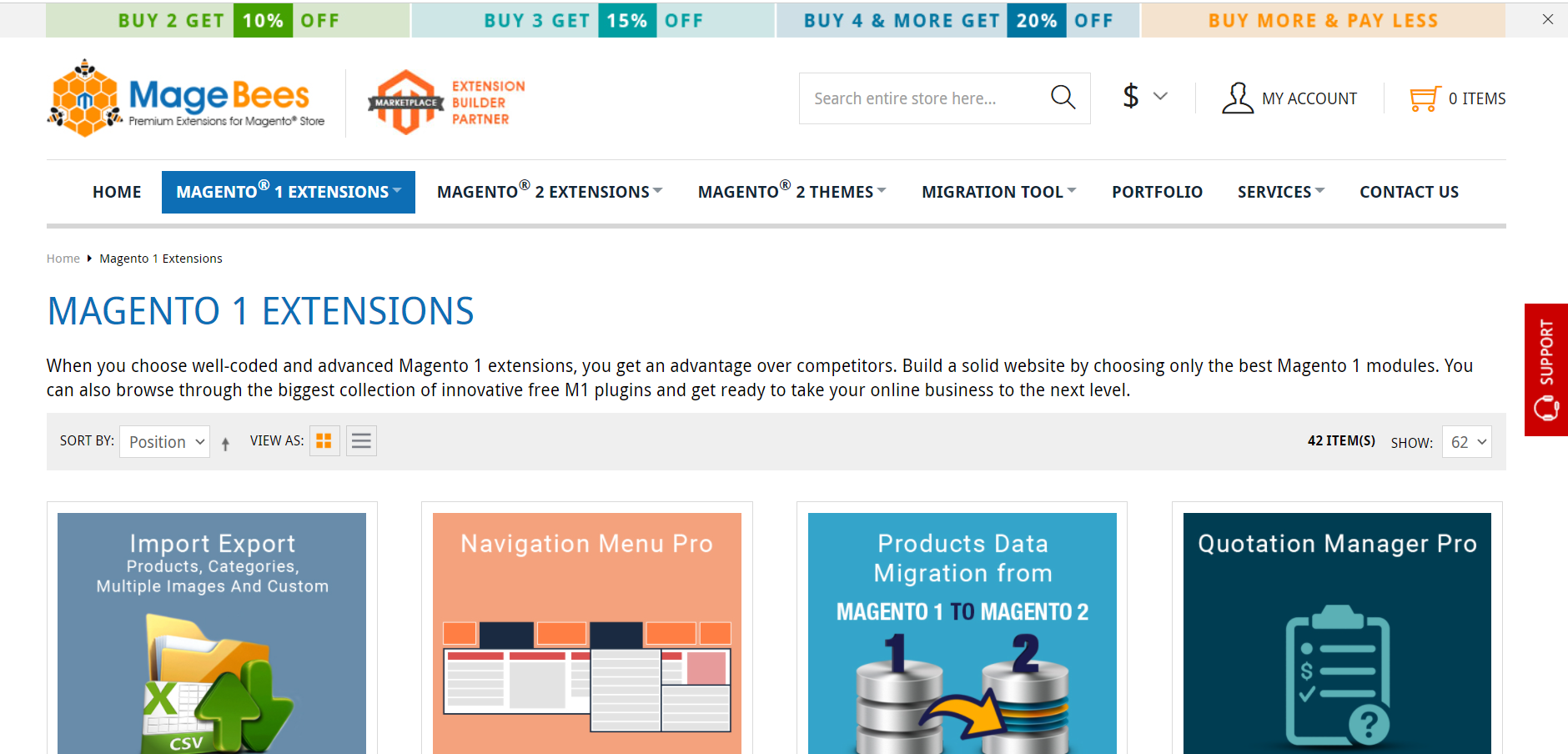 This company was founded in 2009, so far, they have over 100 extensions, have over 7500 trusted customers around the world and are committed to providing immediate support to help the world of eCommerce becomes seamless and stress-free for you.
MageBees extensions have many prices ranging from $0 – $149.
The best extensions of MageBees:
Flip Books
Custom Stock Status
Product Attachment
Wyomind is one of the best extension builders and has tons of trusted customers all over the world like Channel, Omega, Nestle,…
With more than 10 years of experience in Magento, they work very hard to guarantee their customers a high-quality service.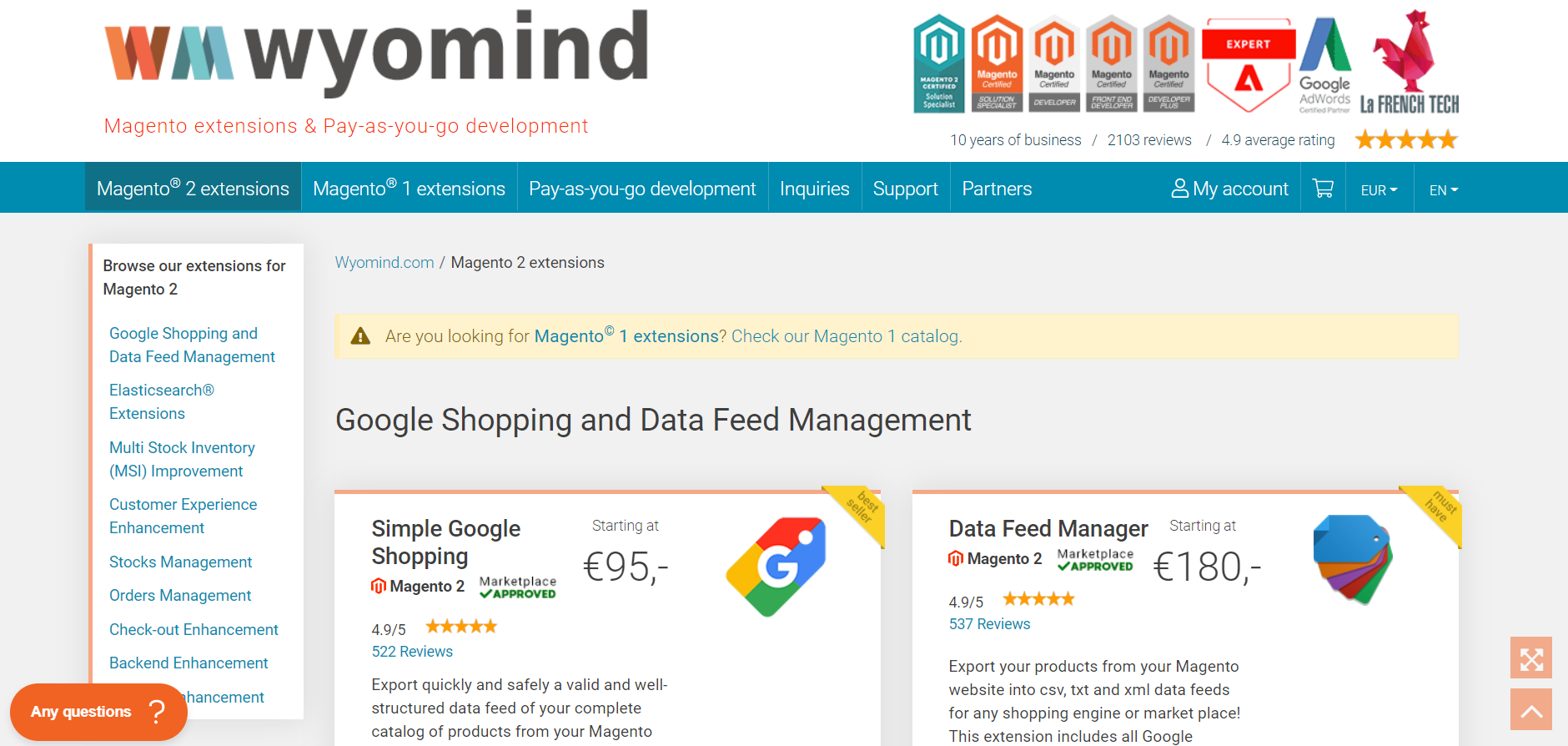 Currently, they have 70+ extensions and more than 34.000 Magento users.
Wyomind extensions have many prices ranging from $0 – $490.
The best extensions of Wyomind:
Simple Google Shopping
Data Feed Manager
Facebook Product Feed
Elsner is a company that has a lot of services, the utmost dedication with honey, integrity, and high-quality in each service provided for their customers.
They had 14 years of experience in the field, they offer several Magento extensions that allow customers to save time and money, and help their customers satisfaction.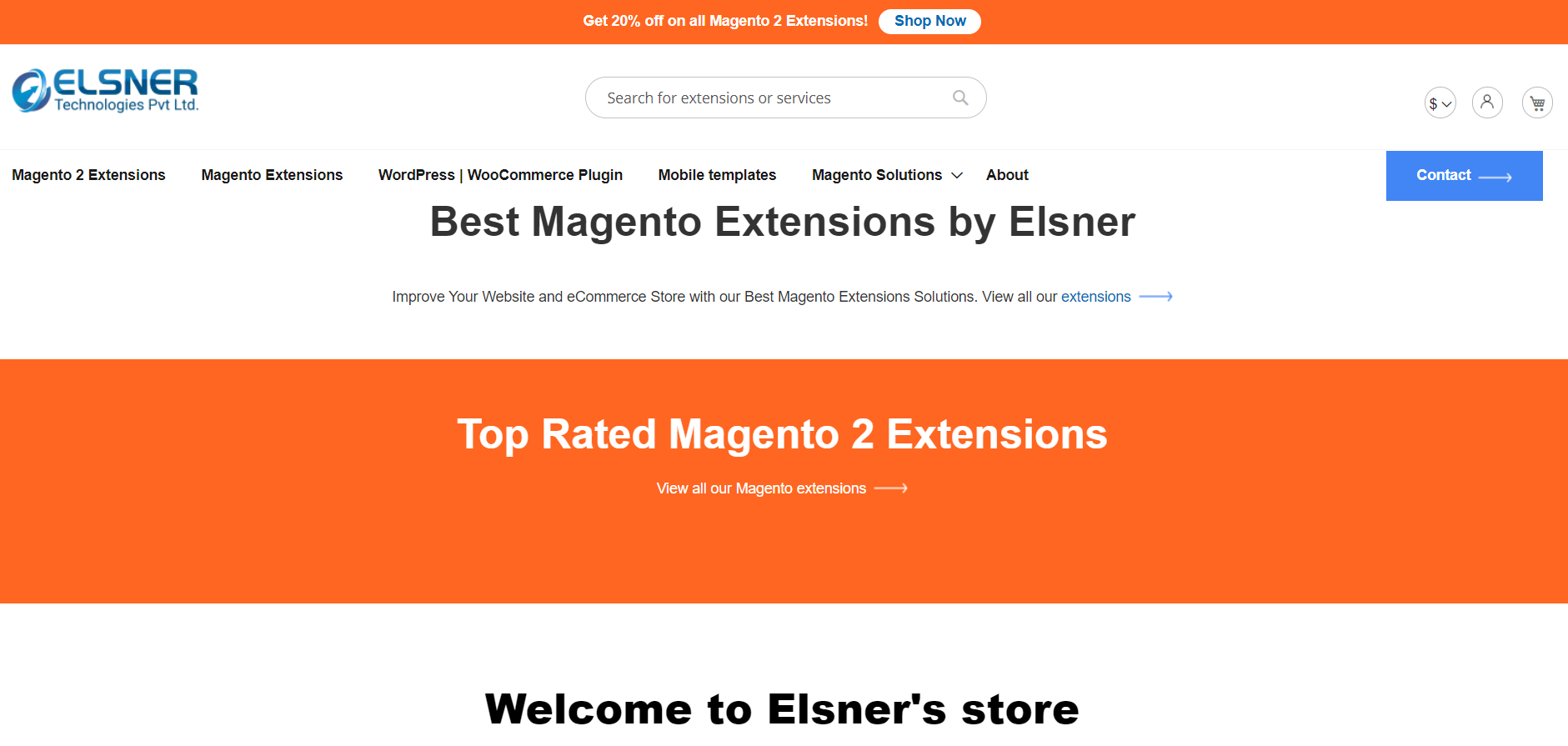 They have 250+ extensions and especially with technology-dominated tools, most trusted solutions, top-ranking with customer success, remarkable reliability,…
During this time, they have more than 2500 customers and 9000+ successful projects.
Elsner extensions have many prices ranging from $0 – $300.
The best extensions of Elsner:
Blur Image Lazy Loader Magento 2
Zoho Inventory and Magento 2 Connector
Shopping Mentor Magento 2
MageAnt is an extension provider that only offers Magento 2 flatform, at MageAnt you can choose 80+ extensions and several free extensions that fit your needs.
They ensure that your store will boost sales and get more potential customers when using their extensions with multi categories including Marketing, Shipping, Customer Reach, Catalog, Ease of Use, etc.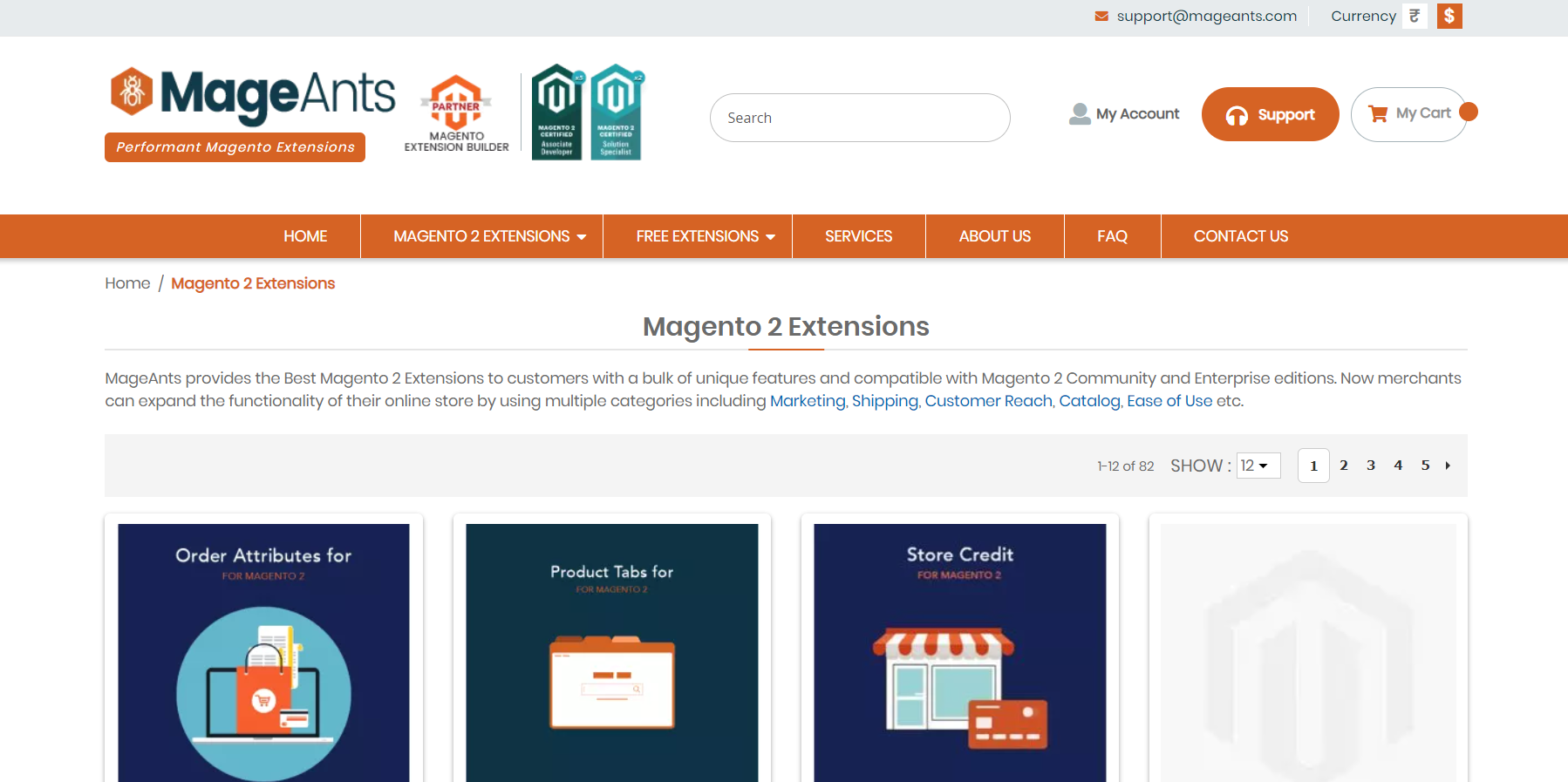 Until now, they have 500+ customers around the world with all kinds of business and are continuously growing their extension to the customers.
MageAnt extensions have many prices ranging from $0 – $149.
The best extensions of MageAnt:
Order Attributes
Product Tabs
Store Credit
Above are the top 9 extension providers in the world. If you wanna expand your functional store, you should consider choosing the provider that fits with your business.
Want To Learn More?