Shopify is certainly one of the most popular eCommerce platforms for beginners. Before launching, choosing the right theme will make your store even more attractive. Which increases your conversion rate and improves your customer experience.
In fact, there are thousands of Shopify themes out there with eCommerce features that can help you grow your business. Whether you're starting out with a small inventory or already have a vast catalog of things to offer online, this collection of Shopify free themes is guaranteed to include more than a few designs that are perfect for your e-store.
Where can I find the best Shopify free theme?
Shopify has its own collections with free themes as default. They are completely free and safe for use, although the features might not meet your expectations. Others are 72 paid themes, pricing from $100 – $188, which is really cheap for business owners.
Unlike Shopify, Envato and Templatemonster are the largest Shopify theme repositories on the market. With over 1300 themes & templates available on each market, followed by specific categories and industries.
The best thing about Envato is that you can download as many Shopify themes as you like for free. Exploring the site and downloading the themes you desire in 1 month. You only have to pay if you want to keep going beyond the first month, which is well worth it because you get limitless downloads of stock pictures, mockups, typefaces, and other web design materials.
Pricing from $20 – $200, most of them are compatible with Shopify and highly mobile responsive. The premium themes with pixel-perfect designs and tons of features will help you build your own professional, unique, and profitable store.
Moreover, many of these Shopify themes come up with different designs as part of their packages. Because these designs might be rather varied, it's important to check through the individual demos that make up a Shopify theme to be sure you're not missing out on the appropriate design for your store.
What to look for in a Shopify theme?
As a store owner, you'll need a theme that primarily focuses on eCommerce-related features and options. While some themes claim to be perfect for online stores, they may be missing critical functionality that will make it harder to run your business.
Whether you are choosing a free or a paid theme, you need to consider these criteria:
Simple and intuitive design
The view and design of your online store form the basis of a customer's initial impression. The theme, organization, font size, product photos, clear product information, and layout all play a role.
Responsive and mobile-friendly
Consumers are increasingly comfortable buying on their mobile devices. Almost a third of all purchases were made on mobile devices, and this trend for mobile commerce will continue to grow further in the coming years. To ensure that you don't miss out on visitors and sales, make your eCommerce store mobile-responsive and easy to use.
Customizable and adaptive
It's critical to personalize and tailor your online business to appeal to your target demographic. Look for a theme that allows for extensive customization as well as compatibility with page builders.
Plugin compatibility
Many plugins, extensions, and add-ons are compatible with Shopify. To improve your online store, you'll need a variety of features and connectors. Above all, it's critical to pick a theme that works right out of the box with your eCommerce plugin.
Performance optimization:
You should have a theme that's both quick to load and safe to use. Because, if a page takes longer than 3 seconds to load, customers will quit it. To keep page performance as high as possible, you'll need a lightweight theme.
SEO-friendly
Themes with built-in SEO optimization assist you in attracting more visitors. Greater traffic equals more sales on an eCommerce site. The theme should have settings that allow you to follow SEO best practices.
These are just general guidelines for any theme. Different industries will come up with different features and layouts. For example, fashion websites will need the ability to display products with many variations and images. The best theme isn't the most feature-included or beautiful, it is the one that can deliver the best shopping experience for your customers.
Shopify free theme vs premium theme
Should we go with a premium or free theme? You can install any free theme right away without paying any fee. In fact, the market for free Shopify themes hasn't really taken off in recent years, with only a few themes available for free. For a quick launch, these themes might be ideal. But in the long term, a free theme won't help much when you start growing your business.
A premium theme is a paid theme you buy from Shopify or any third-party repositories. A premium theme has its own set of advantages that can help your online store stand out from the crowd and give functionality that a free theme cannot.
Is a Shopify paid theme worth it?
It's not necessary for you to buy an expensive theme to make your store really stand out. Find a theme with a reasonable price and customizable, and save resources for plugins and apps. Eventually, SEO is what drives more traffic to your store. Besides, the look on mobile devices is quite the same with free themes or paid ones.
Why do people still pay so much for a theme?
You should only pay for something only if you can make a profit out of it. A premium theme has benefits over a free theme, and it makes sense for store owners that sell well to choose paid themes.
Designs and Friendly: Managing the look and feel of the homepage and making your brand unique. If your store is catchy and friendly, customers will come back from time to time.
Built-in Features: Premium theme usually goes with features like custom popups or multi-currency. These add ons are included in a one-time fee and could save you a lot.
10+ Best Free Shopify Themes 2021
We have collected here some best free Shopify themes for you.
Debut is one of the best free web store themes to rely on if you're just starting with your business. It's perfect if you've got a small number of products. This eCommerce website template is very light, super-fast, and flows smoothly. Not just that but it's also beautifully designed and brings attention to exactly where you want your customers to be.
The Simple theme has a lot of white space and is very tidy. The sidebar menu is used in all three layouts "light," "beauty," and "toy", making it perfect for specialty businesses with a high number of product categories. Simple's takes a backseat so customers can appreciate the finer details of your catalog, with built-in product recommendations and image zoom for every product.
With this clean, vintage style, you can neatly organize your products. Minimal also includes extra space for a home page video or slideshow, as well as built-in product filtering so customers can discover what they're searching for. Minimal is the greatest option if you only have a few products.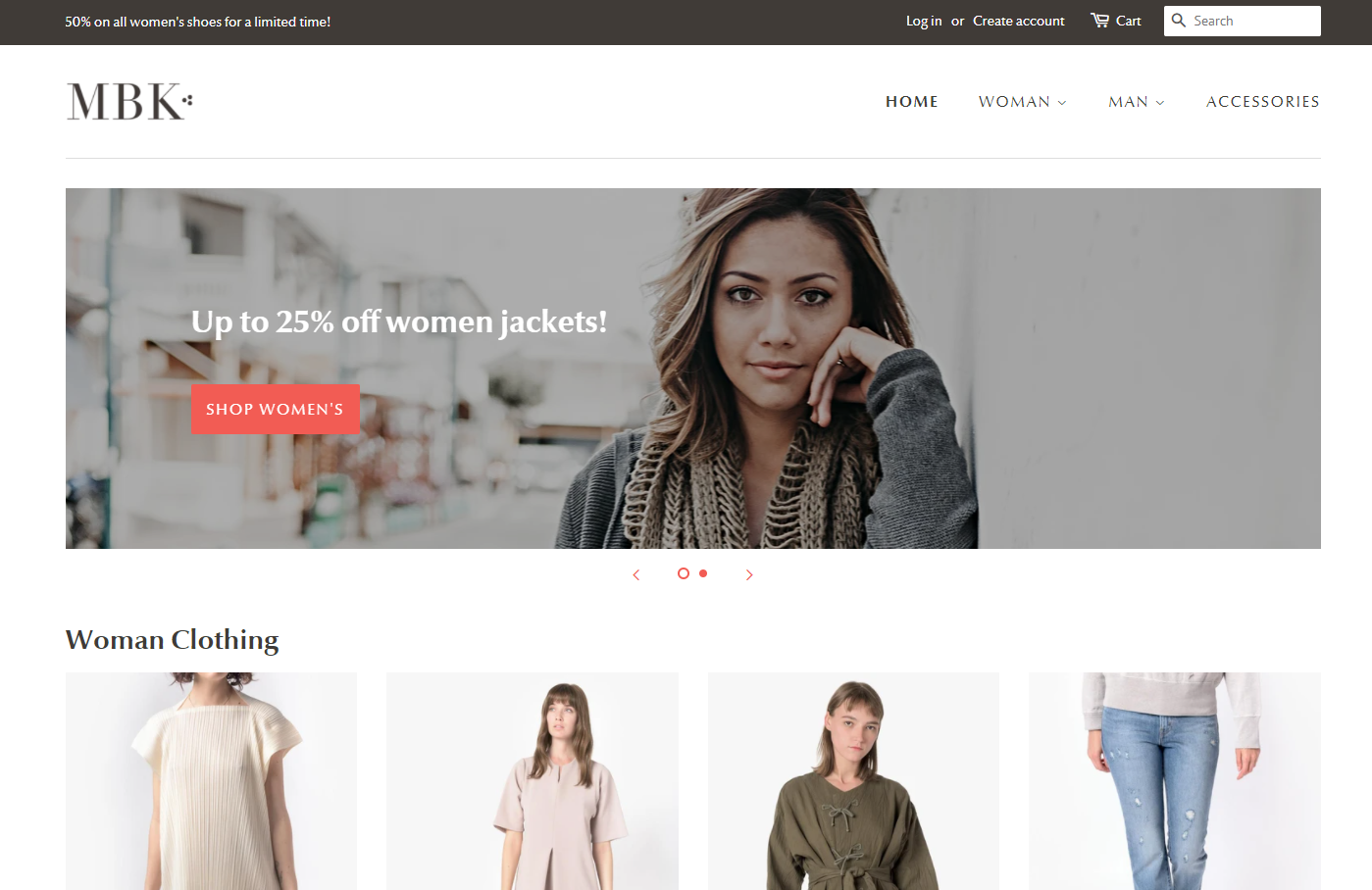 Narrative is ideal for visual storytelling and comes with a bold hero movie (or slideshow). It's also a great fit for a single product business or a store with a small inventory of things. The layout of the page is limited to a few basic formats. The theme does, however, allow you to showcase a select product in amazing HD detail.
One of the best free Shopify themes for pop-up fashion boutiques in Brooklyn. The theme comes in two different styles ("classic" and "playful"), giving you greater freedom to customize the look to fit your business. The product grid's layout is dynamic, and it will alter based on how many products are displayed.
Venture is designed specifically for vast product catalogs. A multi-column menu is included in Venture, allowing you to display granular details in a drop-down menu. You'll also have the option to showcase a single flagship product if you want to.
With a full-width grid structure, Boundless allows you to show off your high-resolution product photograph. Slideshows, fading effects, and a stick category bar are among the elements on the home page. It's also one of the most useful free Shopify themes for showcasing product galleries.
Supply is a theme for stores that have a lot of products. The products your customers are looking for will just be a click or two away with featured collections on your homepage and collection filtering in the sidebar. This makes it one of the best free Shopify themes for jewelry companies, fashion stores, and any other time you need a huge quantity of items to be readily navigable. The "blue" and "light" layouts are both clean and attractive, and the grid layout allows browsers to swiftly see a huge number of products.
Express displays multiple featured collections all on your home page. Your products are also displayed on one page for quick ordering, which lets customers easily add to their cart without leaving their current page. This theme is best suited for small catalogs like bakeries or foods that are delivered in a day.