Suppose you are looking at the best point-of-sale system and getting confused by many different vendors on the market. In that case, the comparison article between two popular POS systems will be informative and helpful. The paper will help simplify all the crucial aspects of Lightspeed POS and Shopify POS objectively, thereby picking a suitable one for your business.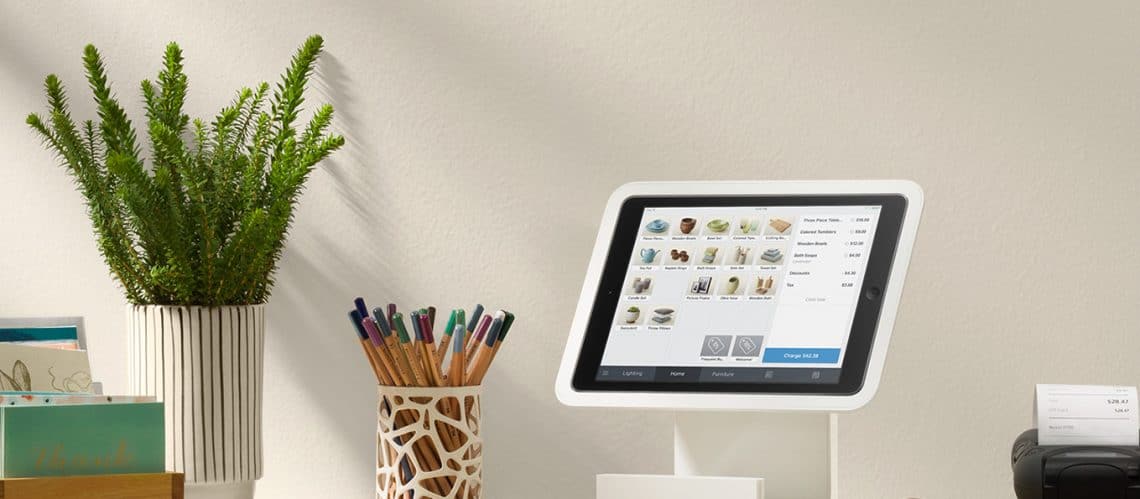 An overview of Lightspeed POS and Shopify POS
Shopify POS and Lightspeed POS are two well-known point-of-sale providers established in Canada. However, the history and development of the two companies are relatively different, each delivering distinct values to consumers.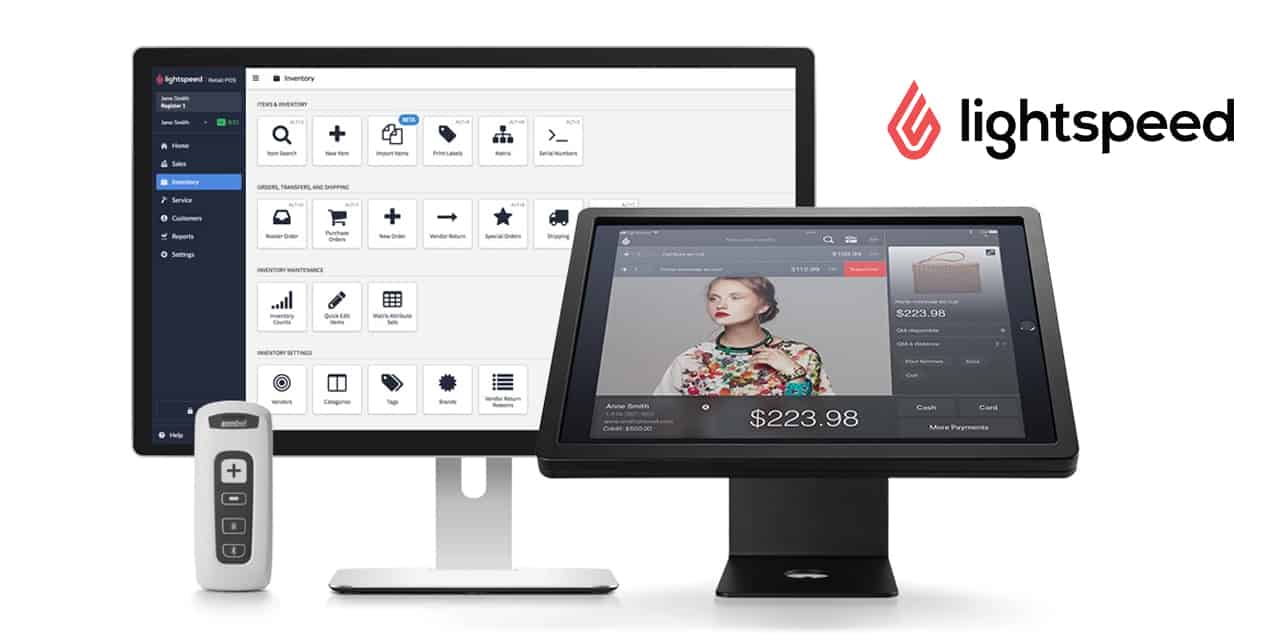 Lightspeed is a complicated cloud-based POS that serving the needs of various industries such as retail, food and beverage, and professional services. First launched as a point-of-sale solution for brick-and-mortar stores, Lightspeed has upgraded with more functionalities and options that customers can rely on as a comprehensive store builder with inventory management, analytics, payment processing, and purchase order management tools. With a Lightspeed system, users can control their business both online and offline. To have an insight into this point-of-sale system, you can have a read our blog on the introduction of Lightspeed POS.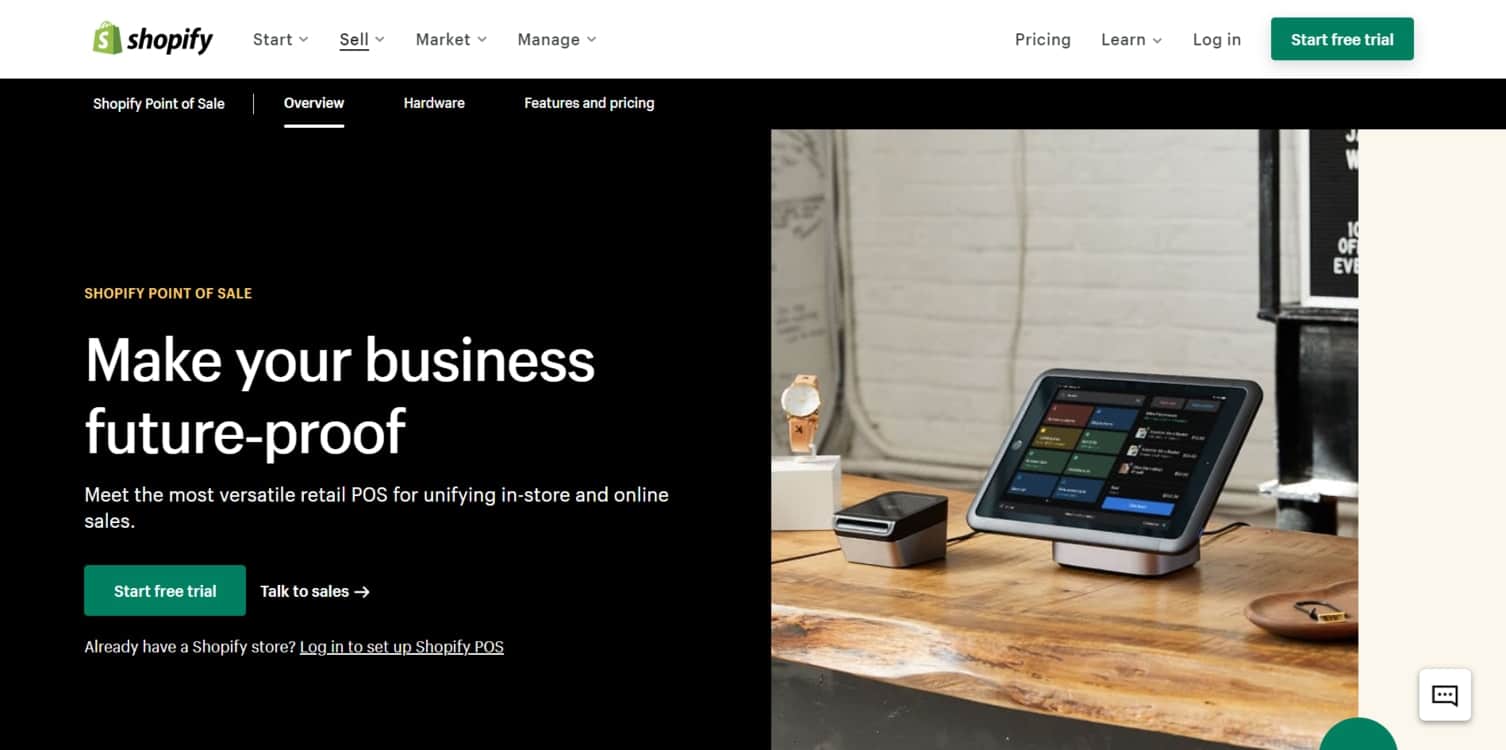 Shopify is one of the world's leading eCommerce platforms trusted by over 1,700,000 businesses word wide. In 2013, Shopify launched its point-of-sale system and started enabling shop owners to manage and sell products almost anywhere. Since then, there have been 1,000,000 consumers use Shopify POS. It is an efficient connecting solution between Online and Offline stores, which helps users easily track, manage orders, inventory across multiple sales channels.
The comparison between Lightspeed POS and Shopify POS
Both point-of-sale solutions deliver a whole host of features to see each offer. Let's have a closer look at the following part.
The popularity between Shopify POS and Lightspeed POS
The search interest rate between Lightspeed POS and Shopify POS is showed through two figures below. Over the past three years, Lightspeed POS witnesses higher average interest searches than that of Shopify globally. The people in Canada have a higher interest in Lightspeed POS with 78%, while Shopify POS is more prevalent in the US, Mexico, Australia, and some Southeast Asian countries.
The pros and cons of Shopify POS and Lightspeed POS
| | | |
| --- | --- | --- |
| | Lightspeed POS | Shopify |
| Pros | | |
| Have good support for both online and offline stores | ✔️ | |
| Provide comprehensive rage solutions for a particular industry | ✔️ | |
| Advanced inventory management feature | ✔️ | |
| Provide free trial | ✔️ | ✔️ |
| Good customer support | | |
| Have an app market with a ton of third-parties services | | ✔️ |
| Friendly user interface | ✔️ | ✔️ |
| Free SSL certificate (when deploying a website) | | ✔️ |
| Cons | | |
| Pricey | ⚫ | |
| Less Integration | ⚫ | |
| Fewer options (no more free option except the free trial) | | ⚫ |
| Poor technical support | ⚫ | |
Features
This part will differentiate several basic features that both POS system provides to see the advantages and disadvantages of each one.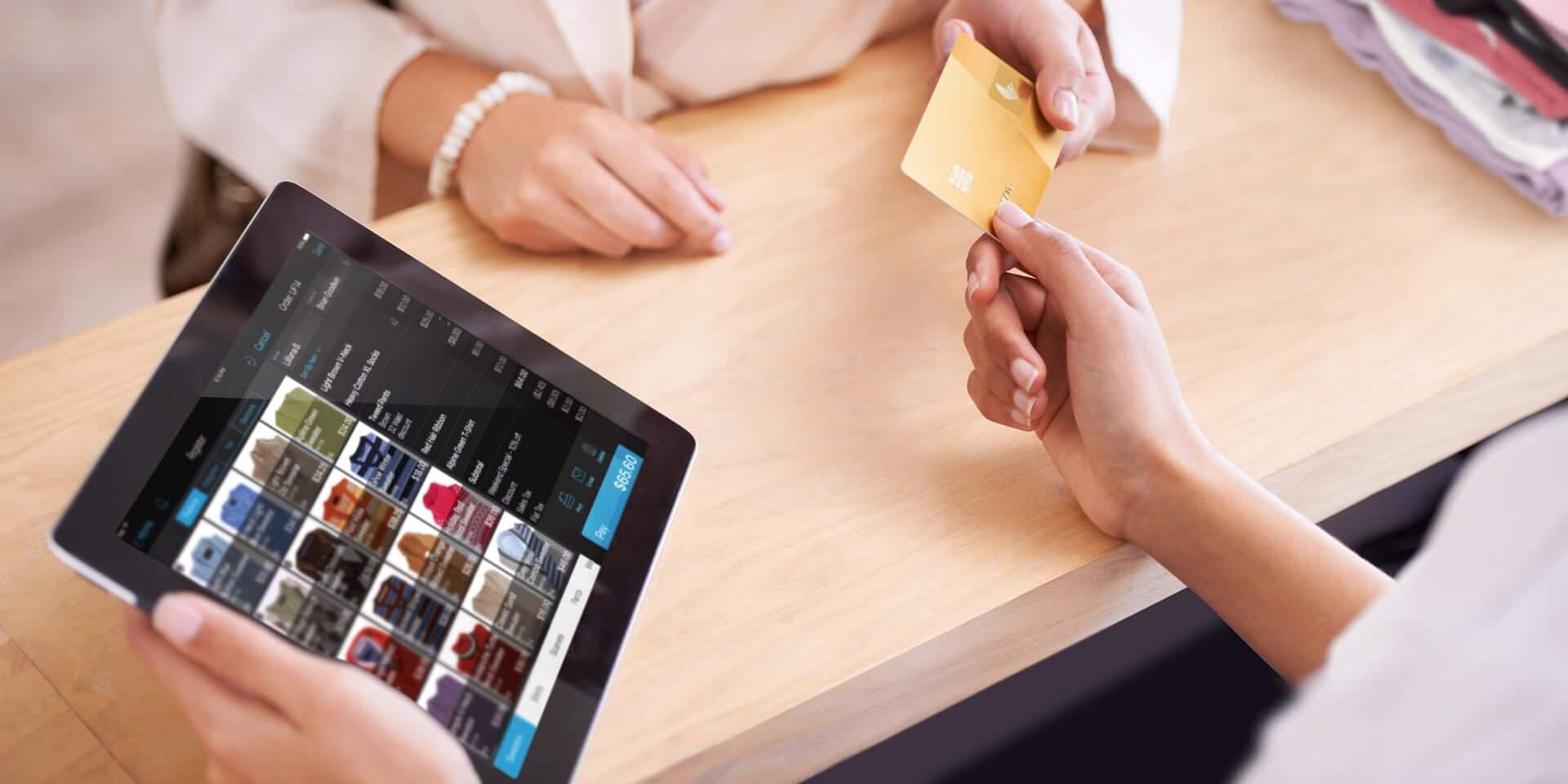 In the general comment, Lightspeed has a slightly more comprehensive inventory feature set compared to Shopify. Lightspeed POS offers simpler actions. You can easily create, order stocks from your system, process the work orders of multiple physical locations, and label the product with serial numbers. In addition, you can list the product in a CSV file and upload it onto the system. The amount of the product list is up to 3,000 items.
Shopify will not let you manage all the stock in one interface. It will allow you to create inventory transfers and manage your stocks from different locations separately. You will also be able to track the history of your inventory adjustment and replacement.
The analytic feature is what you can expect from a POS system. The better it is, the more intuitive data you can get to control your business's performance. In this case, Lightspeed POS is performing better than Shopify POS. Lightspeed gives users more analytical reporting on many aspects such as sales, sold products and categories, financial status, employees productivity daily, and other real-time data for daily, weekly, and monthly. In contrast, Shopify POS provides basic sale reports and general finances but not in detail and advanced as Lightspeed POS.
About eCommerce features, Shopify POS gains more advantages than Lightspeed POS. Shopify POS provides various themes for a website builder, but there is also an in-depth dashboard for you to manage the sale figures fully. Moreover, you will get unlimited web hosting under the Shopify domain, which automatically updates to Shopify's software system. Furthermore, by using the Shopify eCommerce platform, users can send the shipping tracking notification to customers and get a discount for shipping with USPS.
Unlike Shopify POS, Lightspeed POS offers online selling at a basic level, in which you can create a list of items and discount codes and update it on your online stores. Lightspeed POS also allows you to customize the website template for both computer and mobile devices. But the templates are not various compared to that of Shopify POS. Later, you can sync your dashboard with your store site on Instagram, Facebook, and Twitter. However, it is not convenient as Shopify POS when it comes to shipping, for you will have to integrate your system with a shipping third party to get the support.
Therefore, the recommendation is if you take eCommerce as an essential part of your business, you could think of Shopify POS as a solution.
Lightspeed POS is robust in developing the features of a pos software in many ways. In addition to the three fundamental features we compared above, Lightspeed also offers other features such as customer management, employee management, muti store management, integrated payment. Customers are delighted with this variety as it can meet most of their needs. Thanks to that, they will have to do fewer integration processes with a third-party app.
On the other hand, Shopify POS lacks some advanced features at the low leveled package, and you have to upgrade your system to the higher pricing plan. That is why small and medium enterprises should choose Lightspeed POS over Shopify POS, for your financial demand is best suited for services that Lightspeed POS offers, while big companies can consider Shopify POS, which has a higher price but allow you to have best-customized benefits.
Pricing
Pricing is the most crucial aspect that you are caring about one product. The price of point-of-sale packages between Shopify POS vs Lightspeed POS is different.
Before making a buying decision, Lightspeed POS offers you a free trial for 14 days to have access to all features and go on a tour to Lightspeed's back-end display.
For each industry, including Golf, Retail, and Restaurants, Lightspeed POS offers separate pricing plans. They break down the fee into six different levels: basic, starter, standard, advanced, and pro, with the starting fee at $69 per month (for the Retail industry), $59 per month (for the Restaurant industry). With the higher level of package, you can get more fully supporting functions to your business.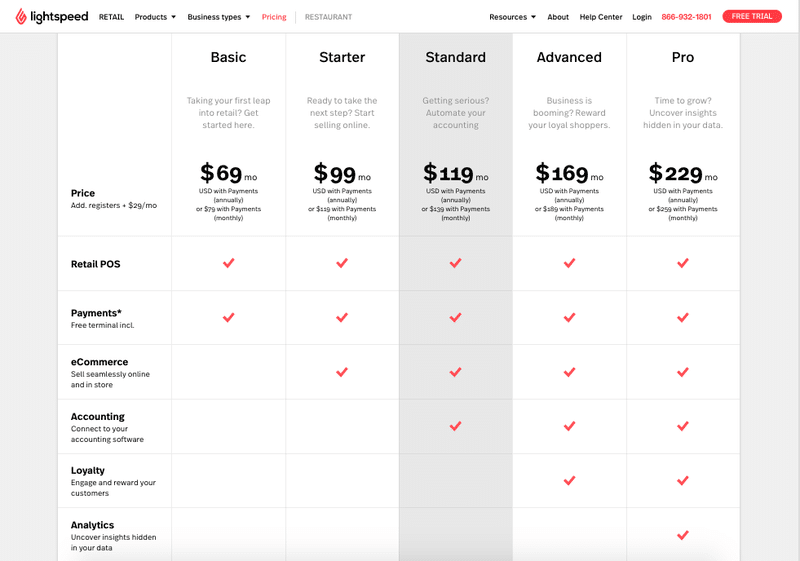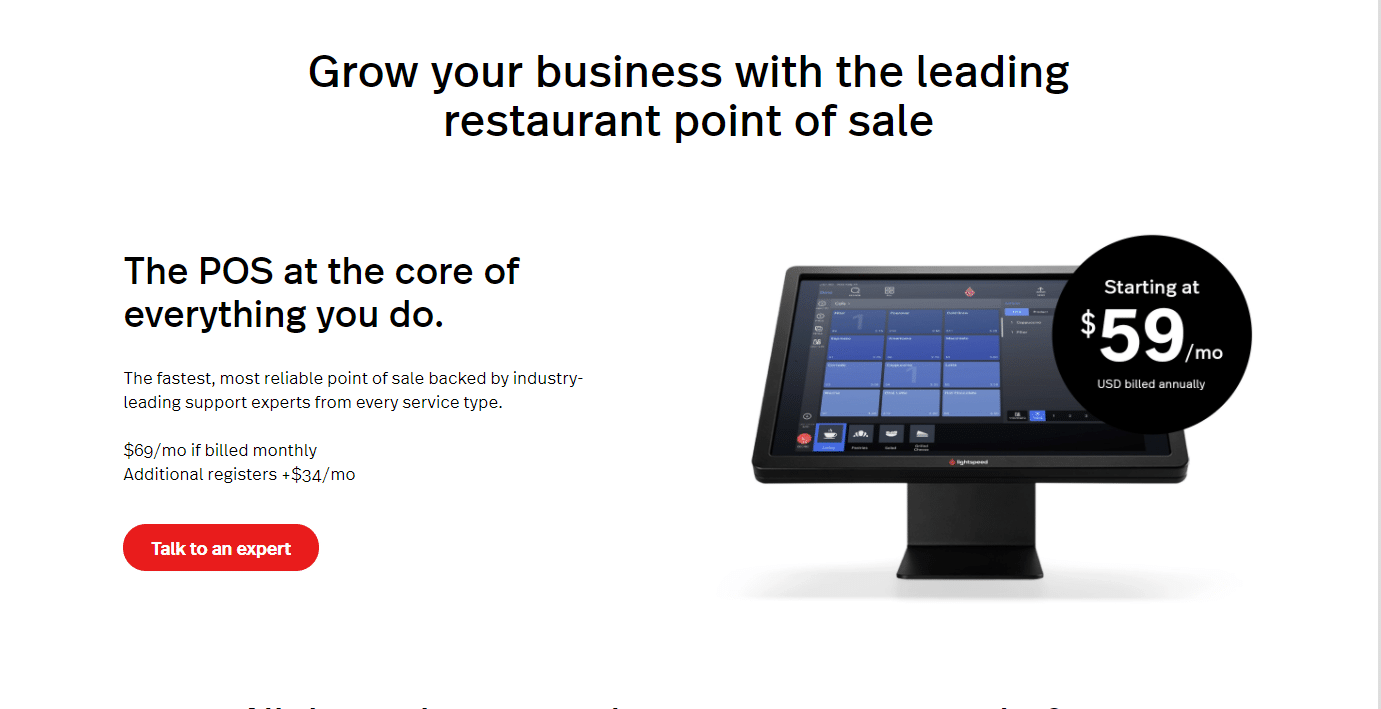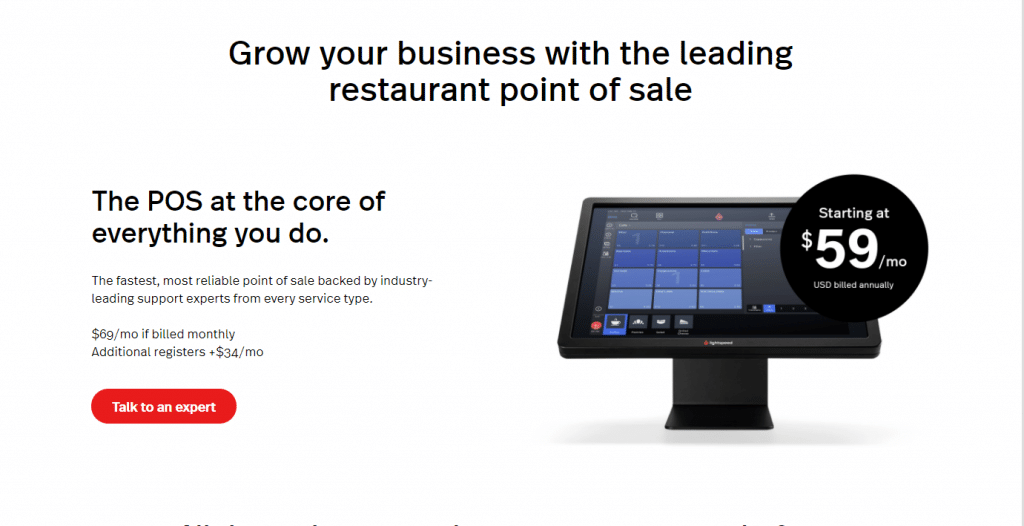 For example, the pricing plan shows in the pictures below with the retail and restaurant industry. Regarding a pricing plan for the Golf industry, it is required to directly contact the team to explain your demands and get the detail and relevant consultation.
In contrast, Shopify POS does not clarify the pricing plans for a specific industry. Shopify POS offers five pricing plans for point-of-sale installation, including Shopify Lite, Basic, Shopify, Shopify, and Advanced Shopify, Shopify Plus. Especially with each successful transaction, you will be charged a particular amount of the purchase bill.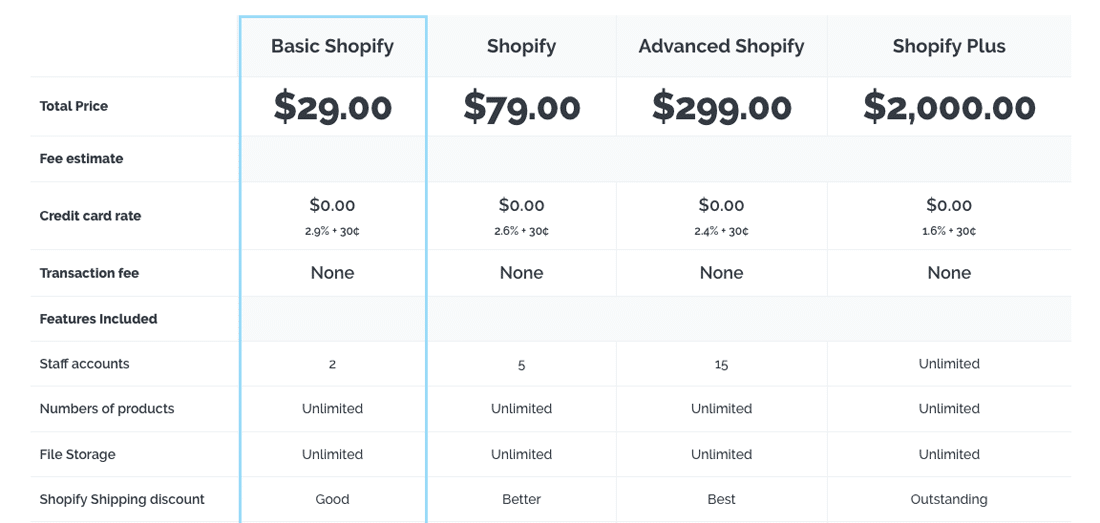 Shopify Lite costs $9 per month; with this option, you can have basic functionalities and link your current online store to the system's back-end to have omnichannel management. Plus, the Shopify Lite package also allows you to add a buy button onto your Online sites.
Basic Shopify costs $29 a month; you can update the unlimited products and sell these goods with this offer. You can also access the app's market, online store builder, marketing tools and manage four stores in one point-of-sale system.
Shopify is has a pricing plan starting at $79 per month. With this plan, you can have advanced reporting, create gift cards, and connect to five physical locations.
Advanced Shopify has the highest price at $299 per month, and you can get all the offered features above. You will also be charged less for the transaction at 0.5% and able to open 15 staff accounts. Plus, you are also happy about this package to get up to 74% shipping discounts and have eight physical location connections.
If you are new to point-of-sale systems and do not want to take risks, you are better to try Shopify Lite. Since it is a reasonable price for small businesses and with the offer, you would get good support from the Shopify team. However, if your business needs more functionalities to do the advanced management, you would need to look at a higher level of package.
Shopify and Lightspeed Integration
Integration is the method to help you ensure smooth store management operations. Inventory data is always updated accurately, customers' purchasing preferences are also recorded and sent to the report, and many more. Online and offline integration will help you attract and retain customers with a better shopping experience. Customers interact with you in both online and offline channels. So it is crucial to have an integration between your POS system and eCommerce sites.
Not only gaining benefits from commerce platform integration. The synchronize service also helps you update and save critical retail data, like inventory and item data, in real-time, speed up and provide transparent order status, process large product portfolio, manage every sale channel from a central location.
Both provide many options for users to have an integration with third parties. In addition, you can integrate Lightspeed POS with Shopify through a third-party connection app. If you want to integrate at a higher level than can be customized, there is an application programming interface (API) used for synchronizing data and help you
Lightspeed POS offers 45 apps in the app market with a ton of accounting software (Quickbook), loyalty programs, email marketing (Mailchimp), eCommerce platforms (Amazon), analytics tools (Retail Toolkit).
Meanwhile, Shopify integrates with nearly every kind of tool users could use. Its application market is extensive as most reputable third-party want to be able to sync with Shopify. Shopify is one of the largest online store platforms on the market, and therefore, partnering with them is a wise business decision. There are over 4000 apps in Shopify's app market with various categories such as inventory management, customer service, accounting, and much more.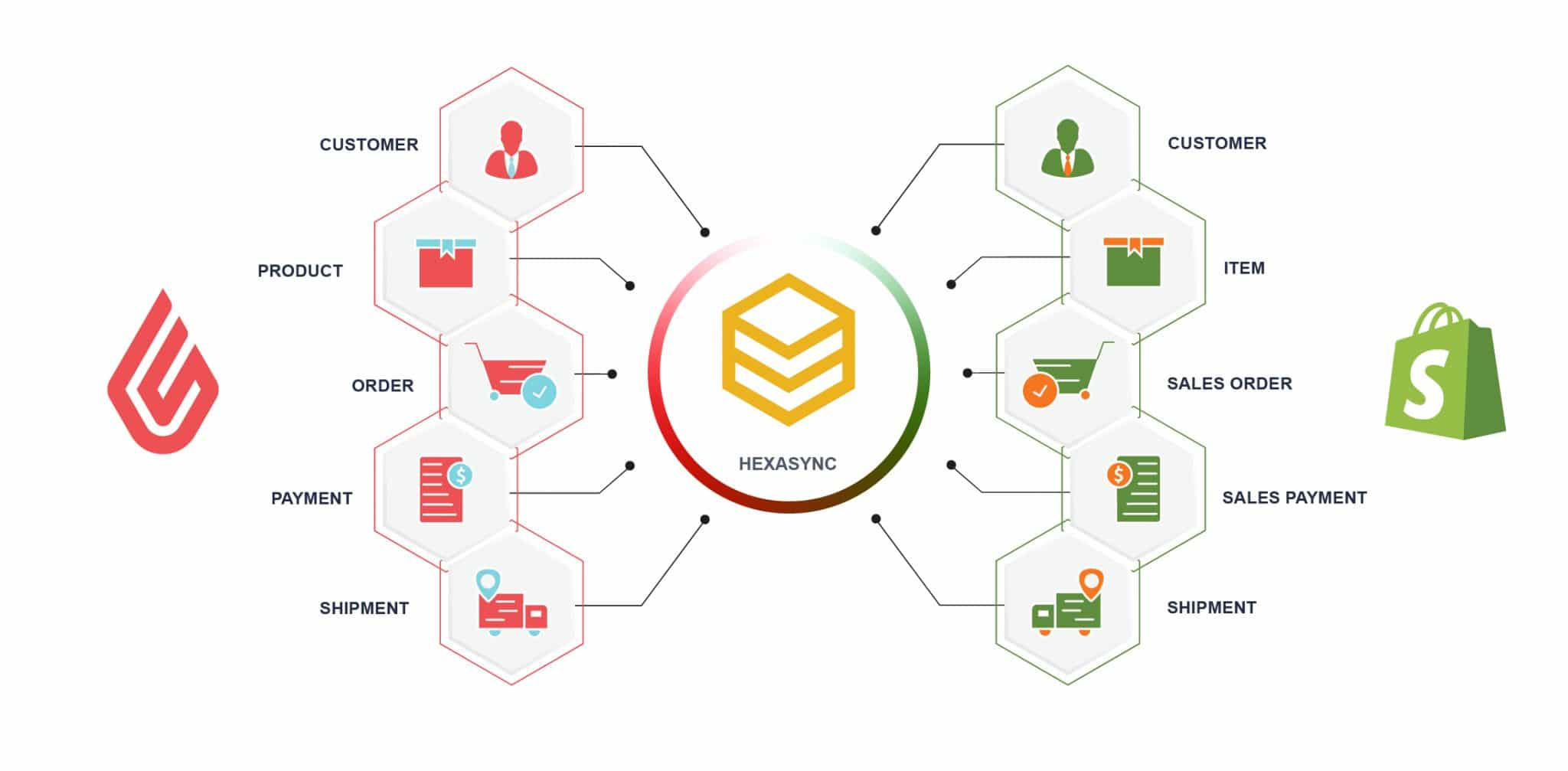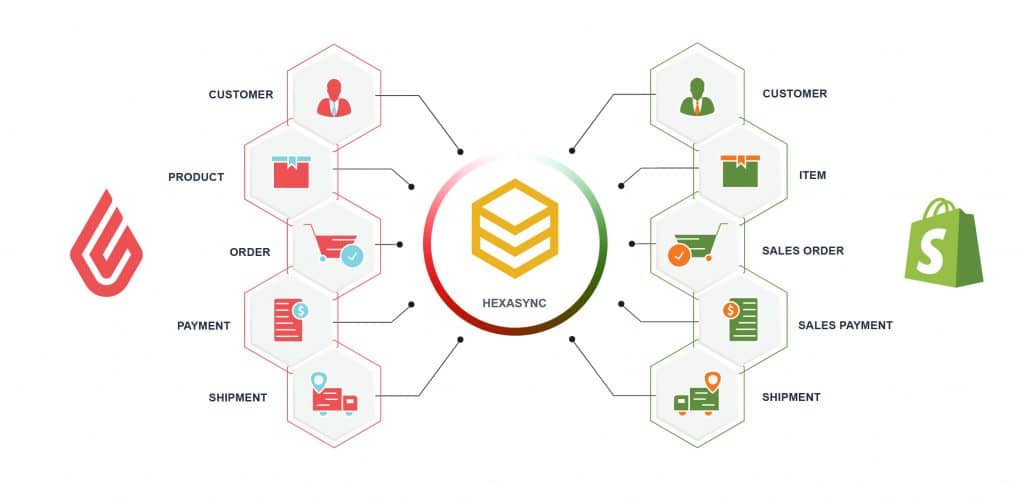 Beehexa is a typical integration intermediary for you to put faith in and have your current POS system connected with other apps or eCommerce platforms. This is an optimal solution for every point-of-sale user since your needs will be extended while a POS system can not have a solid ability to support the integration task. Thus, approaching a middleware for integration that Beehexa provides is a time-saving, efficient decision.
Which is the best system: LightSpeed POS or Shopify POS?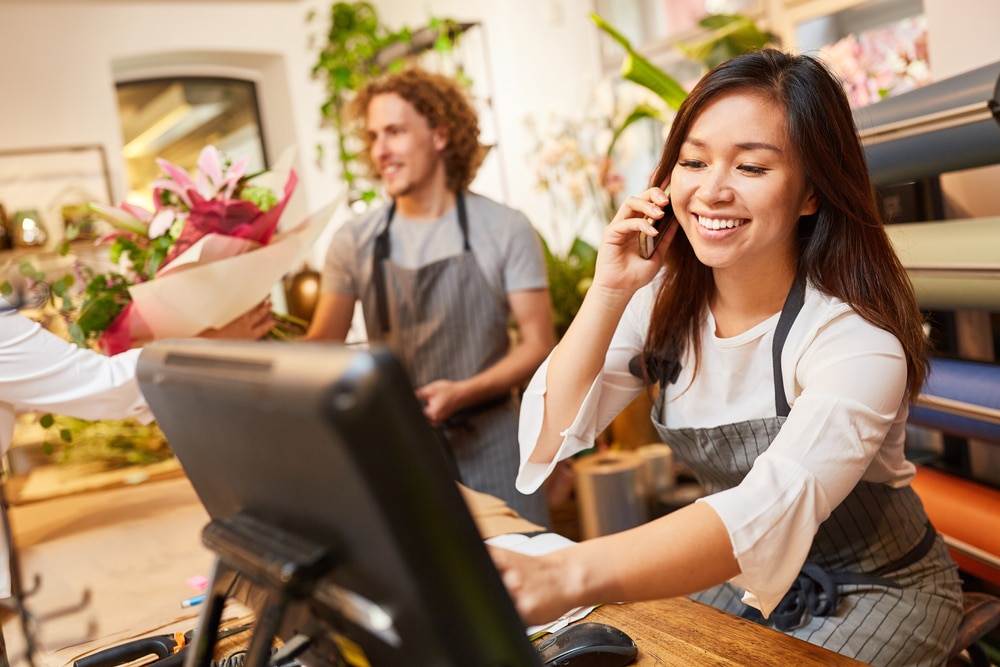 Consumer's preferable feedbacks about Lightspeed POS and Shopify POS
The most attractive factor and what makes Lightspeed special is that you can ask to tailor your system to specific types of business and optimize according to your needs your demand when using it.
Customers are satisfied with the features provided by lightspeed because they can receive payments from customers in many forms such as via credit cards, debit cards, and gift cards. Alternatively, merchants can send paperless receipts straight to the customer's email address. Furthermore, your business can protect its data with PCI-compliant payment processing. Users can quickly transfer products between locations and view multiple store reports on the same interface.
Although with limited offline features by default, Shopify POS has tried to create a seamless online and offline experience. Customers are satisfied when implementing Shopify's e-commerce functions. Shopify has automatic reminders for uncompleted orders, so customers can return to order and help merchants increase sales. In addition, buyers can also choose to buy items online and receive them in stores or at home by delivery services. Shopify's POS system effectively handles all of these activities.
Shopify has a great customer setup service; all Shopify customers feel well set up. This is a plus of Shopify compared to the Lightspeed system.
Overall Rating of Shopify and Lightspeed POS from different platforms
| | | |
| --- | --- | --- |
| | Shopify POS | Lightspeed POS |
| Software Advice | 4.5 / 5 | 4.23 / 5 |
| Capterra | 4.2 / 5 | 4.6 / 5 |
| Trust Radius | 7.3 / 10 | 8.6 / 10 |
General Comments
Both point-of-sale software has their good and bad points. Depending on a particular aspect that we consider and the user's needs, we can choose the right product.
Shopify provides a point-of-sale solution with outstanding e-commerce and online sales features. However, Shopify's offline store management mode is not recommendable and lacks many key features on the software's dashboard. If you are focused on creating an eCommerce business, you can choose Shopify.
Lightspeed is a reliable, competitive point-of-sale provider. In terms of integration and eCommerce support, Lightspeed POS can't offer as much as Shopify. Plus, the weak point of Lightspeed is even they don't charge any extra for their POS app, their programs seem to be more expensive than what they offer due to the additional fee of the accomplished transaction. Many customers have reported that they are not satisfied with this. However, Lightspeed would be the preferred choice if you run a traditional business and do the digital transformation.
Final Words
If you are wondering which point of sale product to choose for your business, we hope this article can help you.
You can compare Lightspeed and Shopify and try out the trials that these two providers offer because both Lightspeed and Shopify allow new users to experience within 14 days.
Especially if you are using the point-of-sale software of these vendors and facing problems with the integration, you can contact us directly. We know that many retailers, small and medium businesses are experiencing system errors when they cannot integrate point-of-sale software with other specialized apps, which slows down your business operation, and you shouldn't let that restrict your revenue any further!