Shopify is an eCommerce platform such as WooCommerce, Bigcommerce, Opencart, and Magento… However, compared to other competitors, Shopify provides many outstanding advantages and advanced applications to support Dropshipping. As a result, Shopify Dropshipping is favorably used by many people.
What is Shopify?
Shopify History
Regarding the history of Shopify, in 2004, Tobias Lütke and Scott Lake wanted to find a platform to build a ski equipment business website, but they couldn't find a suitable platform at an affordable price. They decided to build their own solution called Shopify and it became a global billion-dollar business.
At present, Shopify is an e-commerce platform that uses cloud storage technology to optimize online business and transactions.
Shopify helps you build a comprehensive sales website that integrates and synchronizes all online business support features such as payment, shipping, warehousing, social networking, offline point of sale connection, etc.
Why Shopify is trending today?
In Shopify's business results for the first quarter of 2021, we can find amazing numbers such as:
Total revenue in the first quarter was $988.6 million, with a growth rate of up to 110% over the same period last year.
User subscription revenue was $320.7 million with a 71% year-over-year growth, mainly due to more merchants joining the platform.
Shopify is used as the world's 3rd largest retail channel after Amazon and eBay, their most premium product is Shopify Plus which is used by famous big corporations like Pepsi, Heinz, Tesla, and celebrities like Lady Gaga, so on.
Although there are many similar platforms nowadays, the search term "Shopify" always tends to be higher like Bigcommerce or WooCommerce and Magento on Google Trends. The following chart illustrates the search interests worldwide among 4 eCommerce platforms.
Especially Shopify is quite famous for its Dropshipping business support. Many people may have known Shopify because of its convenience and guarantee in Dropshipping before recognizing it is a global e-commerce platform.
To understand why dropshipping helps Shopify attract many users, let's learn about Shopify Dropshipping meaning, Shopify dropshipping suppliers, and other interesting information related to this business model.
How does Dropshipping work?
Dropshipping is a business model in which the operator does not keep the goods in stock. When receiving orders from customers, you will go through the supplier (third-party) to make a request order and ship directly to the customer.
Profits may not be high, but this business model requires little upfront capital. The only thing that sellers need to focus on is product marketing, order tracking, customer care, and they can do these jobs completely online through very popular tools like buying ads on Facebook.
Affected by the global Covid epidemic, the demand for online shopping has grown, and the trend of promoting the development of cross-border e-commerce is increasing. Thus, the Dropshipping market is predicted to have more growth chances.
According to the Market Analysis Report, the global dropshipping market size reached 102.2 billion USD in 2018. From 2019 to 2025, the compound annual growth rate (CAGR) is expected to increase by 28.8%.
What is Shopify Dropshipping?
Shopify Dropshipping is a comprehensive solution to the Dropshipping model; that is considered safe and less risky for those who want to start doing business. It is a business model that allows all subjects to try without having to spend a lot of initial investment costs. Read more to understand how Shopify Dropshipping works.
To conduct the Dropshipping business model, you need an online website; which is also known as a virtual store. You would use that online store as an intermediary in order to buy and sell products from suppliers.
Within that concept, Shopify is one of the tools you can leverage your Dropshipping business; because it provides outstanding supporting features.
Shopify is not only known as a global e-commerce platform but it is also famous for its built-in eCommerce website. With the Shopify website builder, you will not require any professional programming knowledge to create a website. Since Shopify supports this feature for non-programmers with accessible free themes.
In order words, so as to implement a dropshipping business model on Shopify, you just need to create an online store right on the Shopify platform; after that post your products for sale.
To help you gain a better understanding of how to start dropshipping on Shopify, we will cover below.
The main benefits of Shopify Dropshipping stores
Easy to set up
Together with the philosophy of Shopify's founders: Shopify is an e-commerce solution for "everyone". Indeed it is, Shopify will not take you too long to set up an online store by yourself. Instead of having to hire website design companies or agencies, you would be able to create your own professional sales page.
Good price and scalability
Many people think that Shopify seems to be more expensive than other Website creation platforms. However, with the package of $29 per month, you will be empowered by a range of features, such as:
Create a booth quickly and without outsourcing costs
No need for senior IT personnel to manage data
Unlimited products posts
Linking other sales channels such as eBay, Amazon, Etsy…
Link with shipping units
Connect with offline points of sale (Shopify POS)
Unlimited installation of supported apps in Shopify's app store
Flexible monthly payment so you can stop or temporarily close at any time
24/7 support
In addition, if your business grows faster and requires an upgrade, you can contact Shopify for further advice and renewal to advanced packages. The process will proceed quickly with just a few clicks.
Able to use free functions
First, you will get 14 trial days to create and experience your web store. This amount of time is good enough for you to complete the creation and practice with your business online booth. One great thing about Shopify is in the case you haven't completed the store in 14 days, you can email the support team to get the next 14 trial days.
In addition, there are other resources that you get for free such as: Theme Stores, App Store, Design tools such as Logo, Slogan, Brand Name, etc.
Currently, there are no other platforms that offer as diverse applications, features as Shopify. This can be considered an ecosystem in the technology of designing e-commerce sales pages; therefore you could optimize all in one system.
High Speed ​​and Safety Protection
Website loading speed ​​is one of the important parts to increase customers' experience and keep them stay longer with the brand. In contrast to Shopify, if using Woocommerce you need to use Hosting services so as to achieve the fastest page loading speed. With Shopify's cloud storage technology, your website always runs sleekly on both computers and mobile devices.
We can see, when operating the Dropshipping model, the Website is considered a business asset. Therefore, the Website needs to have high security and Shopify can guarantee for you.
Especially for startups or small and medium-sized businesses that do not have the economic conditions to worry about security, security features are even more necessary.
In addition, when the website is not well secured, it leads to the loss of advertising money. In order for customers to know about your products, you will need to make ads on Google and Facebook. Therefore, when the website is lost for reasons of not being well secured, the customer clicks on the advertising link and will not see anything. That disrupts the buying journey and reduces sales.
Therefore, the Website needs to have high security and Shopify can guarantee for you.
Free SEO optimization and Marketing tools
Designing a web store is the first thing you would do in a series of steps. However, for effective Dropship[ing business operation, it is requiring more Marketing activities.
Shopify has an application store supporting the online marketing features. Regardless of what you need, the Shopify store can offer functionalities such as Facebook ads, Google, Email marketing, social networking links, etc.
Recently Shopify has partnered with Google to make it easier for your products to be displayed on this search engine. Search engine optimization (SEO) will help your sales page easily to the top of Google search, from which you will have a high number of converting customers. Not everyone understands and optimizes their sales page according to SEO standards.
Choosing Shopify to do Dropshipping, your sales page itself is partly optimized. Also, you can install and use additional applications to support search optimization on Shopify to make your store more Google-friendly.
Highly Recommended by Dropshippers
Shopify is a platform that is very suitable to build a dropshipping sales page.
We have gone through business forums and collect some common reasons demonstrated why many drop shippers trust and choose Shopify:
The speed of creating a sales page is fast
Multiple vendors' applications
Many applications support Dropshipping
Links to many international payment gateways.
You can learn about the Dropshipping model on Shopify.
How to start Dropshipping on Shopify?
You already know the potential of the Dropshipping industry and information about Shopify. How to proceed with your Dropshipping business on Shopify, let's delve in!
The dropshipping business model is greatly supported by Shopify. Apps on the Shopify App Store help you connect with third parties that fulfill orders on your behalf. Overall most people agree that dropshipping with Shopify is the easiest to do.
Create an account
First, you need to set up an account with Shopify. Creating an account is very simple, you just need to visit Shopify's website and fill out the available form (including information such as store name, business address, email, and other basic information). to proceed with the creation of the booth.
Once done, you get 14 days of free use and you can access your online store dashboard to set up and manage your business.
Select and add products to the store
After completing the designing step (create website themes, set up domain names, update store information,…) then you will start to select and add products for selling.
How to select and add products will be shown in the next section. In this step, we will show you certain ways to optimize product information in the store.
You need to edit the title, add the product description as well as corresponding photos. By optimizing your products' information, it increases the chances for customers to reach your site by relevant search
In addition, another step you need to keep in mind is adding tags to the product. For example, if you are selling baby clothes, you can tag baby dresses, baby pants, etc. This will make it easier for you to categorize and control your items. To add product tags, you can manually add them to each product, or you can bulk add tags to items in your product list.
Design your store
Next to creating an account, you should take the time to design your website according to your own business philosophy. Because a beautiful and professional website will increase the credibility of customers as well as stimulate the buying needs of customers.
After you've selected, edited, and published all of your products, it's time to focus on designing your store.
Shopify will allow you to create an online store with free themes. If you want to personalize according to your own needs and preferences, you can choose the options of charging or talking with designers recommended on Shopify's theme marketplace.
Just click on the tab, "Online Store", located on the left sidebar, and a bunch of Website themes will appear. You can choose a free theme or use one of their paid templates.
Once you've chosen your favorite theme, go back to Shopify's dashboard and select "Customize". This will automatically direct you to the Website design functions. Through it, you can design and make any edits you want.
Add more photos to layers
To make your Website professional and eye-catching, you can add images to each section of the website.
You can choose to upload images directly from your computer or whatever device you're using). Or, you can choose photos from Burst – Shopify's free library of stock images designed to help you store and easily find the images that best suit your needs.
When you find a photo you like, you can preview the image before publishing the complete website.
There are many other general settings around your Shopify theme that you can modify. For example, you can play with:
The layout of web pages
The color scheme of your website
The Typography of your website
The social media icons you use and the accounts you link to
Add more Subtitle Pages
The good point of Shopify is that you can keep editing until you are fully satisfied with the finished product; then 'Save' to get the result.
Start selling
Once you have completed the above steps to have a complete online store, it is time to bring your products to introduce to your target customers.
Creating an online business model is the first, fundamental step of Dropshipping. Furthermore, you should combine it with marketing campaigns, promote your online store and products on many different channels to let more people know about your store and products on Shopify.
You should remember an important keyword in online business that is Traffic. Traffic is the number of times your target customers visit your website and view products. If the product is attractive, the right demand, the store has enough trust, they will buy your product.
We will divide into two traffic sources to attract target customers:
You will build free social media channels to attract customers. This costs no or very little money, but in return, you have to invest a lot of time and effort before receiving the first orders. For example Facebook, Youtube, Instagram, Tiktok…
This is the fastest way for you to sell and sell in large quantities in a short period of time. You will pay to buy ads from Facebook, Youtube, Google … to reach your target customers. However, you also need to understand that it will depend a lot on your advertising skills and advertising budget.
Link with the bank to receive payment
When the customer pays, you will receive the money through your account. To set up your payment, go to the menu on the left, and select "Settings", then "Payment provider".
Shopify provides banking services and payment methods such as Shopify Payments, PayPal, Amazon Pay, Bitcoin, Dwolla
Shopify can only deposit money into your bank account after you have set up your Shopify Payments account.
Top 5 Shopify Dropshipping apps
The special thing about the Dropshipping business model is its low operating costs. One of the ways to optimize this business strategy is to take advantage of pre-provided applications to save store management time, allowing you to focus on your online store.
Shopify, one of the active e-commerce platforms makes it easy for Dropshippers to improve operations with a comprehensive app store. With over 2000 different apps, you can be sure to find the perfect one for your business.
Below we've rounded up the best Shopify dropshipping apps to help you get started.
Oberlo

When you do dropship on Shopify, the first supplier mentioned is Oberlo. Oberlo is a dropshipping supplier owned by Shopify. Connecting Oberlo and your website will be done extremely quickly. You just need to go to the Plugin section on the website dashboard; afterward, search for the keyword "Oberlo" and proceed with the integration process.
Oberlo provides you with top suppliers with the highest quality products. Plus, it is Shopify's application that allows you to sync all products/orders between Aliexpress and Shopify with just one click. Up to date, Oberlo offers Dropshippers more than 30,000 quality products in more than 60 different categories. Thus, you can have more options in finding dropshipping winning products.
In terms of Oberlo's price, you can start your journey with Oberlo for free with the "starter" package. The next plan is "Basic" which costs $29/month. You can sell up to 10,000 products with this basic package. The Pro plan is the highest plan you can subscribe to while using Oberlo. You will pay $79.90/month to be able to sell up to 30,000 products.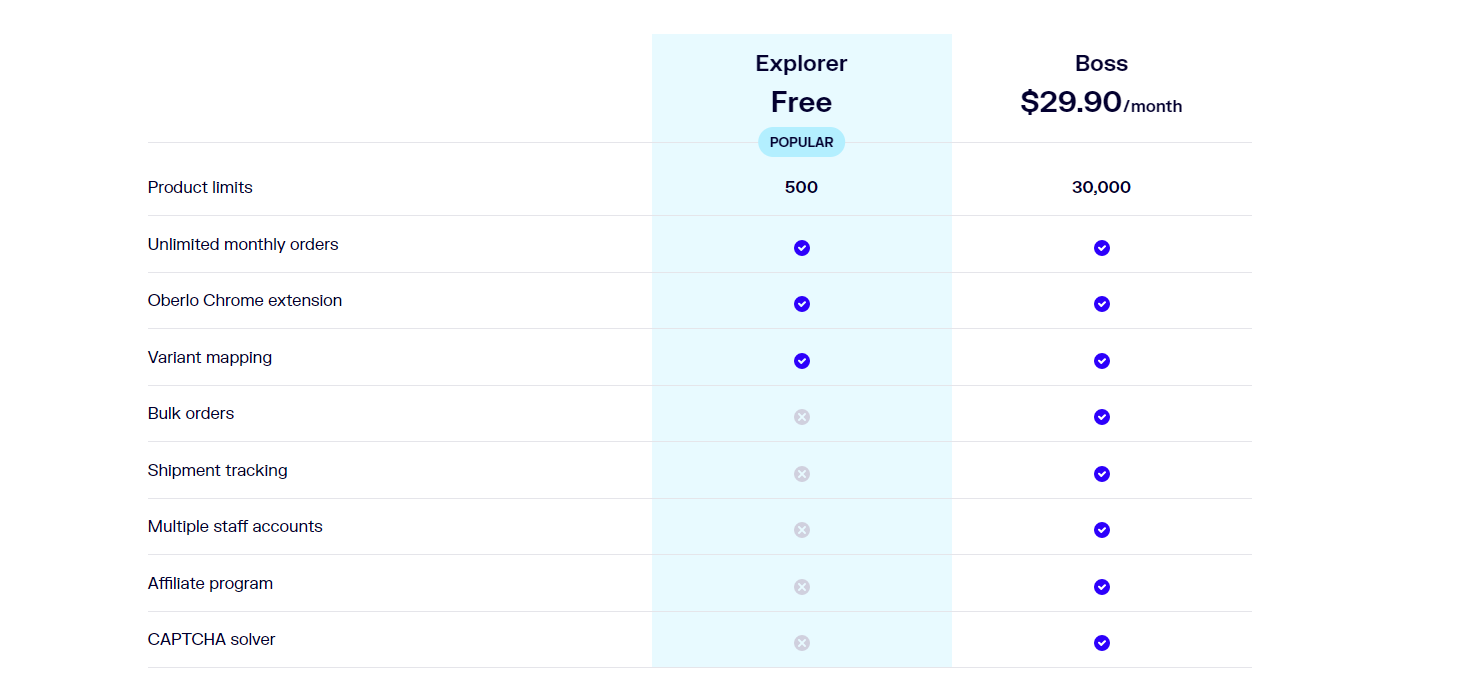 Modalyst
If you sell clothes, then the Modalyst will help you drop shipping successfully. Modalyst offers a wide range of quality products from more than 600 brands worldwide; especially luxury brands such as Calvin Klein, DSquared, Moschino, Dolce & Gabanna, etc
Some of the other products that Modalyst offers include handbags, bridal wear, shoes, beauty products, and home goods. Modalyst integration is also very simple and similar to Oberlo, you can add products with just one click.
As for pricing: Modalyst only has a single plan for $35 per month. Alternatively, you can try Modalyst for free with a 14-day free trial.
Spocket
The Spocket app allows you to offer affordable products from around the world. Spocket is not only helpful in reaching international customers but also pricing your products so you can get a higher profit margin! All Spocket products are sold at deep discounts, up to 60%, which means higher sales margins than you'll find at many other vendors.
The order fulfillment process with Spocket is extremely simple, with a simple click you can send customer requests to product suppliers on Spocket. Plus, You'll also benefit from real-time stock updates…so you'll never accidentally sell out.
Regarding Spocket's Price, it is completely free to get started. However, to own more advanced features such as email, chat, and access to products you need to consult the prices on the official Spocket Website.
Printful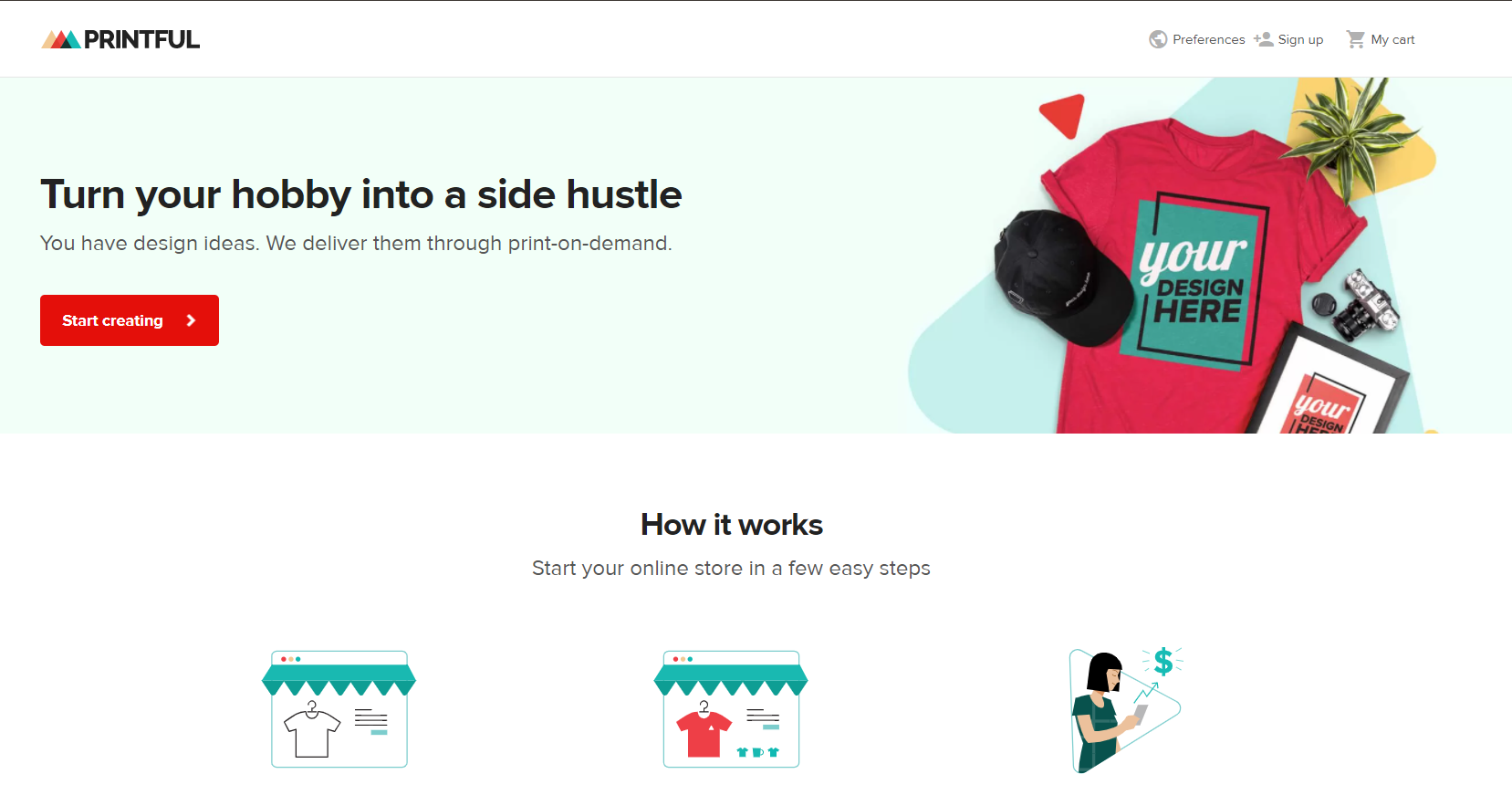 Printful is a large custom printing service provider with headquarters and branches in many states of the USA, Spain, Latvia. They provide printing services on many different materials such as T-shirts, Jackets, Leggings, hats, porcelain cups, watches, and many more.
Printful's products have good materials and high-quality printing techniques. At the same time, Prinful's application on Shopify is easy to use, syncs smoothly with your online store without errors.
The outstanding advantages of Printful are:
Product variety
Good quality: Printful is Rated as the best quality POD printer in the world at the moment.
Fast shipping
There are many options: Printful provides options for you such as: direct printing, embroidery, cutting and sewing, heat transfer printing. You can also add your own brand logo stickers on products or packaging.
Unique Features: Built-in mockup maker saves you time creating an image and video sales promotion.
Quick support to arisen problems
Dropified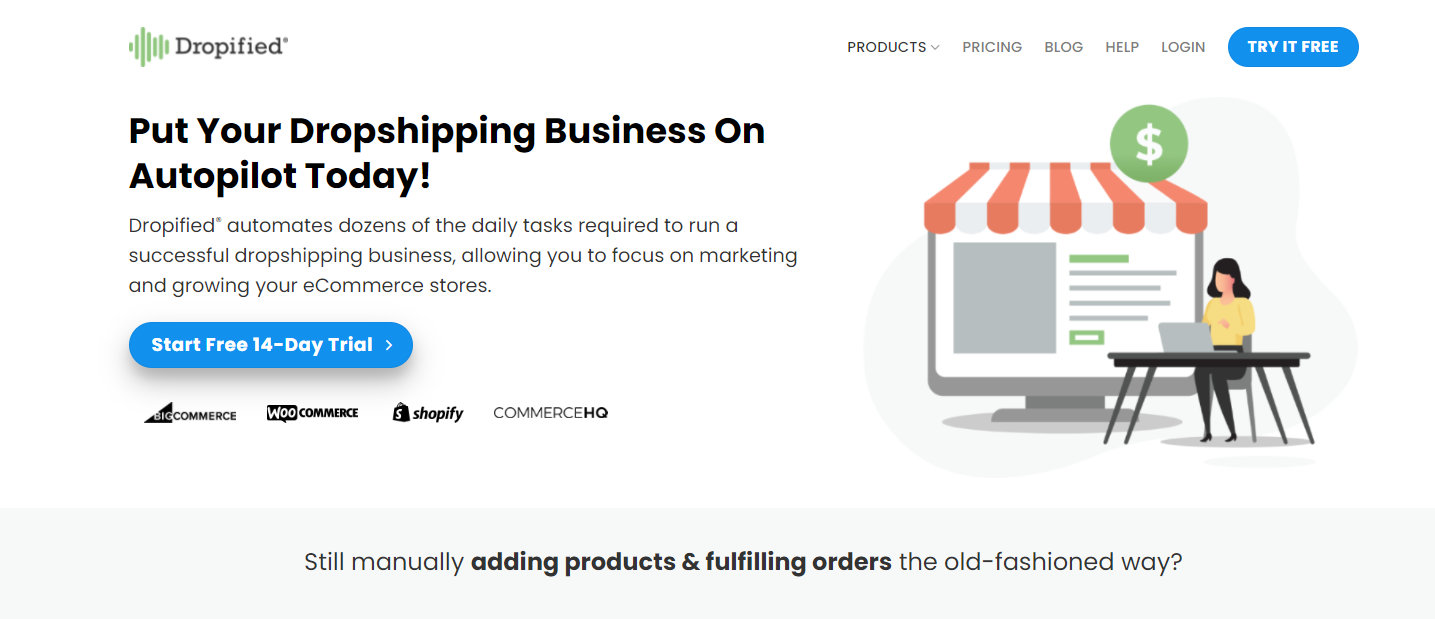 Dropified is a dropshipping application. Like Oberlo, it connects with product suppliers and then sources products for you to sell. You can do all of this without worrying about inventory storage, shipping, and packaging as all of this will be reliably taken care of by Dropified.
Dropified claims that it can save 20 hours a week for customers, with its automation technology. The integration is also very smooth and easy as Dropified combines with any of them in less than 3 minutes to give you desired results.
The advantages of Dropified:
Easily find, select, import, and sell high-quality products from AliExpress
Easily view profit statistics from Dropified's advanced feature
Prices and inventory are updated automatically.
Final Words
"Failure is the mother of success", try to come up with the best solution for your business. Because depending on a specific industry, you will have your own marketing strategy.
To sum up, Shopify has many featured advantages such as cost, scalability, speed, security, and fast customer support. It is suitable for a small store to a large business corporation without complicated management and setup resources.
You may have more confidence to start a Dropshipping business on Shopify after reading this article. We hope you will succeed and if you need further support, do not hesitate to contact us!